Chill On Ice Lounge
Melbourne's First and Only Ice Lounge, the ultimate arctic experiences that you won't find anywhere else in Melbourne. Where everything from the walls, chairs, tables and even the drink glasses are made of ice at 'Chill On Ice Bar'.
There's over 30 tone of ice, so take a seat on the three seater ice couch, see weird hand carved ice sculptures and drink cocktails from ice glasses. The 'Chill On' Family supplies you with all your clothing needs to ensure your arctic experience is memorable.
Choose your drink, but don't expect to find the normal cocktail here. What would you like?... A Frozen Mexican, Artic Baboon, Glacier Express, or maybe a Chilly Billy. Children get a mocktail of course.
Children are welcome between noon and 6pm daily and you can be assured they will be just as amazed as you when visiting this artic wonderland, where the creation of creatures was designed to excite the senses of young and old.
Open from noon till late, the Ice Bar is the place to bring your friends or clients for an experience you will be talking about for a long time to come.
'Chill On' Melbourne's First Ice Bar, Seriously Frigid Fun!
Chill On Ice Lounge & Ski Lodge
Southgate Retail Complex Mid Level MR6
3 Southgate Ave Southbank 3006
Melbourne
Open Noon till late
Phone +61 3 9663 3877
www.chillon.com.au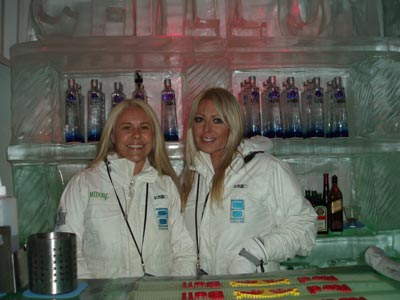 '
Seriously Frigid Fun
' is how Melbourne's Chill On ice lounge promotes itself and by all accounts the slogan is working well. A truly chilling experience that gets the heart racing, that you will want to share this experience with friends and loved ones.
Since the lounge opened in October, last year, it has attracted an average of 1000 visitors a week, each paying $30 at the door, a price which includes one free cocktail.
The Chill On Ice lounge measures 12 meters (40ft) long x 6 meters (20ft) wide and x 3 meters (10ft) high and holds 35 people per 30 minute session... any longer and you'll freeze!
There are 2 freezers and 4 fans that keep the ice bar and it's icey occupants cool including the first 'Bigfoot ever captured' (the largest single piece ice sculpture - 7 feet tall, weighing 2 tones). Ice sculptures are changed every few months and currently feature mythical & neopet themes.There is a throne, a icey couch, and a bar made solely from ice which provide many photo opportunities.
All drinks are served in ice glasses that are ceremonally smashed in the ice bucket when finished.
Chill On carries a full line of high-end vodkas. Ciroc vodka (made from grapes), Scotch and Jagermeister liquor aptly named Artic Baboon and The Frozen Mexican for starters are among the favorites with visitors....
Your entry to the Chill On Ice includes a cocktail drink (or mocktail for the kids), use of boots, gloves & a gorgeous fury hooded ski jacket, which helpful since it's minus 12°C inside. Only 22% proof alcohol is available in the Chill On Ice Bar as anything less would freeze. Try a Vodka RedBull, true european alps style, and leave the beer to the Chill On Ski Lodge upstairs.
Above the Chill On ice lounge is the Chill On Ski Lodge, a premium cocktail lounge where visitors can meet before going into the ice lounge or discuss their experiences afterwards over a cocktail and warm up.
Chill On introduces its customers to the 'ice experience' and the location close to Melbourne's China Town and theatre districts is proving to be ideal.
The icey atmosphere is exciting, romantic and completely addictive! It will definitely be the highlight of your day or night out.
Bobby Stephens, owners of the Chill On ice lounge and Ski Lodge are extremely happy with the interest their new venues have created around the city and they are planning to expand their Seriously Frigid Fun concept.
Chill On can be booked for private parties, corporate functions and school day trips.
So for your next exclusive launch, special occasion or night out, visit the Chill On Ice Lounge & Ski Lodge for a truely 'chilling' experience to remember.
Our warm thanks to Hollie & Bobby for a memorable night.
Check out some of the ice features including the gun 'shot' dispenser. But if you want to meet Bigfoot you'll have to check it out for yourself.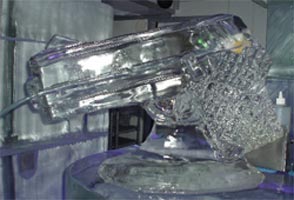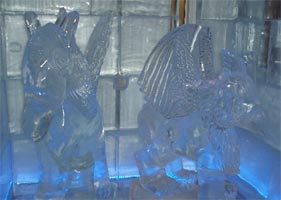 Chill On Ski Lodge
The sophisticated Ski Lodge is located on the first floor of 'Chill On', offering a fantastic range of drinks, funky tunes and exceptional service.
'Chill On Ski Lodge' is a relaxing atmosphere of music and lighting where the Chill On Family will ensure your visit is memorable. We pride ourselves on friendliness and service second to none, so come see for yourself what all the talk is about.
We also specialize in functions, parties, corporate promotions and event bookings, where we have all your needs covered including catering, DJ's, security, huge LCD TV's and of course that best staff in Melbourne.
Visit the Ski Lodge after your experience in the Ice Bar, or Enjoy the Ski Lodge's unique style in itself. Each night presents a different theme so keep an eye on the Ski Lodge's events. So if you need a place to meet your friends, entertain your clients, or even party through the night, then we'll see you in the Ski Lodge.
Chill On Ski Lodge is Melbourne's hottest new venue, providing premium service and beverages in a relaxed and inviting environment. Plus you can also view the Chill On Ice Bar's frigid fun downstairs.
Chill On Melbourne's Premium Ski Lodge, meet, greet, relax and enjoy!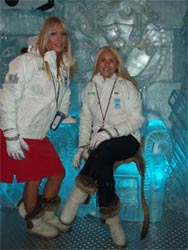 Chill On Ice Lounge & Ski Lodge
Southgate Retail Complex Mid Level MR6
3 Southgate Ave Southbank 3006
Melbourne
Open Noon till late
Phone +61 3 9663 3877
www.chillon.com.au
Check out the new Chill On Lounge & Ski Lodge now located in fabulous location in southbank. You will think you are on the mountain....
www.femail.com.au/chill-on-ice-lounge-bar-ski-lodge.htm
NOTE: Purchases of alcoholic beverages can only be made by legal drinking aged individuals.