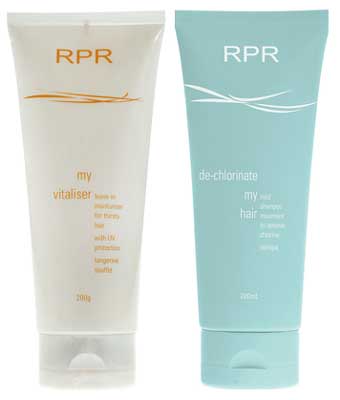 Now that summer is behind us it's time to treat stressed tresses with RPR Hair Care's blissful salon-quality range. Created with the best ingredients nature and science has to offer, RPR products are artfully blended to deliver stunning results.

Australian made and owned, not tested on animals and packaged in easily recycled bottles, tubes and tubs, RPR uses pampering ingredients like extracts of champagne grapes, aloe vera, green tea, lime, frangipani, almond milk, tangerine and guarana to create innovate products that uplift the body, mind and spirit.

Available at selected salons, Price Attack, Hairhouse Warehouse and Petra Hair Care outlets nationally or call 03 9548 2300 for your nearest stockist.


Girl.com.au & RPR Hair Care are giving 10 lucky readers the chance to win a mini summer duo pack to help nurture hair back to health after a long, hot summer!
Packs include 50mL De-chlorinate My Hair shampoo (RRP: $5.95), designed to help remove the green tinge and chemical build-up chlorine can leave on hair, and 50mL My Vitaliser leave in conditioning treatment (RRP: $5.95) with a cocktail of nourishing vitamins and built in UV protection.