Thanks to Madman Entertainment here is your chance to win one of 5 Skyland DVD packs including;

Skyland Season 1 Part 1 &
Skyland Season 1 Part 2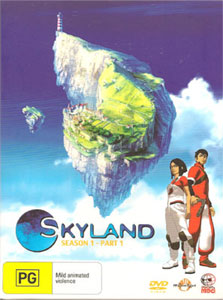 Skyland Season 1 - Part 1
Join Mahad and his sister Lena on their quest to discover new civilisations and amazing places where freedom still reigns.
200 years in the future, in the 23rd century, the Earth has shattered into millions of blocks, known as Skyland. A new kind of human being lives among the world, people called Seijins, who absorb sunlight to fuel their telekinetic and telepathic abilities.
The Sphere, a dictatorship, has risen to power by controlling what has become the most precious resource: water. The Sphere's power is enforced by the Guardians, an elite corps of Seijins who were taken from their families at a young age and trained. The leader of the Guardians is Oslo, a Seijin who, at the expense of his health, exposed himself to constant light until he could use his powers in both light and darkness.
A rebellion has emerged, opposing the Sphere. Rebel pirates steal water to keep the citizens of Skyland alive and battle the Sphere to help people receive the valuable water.
Rated: PG
Skyland Season 1 - Part 1 Episodes:

1. Dawn of a New Day Part 1
2. Dawn of a New Day Part 2
3. The Great Wall
4. Mogura
5. Raging Archipelago
6. Eye of the Storm
7. Mutiny
8. Manipulatons
9. King for a Day
10. Red Rock People
11. Babylonia
12. Blood Ties
13. Life in Puerto Angel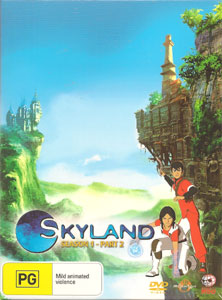 Skyland Season 1 - Part 2
In the year 2251, the earth has been shattered into millions of inhabitable drifting blocks called Skyland circling around the earth's core. Water is now the most precious resource imaginable, a resource that is controlled by The Sphere, an evil dictatorship ruled by Guardians.
Guardians - or Seijins - are humans, but not quite: born with supernatural powers that are activated by the sunlight, their special abilities have the capacity to restore sanity to the world of Skyland, but for the most part they have let their fear and greed conquer them.
One Seijin who refuses to bow down to her baser instincts is Lena, a 12 year-old girl who, along with her older brother Mahad, is on a mission to save their mother, who was kidnapped by Sphere leader Oslo so that he could exploit her special powers. This is part two of their courageous story.
Rated: PG
Skyland Season 1 - Part 2 Episodes:

14. Shadows of the Past
15. Heart of the Arena
16. Wind Devils
17. Cortes' Secret
18. Island of the Child King
19. Alice
20. Secret Power
21. Book of Worlds
22. Infiltration
23. Blue Sky
24. The Secrets of Temuera
25. Kharzem Fortress Part 1
26. Kharzem Fortress Part 2
www.madman.com.au
Order Now from Chaos
Order Now from Sanity