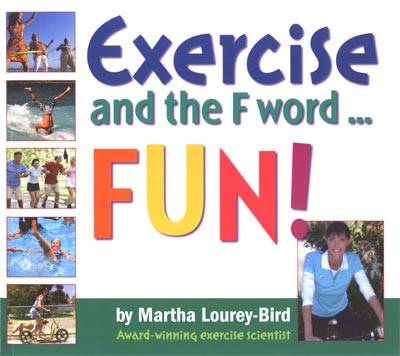 Martha Lourey-Bird is an Exercise Scientist, Lecturer in School of Public Health and Community Medicine at the University of New South Wales and Scientific Adviser to Weight Watchers. Her depth of knowledge, extensive experience and passion for health and fitness has made Martha Lourey-Bird one of Australia's leading exercise health experts.

Martha has been involved in the fitness industry for almost two decades as a leading instructor trainer, a recipient of the state's Fitness Leader of the Year award, presenter of countless workshops and director of her own personal training company. Today she continues to passionately practice what she preaches, even with two young children in tow.

Classed as one of Australia's leading instructor trainers, Martha's career has taken her all around the world, including a three year contract in the UK as European Training Director of Shape Fitness Education. She has presented exercise advice in over 12 different countries and is a regular expert on radio, television and in the print media.

Martha has provided Weight Watchers expert guidance on many aspects of health, exercise, and fitness for over 10 years; and has been instrumental in developing new and innovative exercise approaches to weight loss. Martha is also fitness editor of Weight Watchers magazine, where she provides motivational advice and effective exercise ideas; which she regularly shared with NBN TV viewers for over 5 years.

"My love of health and fitness spills over into my personal life and I am one of those people who don't sit still for long! I enjoy the balance of a fulfilling career and being mum to five year old Clancy and one year old Opal", says Martha.

"Through my role at Weight Watchers and lecturing at the University of New South Wales, I really do feel like I'm having an impact on the culture of exercise and health in Australia by helping people make positive change in their lives. And that's rewarding!"

"It can sometimes be a challenge to present exercise and health in a way that's relevant to a wide audience and varied fitness levels, however exercise can be fun, and needs to be taught and engaged with at this level if people are going to change their lives for good."

Despite huge government campaigns such as the 'Life be in it' program, research today shows that over 50% of Australians are either overweight or obese, don't exercise regularly and that our inactivity contributes to the deaths of over 8000 Australians every year.

37-year-old Martha Lourey-Bird spent the past two decades working with the unfit and unmotivated and is about to put the fun back into exercise.

Martha says that benefits of regular exercise are so enormous - from reducing the risk of heart attack and certain cancers, managing stress, improving mental agility, boosting energy and improving sleep - that potential health-care savings are in the millions.

Martha Lourey-Bird was one of Sydney's first female personal trainers. Twenty years ago she helped train identities such as Trent Nathan, Lisa Ho and Charlie Brown before flying off to England to work as a fitness trainer in some of its most exclusive clubs including the Chelsea Harbour Club (club of Princess Diana) and Royal Berkshire Club (club of Fergie).

Martha who has taught hundreds of personal trainers and aerobic teachers in the UK and thousands here in Australia says that being at the coal face of exercise, she saw how quickly people got demoralized and how fast barriers popped up... It's too hard, too inconvenient or too painful....

"The hardest thing for people who don't exercise is to take the first step - and then it's a matter of building in a strategy so exercise is fun and easy to maintain" says Martha. "The secret of maintaining that is to have a program that interests you mentally as well as physically".

Exercise the F word ...Fun explores the physical, psychological and health benefits of exercise. It's aimed at people who are time-poor as well as at a broad range of the population from sedentary office workers and young professionals to mums, dads and seniors.

Martha Lourey-Bird says that everyone needs to find the opportunities in their day to exercise, and covers a multitude of suggestions in her book that simply use the environment around you. Although she is busy, working mother of two young children, lecturing at the University of NSW, writing for print media, developing exercise DVDs and a Scientific Advisor to Weight Watchers, Martha dedicates 45 minutes every day to exercise.

"I love exercising outdoors so it's mainly doing exercises in the park with the kids, running with the pram, walking as much as possible, and taking my very fit dog for a decent run."

"The old adage - use it or lose it - is so true", Martha says. "No matter what state of fitness you're in, whether you have arthritis or are a busy parent, whether you're a stressed executive or desk-bound student or an ex-rugby player, 'Exercise and the F word....Fun' will motivate you and keep you motivated!

Insight Publications
RRP: $29.95

Martha's first book 'Exercise and the F word....Fun' is now available at all good book stores.