GIRL'S 60 SECOND QUIZ
Name
: FIONA HORNE
Star Sign
: Cancer
Fave Food
: Sushi
Fave Film
: Virgin Suicides
Fave Band
: Kittie
Describe yourself in 3 words
: Workaholic, Focused and an Individualist
Best Feature
: I don't give up
Worst Feature
: I worry
Person you would most like to meet
: Harrison Ford
First Job
: As a house model when I was 15 yrs old.
A talent you wish you had
: To play the piano
The nicest thing anyone has ever said to you: It was from my biological mother just recently, she said to me, that I was a pleasure to give birth to. That was really nice to hear.
If you were told you had a minute to live, what would you do? I would pay attention to everything around me and experience my death as much as I could.
This month GIRL caught up with successful recording artist, author, journalist, television and radio personality and practising white witch - FIONA HORNE. These days Fiona is very busy putting the final touches to her third book "Life's A Witch" while also juggling her radio, television and singing commitments. How does she do it all, we hear you ask? Well that is exactly what GIRL wanted to find out.
Fiona took time out from her busy schedule and gave GIRL the goss on the secret to her success, her plans for the future, Britney and of course life as a witch!
GIRL: You currently have a regular spot on Melbourne radio station TTFM on Wednesday mornings with Richard Stubbs. How are you enjoying working in radio and with Stubbsy?
Fiona Horne: I absolutely love working in radio and coming from being in a band for many years, I used to do a lot of radio interviews. So I've always liked the medium of radio, particularly the fact that you can go into work looking pretty ordinary and no one can see you. Last year I worked on a couple of shows for Triple M called "Planet Rock" and "Home-Grown", so that definitely gave me good experience in radio. Then Richard (Stubbs) contacted me and asked me if I would like to do a "witchy" spot on his show and I said I'd love to. I've always thought that Richard was so funny and he's very intelligent and well read too. So he and I get along great, particularly in the last few months, where we have worked up a really nice rapport.
GIRL: Which medium do you prefer to work in?
Fiona Horne: My absolute favourite thing to do is sing and I sing at the George in Melbourne, every Sunday. Coming from a background of singing in a rock band for years, that is what I did before anything else. It is the thing I love more than anything and when I sing I really get in touch with singing as your body being an instrument of the soul when you're in that environment. And I love singing spiritually as well - I love chanting and I often chant. I love the feeling of the vibration of sound through your body. I do plan to make singing my primary career in the future, but at the moment, it's something I do for love and I just fit it in around my other commitments.
GIRL: You've been quite fortunate to have had success in a number of areas, like TV and radio, the music industry and as an author. What do you think has been the secret to your success?
Fiona Horne: It is an underlying deep sense of insecurity and not feeling worthy - so I feel like I constantly have to prove myself. It's also trying to find a place in life where I fit and I make sense. And I am never satisfied with what I do, I never think what I do is good enough. You tell me I've done great things and I think yes, but I haven't done this and I haven't done that. So as a witch, part of that is living life in the moment and feeling the magic of life in its instance. It's a double-edged sword really - as much as my witchcraft will have me feeling satisfied and at peace and empowered, at the same time, it gives me the tools to push myself harder which then feeds on that sense of insecurity that I have.
GIRL: Out of all the celebrities, you've been fortunate to interview, who has been your fave? Who stands out in your mind the most?
Fiona Horne: Definitely Britney Spears - she was just gorgeous! I mean it was such a whirlwind trip, I found out I was going to Japan on the Friday and arrived there on the Monday, and we went for 36 hours, I hadn't slept and I was exhausted and yet I felt good at the same time. When it came to the interview, I suggested that we didn't sit down on chairs to make it more relaxed and I also gave her all these clothes I had bought from Australia. The interview turned out very well, I felt really pleased with it. She's only 18 years old yet she has achieved so much and has to carry the weight of an enormous machine on her back. She is so gracious and so charming. At the time I remember thinking, here is someone who really deserves the success that she has and I feel that she will go on.
GIRL: Now you're currently working on a show for Channel Nine called "PARTY". Tell us a bit more about this?
Fiona Horne: Well basically we attend all sorts of parties from a 21st birthday, university party to a swinger's party. The show takes you behind the scenes where you see the party planning stages, the actual parties and then the aftermath once it's all over. I do the voice-overs throughout the show. There are thirteen half-hour episodes and the network is really excited about the whole project.
GIRL: When will the show be hitting our TV screens?
Fiona Horne: The show will be screened next month and will be in the 8.30pm timeslot.
GIRL: Is there anything you haven't tried your hand at yet, but would love to?
Fiona Horne: I would love to try skydiving and really what I haven't done yet is release music in London and Europe and sing over there. That is something I really want to do as well.
GIRL: Now you have your own personal website called www.fionahorne.com. What can your fans expect to find on this site?
Fiona Horne: There is a heap of stuff. The girls I put it together with - Tracey and Lauren - they were fans of Def Fx and they created an unofficial Def FX site and I really loved what they did. So when the band broke up I said do you want to help me with Fionahorne.com and they did. We try and make sure there is new information added to it all the time, the spells from TTFM go up there, there are photos of me as well. It's a very personal website and is not created by a company. I want people to feel close to me and gain a bit of an insight into my life. Because I update it myself personally, if there is something happening, it's the first place to go if you want to read about it straight away.
GIRL: What advice can you offer to young hopefuls trying to break into the entertainment/media industry?
Fiona Horne: Firstly don't give up. You have to be prepared to play the game, if you want to change the rules, you've got to play the game and then change the rules later.
GIRL: Which cartoon character best sums up your character?
Fiona Horne: Elektra - she was a Ninja Warrior/Goddess. She is very powerful, very strong and very much a loner and I always feel like I am on my own no matter what. Come in alone, go out alone.
GIRL: What five people would you invite to a dinner party?
Fiona Horne: My two best friends, Madonna (only if I had a guarantee she would come!), Stubbsy and Britney.
GIRL: You're just in the process of putting the finishing touches on your third book on teen witches. What inspired you to choose this particular topic of interest?
Fiona Horne: The other two books I wrote weren't geared at teens but a lot of teenagers read them. There is a difference between teen witches and adult witches. There haven't been books specifically written for teen witches before, so we're actually saying okay, well what do teen witches do?
GIRL: Can you give us a sneak peek on what we can expect?
Fiona Horne: What "Life's A Witch" is doing is providing simple, clean-cut ideas and approaches to teen witches. It explores witchcraft and aims to make it more accessible and make more sense to them.
GIRL: When will the book be launched?
Fiona Horne: It will be launched on November 1st.
GIRL: Now rumour has it that you're joining the team at GIRL this month and writing your own column about all things "witchy"? Can you please confirm or deny this rumour?
Fiona Horne: I will confirm this rumour (laughs).
- Annemarie Failla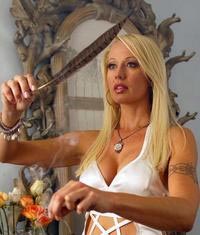 So what is our White Witch Fiona Horne up to now
Fiona Horne is the world's best selling author on Modern Witchcraft. Her current eight titles are published by HarperCollins and Random House with a new title - 'Bewitch A Man' published by Simon and Schuster in Fall 2006, USA and in Australia, January 2007.
As a leading expert and best-selling author of Modern Witchcraft, Fiona Horne has toured extensively awakening the huge positive public interest in Witchcraft. Now, Fiona Horne will musically share the most positive aspects of her Craft through the release of her new album WITCH WEB.
WITCH WEB is a concept album of witchcraft related musical compositions. There are tracks that will guide you through ritual and others that will awaken the positive magick and personal empowerment that anyone can enjoy.
WITCH WEB was written and produced by Fiona Horne and Paul Searles.
www.girl.com.au/fiona-horne-witch-web.htm