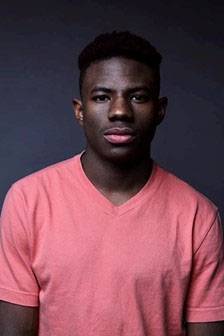 Actor, dancer, musician and current Morehouse College student, Brandon Gilpin is ready to make his mark on the entertainment industry with an upcoming series regular role in Starz' highly anticipated series "P-Valley". Adapted from Katori Hall's play Pussy Valley, "P-Valley" is a provocative hour-long drama series that takes its audience deep down in the Mississippi Delta, to a sparkling oasis in a rough patch of human existence where beauty can be hard to find - the small town strip club. The series takes aim at the stigma often attached to strippers with the goal of showing their story through the female gaze. The show is set to premiere on Starz on Sunday, July 12th.
The atmospheric series "P-Valley" centers on a little-strip-club-that-could and those that come through its doors - the hopeful, the lost, the broken, the ballers, the beautiful, and the damned - and shows what happens when people in a small town dream big. In "P-Valley", trap music meets film noir, grit meets glitter, and the church clashes with the erotic. The show delves deep into the complex lives of its characters and the southern culture that surrounds them. Gilpin plays 'Neva Scared', the strip club's underaged DJ who is the rhythm and heartbeat of the establishment. A nerdy student by day, he takes on a completely different persona at night as the standout comic relief for the series which can get dark and gritty. With a long history of hypersexualized images of black women, it was important for Hall - who is also the showrunner - to highlight these women in a different way and the series is in service of those who are marginalized and made to feel ashamed and dehumanized. This includes the character 'Uncle Clifford' who is a non-binary queer black male who identifies with the pronoun of she. With the primary goal of being told with the female gaze, the show also features all female directors.
Born and raised in
Amityville, New York, Gilpin originally started his career as an entertainer at the age of 3 when he began taking dance lessons. He instantly fell in love with performing for others, whether that was creating funny skits or starring on stage in a leading role. In the 10th grade, he started a dance party troupe and his nickname "ShowTimeBrando" was coined. Word quickly spread of his dance parties and bold and fun personality and before long, he had grown a strong social media following. Around this time he also began creating and performing his own music and in 2015, he released his first song "ShowTimeBrando - Ultimate Dance Challenge" along with a video of him dancing to the song and in less than a week it had over 50,000 views on Facebook. In 2017, he released another original song / dance video "ShowTimeBrando - Senior Anthem 2K17" that he created for his High School Pep Rally which quickly went viral overnight.


Gilpin moved to Atlanta as a theatre and film major at the prestigious Morehouse College where he began auditioning for more professional acting roles. While attending classes, he saw that the BET show "The Quad" was being filmed on his campus. He headed to the production office and landed himself a job as a production assistant with series creator Felicia D. Henderson as his mentor. He began booking guest roles, including in HBO's "High Maintenance" and the upcoming MGM film RESPECT about the life and career of Aretha Franklin. His casting in the upcoming "P-Valley" marks his first series regular role.
Gilpin always wears a smile on his face with the goal of using his talents to unlock happiness and joy in everyone he comes across. A dream of his is to play the live-action black Spiderman from Marvel's INTO THE SPIDER-VERSE. In his free time, he loves writing new music and will always be caught wearing Crocs. Whether he is dancing, singing or acting, he aims to be one of the biggest entertainers the world has known.