---
Thanks to Mattel, here is your chance to win Polly Pocket's latest release, Polly Wheels: Race to the Mall plus Polly Pocket Cool Car Drive Thru
---
Polly Wheels: Race to the Mall
Ready, set.... and they're off!
Race Polly and the gang to the Mall
Polly Pocket™, the always fabulous girl on the go, gets girls trackside with the introduction of the
Polly Wheels™ Race To The Mall™
track set.
Buckle up and get ready for the ride! Girls can go for a spin around the deck, cruise through the stores and then chill out at the café before racing their friends to the finish line! With the Race to the Mall track set, they can do it all from racing to retail therapy.
Girls can place racing divas, Polly and Lila, in the two cars at the gate and push the button to race, or simply push on the car for continuous cruising, up the elevator and around the town.
Race to the Mall is a popular extension of the recently launched Polly Wheels™ range -a statement for the Polly Pocket brand, which recognises that girls like to play with cars too.
Mattel road tested Race to the Mall with girls aged 4-9 prior to the launch and the response was fantastic; girls loved the competitive component of racing and the combination of both the racing and the shop and play features.
Polly's oh so cute pint sized rides come in super cool colours such as 'Splashin' Pink' and 'Glitter Peach' and come with their own Polly character doll - be a part of the glitz and glam and collect them all to race around the track!
The
Polly Wheels Race to the Mall
track set is priced at AUD/NZD $69.95 and is available at all leading toy retailers.
Polly Pocket Race to the Mall makes racing more fun and stylish than ever before -the range is sure to have Polly Pocket fans racing in-store to get one!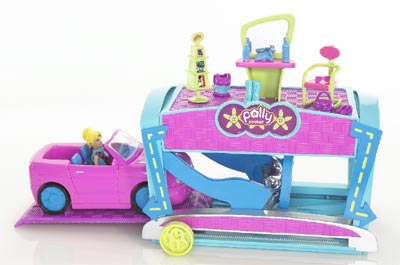 Polly Pocket Cool Car Drive Thru
Polly™ and her fab cruiser get a stylin' transformation in just a Quik-Clik™! Simply load the makeover chamber with Quik-Clik™ car fashions, place Polly™ doll's cruiser at the entrance, push the lever and Polly™ doll's Quik-Clik™ cruiser looks fab with a totally fresh look.
Girls can even customize Polly™ doll's car with stickers for lots of different looks and endless possibilities. Giving Polly™ a style-over with her Quik-Clik™ fashions is a snap on the second level! This Quick-Clik™fashionista is ready to cruise!
Includes Polly™, her stylin' cruiser and lots of Quik-Clik™ fashions, accessories and stickers for customizing. Colors and decorations may vary. Dolls cannot stand alone.
Polly Wheels
:
www.girl.com.au/polly-wheels.htm