Thanks to Universal Pictures & Swimming Australia here is your chance to win one of 6 x Despicable Me dvd copies.
Cast
: Steve Carrell, Jason Segel, Russell Brand, Will Arnett, Kristen Wiig, Danny McBride, Miranda Cosgrove.
Director
: Chris Renaud and Pierre Coffin
Genre
: Animated, Comedy, Family
Rated
: G
Running Time
: 95 minutes
Synopsis
: In a happy suburban neighbourhood surrounded by white picket fences with flowering rose bushes, sits a black house with a dead lawn. Unbeknownst to the neighbours, hidden beneath this home is a vast secret hideout. Surrounded by a small army of minions, we discover Gru (voiced by Steve Carrell), planning the biggest heist in the history of the world. He is going to steal the moon.
Despicable Me
Buy Now from Fishpond
Buy Now from Treet
Swimming Australia Safety Campaign Stars Leisel Jones and the Minions from Despicable Me


Universal Pictures and Swimming Australia have partnered to launch a national swimsafety campaign to educate Aussie kids on how to stay safe when in and around the water this summer.Australian swimming icon and Olympic Gold Medallist, Leisel Jones has enlisted the help of the Minions, as seen inDespicable Me, to provide some easy-to-follow tips for water safety. A short video for children starring Leisel and theMinions demonstrating these can be viewed on the Swimming Australia website (
www.swimming.org.au
) from January 6, 2011.
In Australia child deaths from drowning are on the rise. From July 1 2009 to June 30 2010 there were 314 deaths inAustralian waterways with over half of these being children under five1 marking the second consecutive year wherechild drowning deaths have increased.
Leisel Jones said, "Every summer we hear of incidents involving children and families around our beautiful beaches soI've teamed up with Swimming Australia and the adorable Minions to show kids some easy to remember tips to staysafe in and around the water, with characters that are already familiar to them."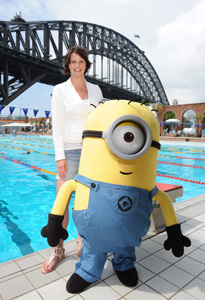 Swimming Australia General Manager, Community Sport Adam Pine adds, "We are delighted to work with Universaland the Despicable Me Minions to educate children about water safety arming them with practical skills to help themstay safe. The campaign talks to children in a way they can easily understand and having Leisel on board is a naturalfit, she's a household name and a champion in the pool."
"With the arrival of summer families are spending more time in and around the water, its important kids are preparedwith practical skills to help them stay safe. Ultimately we want kids to be safe but not take the fun out of being in andaround the water," says Mr Pine.
Despicable Me
is available on Blu-ray 3D, Blu-ray and DVD from January 6, 2011
Swimming Australia's 10 Top Tips for Kids
TIP #1 - Buddy up!


Never get in the water without an adult or guardian to watch you. Alternatively, swim with a buddy in a group of two ormore in case you get in trouble because your buddy can call for help.
TIP #2 - Know your limits


If you're just learning to swim, don't go in water that's so deep you can't touch the bottom. A smart rule of thumb is tonot go into water any higher than your thigh. If you are a top-notch swimmer try staying in water that comes no higherthan your chest.
TIP #3 - Swim in safe areas only at the beach


Try and remember the F-L-A-G-S when you are swimming at the beach:
F
- Find the flags and swim between them (red and yellow flags mark the safest places to swim at the beach)
L
- Look at the safety signs - they help you to identify potential dangers and where you should and shouldn'tswim
A
- Always look out for where the surf lifesavers are before you enter the water so you know where to look ifyou get in trouble
G
- Get a friend to swim with you - so you can look out for each other's safety and get help if needed
S
- Stick your hand up for help if you get into trouble and stay calm
TIP #4 - Be careful about diving


It is important to ask an adult before you dive into any water. It's also a good idea to jump feet first and if you areswimming somewhere other than your swimming pool, check the water's depth before you leap to make sure there areno hidden rocks or other hazards. You can also check the depth of the water at the pool by looking at the markings onthe side.
TIP #5 - Know what to do if you get in trouble


If you do get into trouble when swimming or playing near the water it is important to remember to stay afloat and signalfor help. Try to float on your back and use one arm to attract attention.
TIP #6 - Know what to do if someone near you gets in trouble


No matter how good a swimmer you are you should never try and jump into the water. Lie down and reach out with astick or throw a rope. Don't get in the water as you might also get into trouble.

TIP #7 - Adult supervision

To be totally safe in the water you need an adult to watch you while you swim, always.
1 The National Drowning Report 2010 issued by the Royal Life Saving Society