Thanks to Rufus & Coco here is your chance to win one of 15 x Rufus & Coco Kitty Kits, each valued at RRP $16.77 including:

2 x Elasticised Litter Tray Liners
1 x Diamante cat collar
Lucky cats, chic cats!
Lucky cats (OK lucky cat owners!) have the new Rufus & Coco Elasticised litter tray liners, because they make dealing with 'all that' so much simpler and easier!
An Aussie first, these liners stretch over a regular tray and stay firmly in place even through the most diligent pet's litter rearranging. Accidental spillage when changing the tray contents is substantially reduced too. Pleasantly scented and made from degradable plastic, they are sold in packs of ten for RRP $3.89 exclusively at Woolworths.
Fashionable pussies love their bling and the Rufus & Coco diamante cat collar meets that need! Available in black, gold, silver or blue, and complete with safety elastic and a little bell, these collars are designed in Australia and available from Woolworths, RRP $8.99.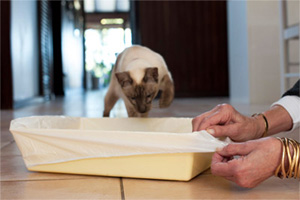 We have a special Rufus & Coco prize pack for you to win. Valued at just under $17, it comprises two boxes of Elasticised Litter Tray Liners and a rather chic diamante collar for puss.
Every pet & pet owner deserves to be a winner!
To learn more about this great Australian brand, see
www.rufusandcoco.com.au