Thanks to Hoyts Disbribution, here is your chance to win one of 5 x Twilight Eclipse Packs, valued at $85.00 including:

1 x Eclipse t-shirt
1 x New Moon DVD
1 x Eclipse lanyard
1 x Eclipse make-up set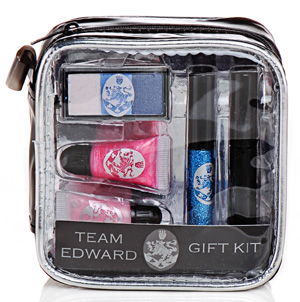 Hoyts Distribution is excited to release the third instalment of The Twilight Saga, Eclipse.

The third film in the franchise is the best yet, directed by David Slade starring KRISTEN STEWART and TAYLOR LAUTNER and ROBERT PATTINSON.


SUMMIT ENTERTAINMENT
Presents
THE TWILIGHT SAGA: ECLIPSE
Starring
: Kristen Stewart, Robert Pattinson, Taylor Lautner, Ashley Greene, Billy Burke, Peter Facinelli, Elizabeth Reaser, Nikki Reed, Kellan Lutz, Jackson Rathbone, Michael Sheen and Dakota Fanning
Director
: David Slade
Rated
: M Supernatural themes and violence
Based on the Novel "Eclipse" by Stephenie Meyer / Screenplay by Melissa Rosenberg
In ECLIPSE, Bella once again finds herself surrounded by danger as Seattle is ravaged by a string of mysterious killings and a malicious vampire continues her quest for revenge.
In the midst of it all, she is forced to choose between her love for Edward and her friendship with Jacob - knowing that her decision has the potential to ignite the struggle between vampire and werewolf.
With her graduation quickly approaching, Bella is confronted with the most important decision of her life.
The Twilight Saga: Eclipse

In cinemas 1st July 2010.



The Twilight Saga: Eclipse Review
www.girl.com.au/the-twilight-saga-eclipse-review.htm
Xavier Samuel The Loved Ones & Twilight Eclipse
www.girl.com.au/xavier-samuel-the-loved-ones-twilight-eclipse.htm