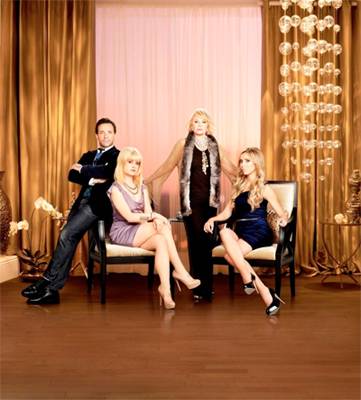 Fashion Police
Divas, debutantes and fashionistas alike – you've been warned. This March, E! Entertainment Television is expanding the popular weekly series 'Fashion Police" to one hour. Host and comedic icon Joan Rivers continues to hold court and brings her incomparable wit and unapologetic critique of fashion and pop culture to viewers across the world. As always, she is joined by the outspoken 'Fashion Police" panel featuring Kelly Osbourne, Giuliana Rancic and George Kotsiopoulos. Together this foursome pours through photos and videos of the week's most high-profile moments and fashion choices, from red carpet gowns to casual daytime wear, to point out the best and the worst in celebrity style. The new format of 'Fashion Police" begins Saturday, March 10th at 6:30pm AEDT on E!.

'-Fashion Police' was an instant hit as a weekly series and given the wealth of material, it's natural for us to expand to an hour to bring viewers an even bigger dose of everything fashion and pop culture through Joan and the gang's unique comedic voices," said Lisa Berger, President, Entertainment Programming, E! 'Comedic commentary is a signature part of the E! brand that resonates with our audience and we will continue to look for opportunities like this to further invest in the genre and bring more clever humour to the network."

The one-hour weekly series will continue to feature all of the current fan-favourite segments, but will also introduce a number of new ones including: 'Street Style," where the panel examines celebrity looks in their everyday environment such as when they are grabbing coffee or hailing a cab; and 'Guess Me By My Style," a game where Joan and the panel try to guess who the celebrity is as things about their personal style are revealed. Plus, we take Joan out of the studio for even more fashion comedy as she visits designers in their showrooms, hangs out backstage at fashion shows and pops up wherever there is a celebrity in need of fashion advice. In addition, the series will be populated with more guest stars than ever before who will bravely join the panel to battle wits with E!'s 'Fashion Police" team. Previous guest stars include Tori Spelling, Singer Nicki Minaj, Modern Family's Sarah Hyland, Fashion Designer Kimora Lee Simmons, Projects Runway's Nina Garcia, and Keeping Up With the Kardashians' Scott Disick, you will never guess who might show up next.

Fashion Police expands to one-hour episodes March 10 at 6:30pm AEDT on E!.