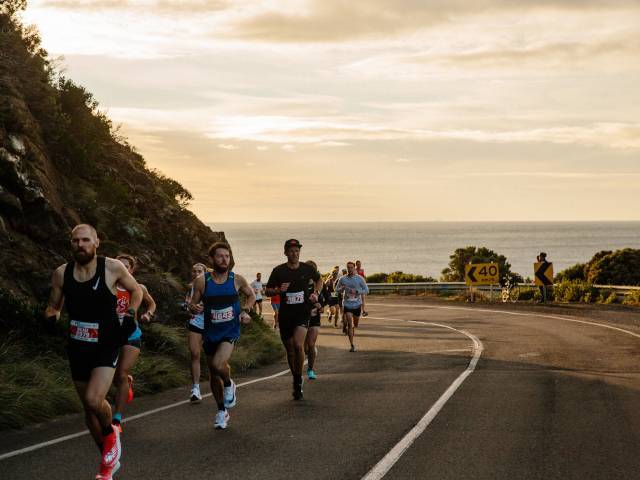 VICTORIA'S IDYLLIC COASTAL RUN RETURNS MAY 2022
Following record registrations in 2021, Australia's most stunning running event, the Kieser Great Ocean Road Running Festival, returns to Victoria's iconic south-west coast, Saturday 14 and Sunday 15 May 2022. With nine distances, a weekend full of entertainment, and panoramic seaside views from Lorne to Apollo Bay, the event offers something for runners and walkers of all ages and experience levels.

Support from Visit Victoria's Regional Events Fund has seen the beloved festival expand year-on-year and become a favourite on the state's annual event calendar attracting thousands of visitors to the Great Ocean Road region. The event continues to drive strong economic support for local accommodation, hospitality and retail businesses hit hard by the pandemic.

On Saturday, eager athletes can take part in the 14km Paradise Run, 6km Run and 1.5km Great Ocean Road Real Estate Kids Gallop, all starting from Apollo Bay. Distances on Sunday include the Ultra Marathon (60km), Kieser Marathon (44km), 13km and 6.5km Trail Runs, and the 10km and 5km Great Ocean Road Walk kicking off in Lorne. Those taking part in the Brooks Half Marathon (23km) will get their start from Kennett River on Sunday.

Over the past two years, running has helped many Australians discover new passions and IMG Event Director Brad King says the festival is the perfect place to forge fresh connections and explore scenic areas of the region.

"As one of the best destination running events in the world, the Kieser Great Ocean Road Running Festival shows off some of Victoria's greatest natural wonders, from the Great Otway National Park to the Lorne Foreshore. It's one of the biggest sporting events in the region and the camaraderie and sense of community is second to none. We can't wait to see thousands of new and familiar faces down the coast this May," says King.

Great Ocean Road Regional Tourism General Manager, Liz Price, said the local community is looking forward to the tourism boost the popular running event will provide.

"Each year the Kieser Great Ocean Road Running Festival provides a significant boost to the local economy and is a key driver of Great Ocean Road visitation during the autumn season. We look forward to welcoming people from near and far to enjoy the best of what the south-west coast has to offer," says Price.

Alongside an inspirational two-days of running, festival goers will be able to lap up dulcet tones from local artists, immerse themselves in a ticketed 'glamping' experience, and witness local wait staff battle it out in the hilarious Pub to Pub Waiter's Race on Saturday. Whether participants are walking 5km, running their first marathon, or getting in a free 15-minute Kieser physio session pre-race – the Kieser Great Ocean Road Running Festival has it all.

Providing vital care for communities located along the race route, the event encourages participants to raise funds for the Apollo Bay and District Health Foundation. Since becoming the festival's official charity partner in 2015, more than a quarter of a million dollars has been raised by entrants to support important local health services.