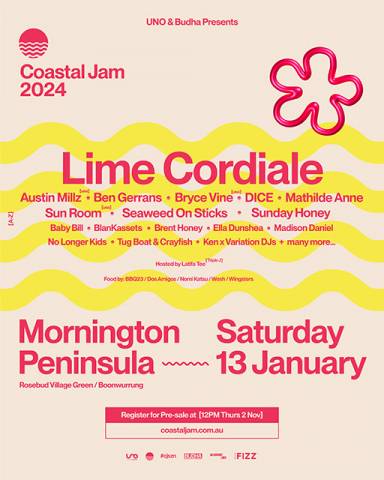 Set to take over the Mornington Peninsula's lush Rosebud Village Green this summer is COASTAL JAM, coming back for its 2024 rendition, bigger and better! Developed with the aim to provide festival goers with the optimal summer festival experience a stone's throw from one of Australia's most iconic beaches, COASTAL JAM has curated a lineup that will fill and satiate the appetite of any Australian music fan.

Headlined by beloved touring favourites LIME CORDIALE, and featuring an all-star lineup of artists from around the country (as well as some special international visitors), COASTAL JAM emerges as the next must-attend event for any music lover looking for an escape from the city, in favour of a sun-kissed coast with a banging live soundtrack to boot this coming JANUARY 13 2024.

Along with the talents of artists including DICE (WA), Ben Gerrans (NSW), Mathilde Anne (QLD) and Sunday Honey (VIC), the festival also welcomes New York's Austin Millz, Los Angeles rapper Bryce Vine, and Southern Californian rockers, Sun Room.

"Stoked to be heading down to the Mornington Peninsula for our first show of 2024, Coastal Jam. Brace yourselves, we haven't played Melbourne in a while."
Lime Cordiale

Hosted by Latifa Tee (triple j's Good Nights, The Nudge), COASTAL JAM is coming through strong with its good vibes and energy, bolstering its artist lineup with collaborations with community food producers as well, feeding directly back into the local economy.
Says festival organisers,
COASTAL JAM
has been created with the aim of supporting the local community, as it has been about generating a unique live music experience for fans and artists alike.
"Focusing on a combination of the best Australian headliners, internationals to provide something new and exciting - supported by a large cast of local Mornington Peninsula bands and DJs. The goal here is to provide the local artists with an avenue to connect and be inspired by some of the best and most popular artists in the world, to push forward the music culture in the region.

A stone's throw from the beach, Rosebud Village Green is the perfect place for a summertime, coastal flavoured music festival. With a capacity of up to 5,000 - it's large enough to book some of the best artists Australia has to offer, while maintaining a boutique feel."
COASTAL JAM
Tickets for
COASTAL JAM
are on sale to the public from
12pm AEST
on
Friday 3 November
.
A pre-sale commences from
12pm AEST
on
Thursday 2 November
via
www.coastaljam.com.au
COASTAL JAM 2024
Saturday 13 January 2024
Rosebud Village Green, Mornington Peninsula
COASTAL JAM 2024 LINEUP
HOSTED BY LATIFA TEE (TRIPLE J)
LIME CORDIALE
AUSTIN MILLZ (USA)
BEN GERRANS
BRYCE VINE (USA)
DICE
MATHILDE ANNE
SUN ROOM (USA)
SEAWEED ON STICKS
SUNDAY HONEY
BABY BILL
BLANKASSETS
BRENT HONEY
ELLA DUNSHEA
KEN
MADISON DANIEL
NO LONGER KIDS
TUG BOAT & CRAYFISH
VARIATION DJs + MANY MORE..