Monique Coleman Reunites High School Musical Cast for a Good Cause Interview
Actress, first-ever United Nations Youth Champion and social activist Monique Coleman has organised a long-awaited reunion of Disney's High School Musical cast"including Ashley Tisdale, Corbin Bleu, Vanessa Hudgens, and Lucas Grabeel"for charity. On Prizeo, the digital fundraising platform, fans can enter to win the chance to attend the private HSM reunion party for the cast in Los Angeles this December. The HSM cast reunion fundraiser launches on October 24th, the fifth anniversary of the premiere in 2008 of High School Musical 3: Senior Year.

Proceeds from the High School Musical cast reunion fundraiser will support the GimmeMo' Foundation, which invests in programs and creates content to improve the lives of youth globally. Coleman's non-profit web series GimmeMo' is dedicated to providing teens with education, content, and community to help them navigate the toughest issues of adolescence. With the help of this campaign, they will create curriculum, equip global correspondents, and open campus chapters to address issues facing students.

The Grand Prize winner and a friend will win a trip to Los Angeles to join the High School Musical cast VIP homecoming bash featuring America's favourite Wildcats: Vanessa Hudgens, Ashley Tisdale, Corbin Bleu, Lucas Grabeel, Kaycee Stroh, and Olesya Rulin, along with HSM director Kenny Ortega. Zac Efron is unable to attend but will provide the winner with a special surprise.

'Having travelled across America and to 24 counties as the first-ever UN Youth Champion, I'm inspired by the desire of young people everywhere to make the world a better place. At GimmeMo', our goal is to build a global community of enlightened young people," said Monique. 'Since 2010, our multi-platform community has facilitated dynamic conversations about real issues facing young people today. In its first two seasons, our GimmeMo' Internet talk show has tackled topics ranging from self-esteem and LGBT teens to the enduring bullying epidemic. I'm so excited to be working with Prizeo to expand the impact of my foundation. We have big plans at GimmeMo' for addressing major issues like teen suicide, cyber security, sex, and youth unemployment. I'm so grateful and proud that my fellow Wildcats are supporting me in realising this vision."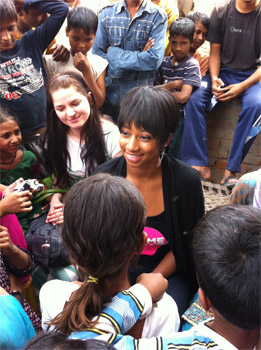 GimmeMo' is a multi-platform community and Web series that facilitates dynamic conversations about real issues young people face. The GimmeMo' online talk show created and executive produced by actress Monique Coleman is dedicated to empowering today's youth. Each episode features a compelling topic, such as teen homelessness, obesity, becoming environmentally conscious, body image, sex, drugs, and many more issues highly relevant to today's youth. GimmeMo's goal is to create an environment where teens feel safe talking about real issues, bringing awareness to organisations that are serving teens, and conducting celebrity interviews to spotlight Hollywood's commitment to giving back. GimmeMo' is produced on the Web to meet young people where they live and provide them with inspiration, resources and positive information.

Celebrity digital fundraising platform Prizeo was founded in early 2012 by Bryan Baum, Leo Seigal and Andrej Pancik. Prizeo's unique micro-donation model lets fans donate for chances to win once-in-a-lifetime experiences with their favourite celebrities whose charities benefit from the online campaigns on Prizeo.com. For micro-donations starting at only $3, contributors to the campaign will be entered to win the Grand Prize. Donors who contribute more can receive exclusive rewards for various donation levels including exclusive campaign T-shirts, Hoodies, and personalised Thank-You's from the cast. They are dedicated to building the Prizeo community on the principle that celebrities can maximize both the funds and awareness they raise for charity on an inclusive platform that gives all their fans the chance to contribute to win a once-in-a- lifetime experiences while contributing to society in a meaningful way.



Interview with Monique Coleman
Question: What inspired you to reunite the Disney's High School Musical cast for charity?

Monique Coleman: It's been five years since we wrapped High School Musical 3 so this felt like a perfect time for a cast reunion. I also thought that if we were all going to get together, why not use it to benefit the young people who started all of our careers.


Question: What is the GimmeMo' Foundation?

Monique Coleman: At GimmeMo, we aim to inspire, empower, and motivate young people through creating positive content and programs. We also support the efforts of other organisations working in specific areas that affect youth. We help them to expand their work by connecting them to resources and& we use our media platform to amplify their voices. We also run campaigns and produce shows to address issues related to bullying, self-esteem, body image, teen suicide, sex and many more.


Question: Why was it important to you, to support the GimmeMo' Foundation?

Monique Coleman: I've been personally investing my own money in the cause of youth empowerment since I launched the organisation in 2010. I believe so deeply in the work, but we can't grow it to its full potential now without financial assistance.


Question: Can you talk us through some of the success the GimmeMo' Foundation has had, already?

Monique Coleman: GimmeMo has produced two seasons of a philanthropic youth talk show. We covered important topics like youth homelessness, bullying, and teen sex. We also initiated a global tour on behalf of the UN during the International Year of Youth at which time we travelled to 24 countries engaging youth on issues that affect them in their country. This year, we partnered with Student Voice and co-hosted an event on education with Microsoft. We also supported the efforts of organisations such as She's the First, Global Kids, Girl Up, and Peace One Day.


Question: How can Australians enter for the chance to win a trip to Los Angeles to join the High School Musical cast VIP homecoming bash?

Monique Coleman: It's so easy! Go to prizeo.com/hsmreunion and make a donation of any amount. This enters you in the contest. One person and their friend will be randomly selected to join us in LA (airfare and accommodation provide).

The more you donate the more entries you get and you'll also get cool prizes like a t-shirt, hoodie, or autograph. There is even a prize for the people who share the link the most on social media. The top three sharers will get to participate in a google hangout at the party!


Question: What do you hope to achieve, from this event?

Monique Coleman: The event itself is intended to be a fun party! It would be awesome if it helped us to raise awareness about GinmeMo, but at the heart, it's a celebration of HSM.

The proceeds raised from the Prizeo campaign will go to GimmeMo to expand our efforts.


Question: How did it feel to be the first-ever United Nations Youth Champion?

Monique Coleman: I was beyond excited, but I also felt a sense of deep responsibility. I didn't want to be negligent with such an important title, but rather use it to have real impact on youth around the world.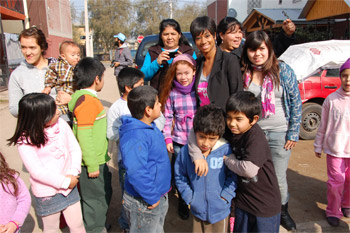 Question: What does this title, mean to you?

Monique Coleman: It means that I'm committed to being an advocate for youth globally. I'll speak up on their behalf when they need it, give them opportunities to engage with leaders when I can, and mobilize youth on important issues.


Question: What do you hope to continue to achieve with the title of United Nations Youth Champion?

Monique Coleman: The title opens the door for people to know what I'm passionate about, but with or without it, I'll always strive to help youth find their voice and live safer, healthier, more productive lives


Question: What's next for you, in regards to your career?

Monique Coleman: I'm currently in an Off-Broadway show in NYC and just wrapped a film with Victoria Justice called Naomi and Ely's No Kiss List which will come out next year.