Neil Patrick Harris The Smurfs 2
Cast: Neil Patrick Harris, Brendan Gleeson, Jayma Mays, Hank Azaria
Voice Cast: Katy Perry, Jonathan Winters, Christina Ricci, JB Smoove, George Lopez, Anton Yelchin, John Oliver
Director: Raja Gosnell
Genre: Animated, Family, Comedy
Rated: G
Running Time: 105 minutes

Synopsis: In this sequel to the hybrid live action/animated family blockbuster comedy The Smurfs, the evil wizard Gargamel creates a couple of mischievous Smurf-like creatures called the Naughties that he hopes will let him harness the all-powerful, magical Smurf-essence. But when he discovers that only a real Smurf can give him what he wants, and only a secret spell that Smurfette knows can turn the Naughties into real Smurfs, Gargamel kidnaps Smurfette and brings her to Paris, where he has been winning the adoration of millions as the world¹s greatest sorcerer. It's up to Papa, Clumsy, Grouchy, and Vanity to return to our world, reunite with their human friends Patrick and Grace Winslow, and rescue her! Will Smurfette, who has always felt different from the other Smurfs, find a new connection with the Naughties Vexy and Hackus or will the Smurfs convince her that their love for her is True Blue?

The Smurfs 2
Release Date: September 12th, 2013



About the Film
In Columbia Pictures/Sony Pictures Animation's 2011 hit The Smurfs, the world's favourite three-apple-high heroes proved that fifty years of success in every medium is no accident. Since first appearing in the pages of a Belgian comic book in 1958, Peyo's Smurfs have entertained children and adults around the world, coming to life in comics, books, television series, films, videogames, live shows, figurines (over 300 million sold)… and, finally, they ruled the world's box office. The film was truly a global phenomenon, going on to take in over $560 million. 'Whether you live in Brazil, or in China, or in Russia, or Paris, or Belgium, or New York… whether they're los Pitufos, or i Puffi, or les Schtroumpfs… everybody loves the Smurfs," says producer Jordan Kerner. 'With The Smurfs, and now The Smurfs 2, we're seeking to make films that translate across all geographical boundaries – which fits, because the themes of the Smurfs cross all cultures."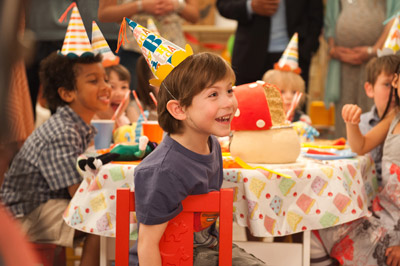 'These are characters that live in people's childhoods," Jordan Kerner explains. 'They are remembered and revered in the hearts of the generations who saw or read them. So we believed it was our duty to take the characters that the audience knew and loved, and expand them into a present time, from an emotional and a comedic standpoint. Peyo's daughter and a co-producer on the film Veronique Culliford and I work extremely closely together on the development of the stories – I'm very lucky that we get to work on a second film, because I love the characters, I love to see how they grow and change, and I desperately want to know what's going to happen to them after the movie's over. How could you not want to know what happens to Clumsy, Brainy, Grouchy, Papa, Smurfette, and Gargamel – the characters the writers and Raja brought to the screen?"

And what happens is this: where the first film saw our adorable blue friends taking a bite out of the Big Apple, The Smurfs 2 sees them showing off their cosmopolitan appeal with a new adventure that takes them to the City of Light – Paris, France!

'The most exciting thing for me, as a director, is setting this huge adventure all through Paris," says Raja Gosnell, who directs the film, reprising his role from the first film. 'We even got to film places where, to my knowledge, no one has ever filmed before. We were on stage in the Paris Opera House, we shot in the flying buttresses of Notre Dame. Between the great love of the Smurfs and the work that Jordan and our co-producer Raphael Benoliel did with the Paris authorities, we got into places where I thought we'd never get to shoot. What more can a director ask for?"

As the film begins, Smurfette is in the Smurf village, surrounded by her brothers and Papa, but still feeling somewhat alone. After all, she hasn't quite come to terms with her origins. As everyone knows, Smurfette was created by Gargamel as part of one of his evil schemes – but Papa used love and a magic spell to turn her into a True Blue Smurf. That was all a long time ago, but still… she's not quite sure about it all. 'She starts to ask herself some questions: where does she come from, does she fit in," says Katy Perry, who voices Smurfette. 'In a way, it's like she's becoming a teenager, asking the same kinds of questions we all go through when we come of age. She's really trying to figure out if she's a real Smurf. She was created by Gargamel, so there's a bit of naughtiness that's been subdued for a long, long time. But it's not about where you came from or who created you; it's what you choose to be and where you want to go in life."

'In a way, she thinks of Gargamel as her -birth father,' if you will, and Papa as the man who raised her and nurtured her. So that's the question – is it nature or nurture?" says Raja Gosnell. 'Is she the child of the parent who birthed her – sort of – or the child of the Smurf who raised her?"

These questions come to the fore when Gargamel plots yet another evil scheme to capture the Smurfs. 'Gargamel has, in essence, created Smurfette's -brother and sister' – the Naughties, Hackus and Vexy," explains Kerner. 'They are just like Smurfette, created from a lump of clay. Gargamel wants to turn them into True Blue Smurfs, but only because then he can capture their essence – in fact, if he can find the magic spell that turned Smurfette True Blue, then he could make countless Smurfs and squeeze the essence out of them to become the most powerful wizard the world has ever seen."

And the only way Gargamel can get that spell is to smurf-nap Smurfette and bring her to Paris. 'If there weren't a bad guy, there would be no need for heroes," says Raja Gosnell. 'So what better bad guy is there than Gargamel? He's sinister, but goofy. He's capable of doing dark things, but you just know he's going to mess it up. It's so much fun to watch him plot… and plan… and flounder. Amazingly enough, I find myself rooting for Gargamel at times – he's just so driven and passionate about what he does, and it's so amusing to watch things go bad for him."

The job of kidnapping Smurfette is one he tasks to Hackus and Vexy. Since they aren't True Blue Smurfs, Hackus and Vexy aren't Smurfs at all: in fact, they're decidedly naughty, so that's why Gargamel dubs them: the Naughties. And there's nothing a Naughty like Vexy would rather do than kidnap her -sister,' Smurfette. 'Vexy's not really bad – she's misguided," says Raja Gosnell. 'Gargamel is the only parent she's ever known, so of course all she's ever learned from him has been less-than-good. She sets out to manipulate Smurfette, to trick her into feeling like she's bonding with the Naughties, like she's part of the family. But a funny thing happens along the way and Vexy's plan has some unintended consequences."

When word reaches the Village that Smurfette has been kidnapped, Papa doesn't hesitate, forming a plan to bring her back with the help of the best Smurfs for the job: Gutsy, Brainy, and Hefty. But, of course, a 'clumsy" snafu ensures that Papa gets stuck with a 'B" team – namely, Vanity, Clumsy, and Grouchy. (As Passive-Aggressive Smurf puts it, 'I'm sure narcissism, ineptitude, and pessimism will be just as helpful. Good luck with that.") That's OK – Papa's got one more trick up his sleeve: he'll call on his old friends, the Winslows, for help once more. Neil Patrick Harris and Jayma Mays return for another adventure with the Smurfs as Patrick and Grace Winslow, and this time, they are joined in the Paris rescue by Patrick's stepfather, Victor Doyle, played by Brendan Gleeson.

'In the first film, Neil Patrick Harris's character was concerned about the responsibility of having a child – he wanted to be a good father, but was a little nervous about it," Jordan Kerner points out. 'In this film, we meet Patrick's stepfather – and it turns out that Patrick is facing the same nature-versus-nurture questions that are nagging at Smurfette. Patrick has never gotten along with his stepfather, but he comes to see that family is about what you choose it to be. We were glad to be able to make this a deeply felt family movie – and I think that there is a great deal more laughter and emotion in this film."

Taking the helm of the movie is Raja Gosnell. 'Raja Gosnell is one of the kindest, smartest, most prepared, wonderful people – and as a director, he has a remarkable imagination and a great gift with the actors," says Jordan Kerner. 'Not only does he have to direct actors who are playing opposite other actors, but actors who are interacting with a little piece of wire with a dot on it – and, sometimes, he has to direct scenes that have no actors in them at all. It's very difficult, and of course it takes tremendous planning and discipline. With Raja in charge, every day on a Smurfs set is a revelatory and happy day."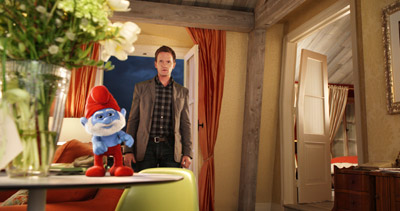 Raja Gosnell says that his favourite moments in the film are the ones that show off Paris to full effect. 'We have a stork flight all through Paris," he notes. 'Smurfette, Vexy, and Hackus are on the run, trying to escape from Azrael. They jump on some storks that are at Tuileries Garden, and they fly – through the giant Ferris Wheel, over the Seine River, through the flying buttresses at Notre Dame, and over a sidewalk café, until they finish by circling the model of the Statue of Liberty that sits in the middle of the Seine. We have another sequence in which the Ferris Wheel breaks off its moorings and actually rolls through the city. There is also a very fun sequence in which Hackus gets loose in a candy store; he makes trouble, and it turns into a big chase – a ride through the streets of Paris on a candy cart. Those sequences were especially fun for us."

About The Smurfs

Feisty SMURFETTE hasn't been feeling like her sparkly self – it's her birthday and that always brings reflection. She's been having some uneasy thoughts that maybe she isn't really 100% true blue Smurf. True, Gargamel created her, but Papa used magic to make her a real Smurf. So, when Gargamel kidnaps her on the eve of her birthday, and she is introduced to her newly-created siblings, the Naughties, she starts to form a bond. Papa musters a daring rescue, but will she choose the family she knows, or the new family she's discovered?

Nine-time Grammy Award nominee Katy Perry lends her own nuanced, energetic, and sensitive combination to the voice of Smurfette.

'It was fun to get back into character," says Katy Perry. 'I blocked out a couple of days to prepare for it, because I get into a zone where I really have to turn it on. Smurfette isn't my normal voice – it's like my voice and a bag of rocks, with a pinch of sugar."

Katy Perry says she was gratified by the chance to work in scenes opposite Christina Ricci. 'It's nice to know that she's playing my evil twin," says Katy Perry. 'I really look up to her, both as a person and as an actress – she's done so many incredible films."

'Katy Perry's performance is amazing, because she's able to portray both sides of Smurfette – from one moment to the next, she finds the character immediately," says Jordan Kerner. 'On the one hand, you have the kittenish, funny, sweet Smurfette character that everyone in Smurf Village embraces. On the other hand, this is a very dramatic story for her character – she's kidnapped, separated from the Smurfs, and thinks she's never going to see her family again. All of that sense of abandonment, and loneliness, and fear comes through in Katy's vocal performance. She's just revelatory as a comedic actress. She will be a major comedienne in films. Brilliant instincts, inherently funny, and just beautiful."

PAPA SMURF is, of course, the wise, kind and gentle parent to his 100 children (99 boys and 1 girl), doing his best to make each one feel safe and loved and keep the Village a happy place. When Smurfette is kidnapped by Gargamel, it's all for Smurf and Smurf for all! Papa loves all his children equally, but can't deny that the bond with his adopted daughter has always been special. She's always felt like she doesn't belong, and even Papa isn't quite sure how to prove to her that she's a True Blue Smurf.

The late comedy legend Jonathan Winters is the voice behind the altruistic, gentle and wise Papa Smurf.

Even after a heroic trip to New York City, CLUMSY has not developed any new, graceful moves. That's OK – he knows that it's what's on the inside that counts most. So while he might not seem like an obvious choice for a rescue mission – and in fact, it's his two left feet that bumble him into the job – he just might be a perfect choice after all.

Anton Yelchin gives voice to the innocent, exuberant Smurf with a heart of gold, Clumsy. He says that coming back into the booth to record the character was as comfortable as wrapping oneself in a warm blanket. 'We had already done the hard work, on the first film, of figuring out what the character was going to be, what he was going to sound like, so I could just enjoy myself," says Anton Yelchin. 'The second time around, I was used to the way it works – in animation, lines can change, animation can change, and that gives you a freedom in the booth."

'The first film was about Clumsy discovering that he doesn't always have to just be clumsy; he can be heroic, too," Anton Yelchin continues. 'I think this film builds on that – he's still doing everything that got him the name Clumsy in the first place, but now, he thinks of himself as a hero, too – it's fun to play with that idea. I enjoy playing Clumsy because he's so much fun – he's very sensitive and tender, but also very funny and silly. And did I mention he's a hero? He'd be very upset with me if I didn't mention that."

GROUCHY has always been the Smurf to see a dark cloud in any silver lining and going on another rescue mission really ticks him off! But that's all about to change. In a fit of negativity, he looks for inspiration. He'll proudly rename himself Positive Smurf! (Really?) With his glass now half-full, he discovers how much an upbeat attitude can contribute – but will the sunny disposition hold up when the Smurfing gets tough?

George Lopez is the voice that captures all of Grouchy's irascible personality.

'Everybody loves a curmudgeon," says George Lopez. 'The rest of the Smurfs are all so happy, so it's fun to see one Smurf try to throw the others under a bus. Even when he complains, you still love him. But in this movie, he gets tired of that. He's going to try to be positive. It doesn't work out for him, but he's trying."

'There are very few characters that are known all over the world like the Smurfs are. How many people get to be a part of something like that?" he continues.

Meet VANITY, definitely the most handsome guy in the Village – as he'd be the first to tell you. Sure, he's got charm and looks, but as far as being a valuable member of a search-and-rescue team, the only place you'll find him looking is in a mirror. Even so, Vanity might just surprise you by revealing an inner depth and courage at a time when it's needed the most. Or not.

English comedian and star reporter for 'The Daily Show" John Oliver provides the voice that puts the panache in Vanity.

'Vanity's role begins and ends with himself, so there's no real interaction between Vanity and his immediate surroundings – unless those surroundings are reflective," says John Oliver. 'He's the star of his own world. His first and only skill is narcissism – but if that can help save someone, that's great.

"Playing anyone that selfish is appealing," John Oliver continues. 'The first thing you're taught as a child is not to be selfish, to share things, to be nice to other people. And Vanity kicks against all of that. To him, no one is as good as he is. That's quite fun to mess around with – the idea that spectacular things can happen all around you, and all of it is less impressive than your own face."

'I'm British, which, by extension, makes me European, so the Smurfs were an iconic part of my childhood," says the actor. 'It wasn't something you needed to seek out – it was just there all the time. They were a predominant cultural force – these strange, blue, Belgian creatures."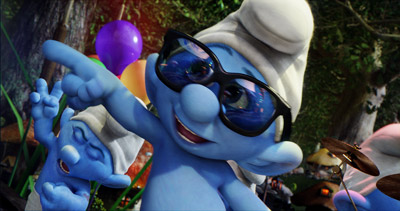 The film is also packed with cameo roles, ranging from Shaquille O'Neal (Smooth Smurf) to Jimmy Kimmel (Passive-Aggressive Smurf) to Sean White (Clueless Smurf) to Mario Lopez (Social Smurf) to Kevin Lee (Party Planner Smurf) to Mario Lopez (Social Smurf).

About Gargamel

He's back and out for blue! Unbelievably enough, the repulsive and nasty GARGAMEL is now a global superstar, admired by countless fans who find his Parisian magic stage show astounding and his 'evil wizard" act charming. Regardless of all the fame and fortune, he still desperately seeks what he really wants – to be the most powerful conjurer in the world and capture the Smurfs to extract their essence! Creating the Naughties and kidnapping Smurfette is just the beginning of a dastardly plan that might be his ticket to power.

Hank Azaria once again steps into the madness of this wicked wizard. 'He's a miserable, angry, sad person, and the Smurfs are so happy that he takes it personally," says Hank Azaria. 'He hates them for how happy they are. And, because he's an evil wizard who is obsessed with Smurfs, he naturally concludes that they are all that is standing in his way from becoming the world's most powerful wizard."

For Hank Azaria, revisiting Gargamel is sweeter the second time around. 'It was easier this time. It's such a weird character that it made me nervous the first time," recalls Hank Azaria. 'I have to credit Jordan Kerner; he really wanted to make sure the character stayed medieval and antiquated, and Raja Gosnell wanted to make sure that he was heightened and always passionate and crazy. Now, Raja Gosnell and I have a good shorthand with each other, what we want to try and what we want to do – it's very pleasant, it's a really fun job, coming to work and making these little creatures come to life every day."

In fact, for Hank Azaria, playing Gargamel is like no other role. 'It is like being in another world. It really is odd," describes Hank Azaria. 'The experience of making the movie is a little bit insane, since I'm mostly yelling at, screaming at, and chasing nothing – except on the occasions when they bring in a real cat."

And ah, that cat. Azrael – the only 'special someone" in Gargamel's life. 'I think it's really funny that he has this intensely intimate relationship with a cat that is smarter than him," says Hank Azaria. 'The cat knows better than he does, and when the cat meows he can tell what the cat is saying. I find that amusing."

'Azrael really is smarter than Gargamel," says Gosnell. 'And the cat lets him know at every turn."

'They are essentially an old, annoyed at each other married couple, and the romance has gone out of their relationship," adds Hank Azaria. 'Every film, I try to get in the line, -Why did I ever marry you?', saying it to the cat, but they never really keep it in there; one day, if we keep making these movies, one day I'll be able to say that."

'The relationship between Gargamel and Azrael was very much Hank's creation," says Raja Gosnell. 'Hank really didn't want to be monologue the whole movie – it was better for him to have a character he could bounce back and forth with, even if it is a cat."

Jordan Kerner says that realising the character of Azrael meant walking a fine line. 'Azrael definitely has a voice, but isn't a talking animal," he says. 'Azrael can say -meow,' and Hank Azaria, as Gargamel, can reply with, -Why are you angry with me, because we left Paris?' Meow means 10 million things to Gargamel." On camera, the cats Cheeto and Krinkle, along with a few other hero tabbies, did most of the heavy lifting as Azrael; for his facial performance and scenes requiring a fully animated cat, the filmmakers call on Sony Pictures Imageworks for the CG cat. Voice actor Frank Welker gave the tricky kitty his meow.

It's said that the clothes make the man – and surely that was never more true than about Gargamel. Hank Azaria spent hours in the makeup chair every morning to help get him into character. 'The overall look with his head being shaved, the teeth, the hair and everything, it changes him so much," says makeup effects department head Todd Tucker. 'When he gets into that makeup, he can't help but go into Gargamel zone."

'The wardrobe gives him a padded belly and back, his posture changes, he hunches over for the character," adds Todd Tucker. 'His whole body movement, everything about him changes pretty drastically, so it's a very different character than Hank is for sure."

'As soon as Hank Azaria steps out in makeup and hair, he completely inhabits the role. He becomes Gargamel," says Jordan Kerner. 'It's in his posture, it's in the way he carries himself, it's how he modulates his voice. He puts up with all the makeup, he puts up with shaving his head completely bald, he puts up with the big teeth we put in his mouth, and he's having so much fun doing it that he'll immediately give you ten variations on his performance."

It takes about two hours, all told, to turn an actor into an evil wizard – about 90 minutes of makeup, followed by 20 to 30 minutes of hair.

As might be fitting, Gargamel's robe gets a makeover for The Smurfs 2 – one deserved by the toast of Paris. 'We changed the lining of the cape, making it red," explains Montreal costume designer Véronique Marchessault. 'It also had to be kind of magical, because at one point he's in his robe, and then, seconds later, the squirrel wings appear." Gargamel uses those wings to fly off of the Eiffel Tower into the portal he conjures at the Trocadero Fountain.

Playing Gargamel in the Smurfs films has been a virtual rediscovery of Hank Azaria's childhood imagination. 'You get to play like you're a child; you're imagining these little creatures. I had three imaginary friends when I was a kid, and I would spend a lot of time with them," says Hank Azaria. 'It's like I'm doing that again, only I'm a little more angry at these imaginary friends than the ones I grew up with. I'm playing with a pretend cat, pretending to do magic, and waving a magic wand, and then somebody makes a light effect happen. When you're a kid, you always dreamed you could do things like that, and then you get to do it as an adult, and then they pay you – it's pretty nice."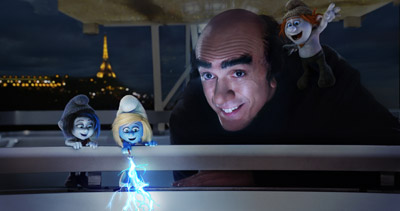 About The Naughties

When it comes to destroying the Smurfs, you can see Gargamel's train of thought: if you can't beat -em, make -em. After all, he did it before: take clay and just add wizardry. 'Smurfette started as a lump of clay that Gargamel dropped into his cauldron and brought to life, so that she could infiltrate Smurf Village. But Papa Smurf saw the good in her, and used a magic spell to turn her into a True Blue Smurf," says Raja Gosnell. 'So now, Gargamel has created the Naughties, Vexy and Hackus, and all he needs is Papa's secret magic spell to turn his Naughties into -real Smurfs' and have unlimited Smurf essence."

In creating the Smurf-like characters, Jordan Kerner went the extra mile to make sure that Vexy and Hackus would fit squarely into the Smurfs universe. 'Every step of the way on the Smurfs movies, we work very closely with Peyo's daughter Veronique Culliford and Smurfs historian Tom Cosijn to make sure we are getting it right – in script development, production, all the way through the release of the films. And that went double as we created the Naughties," he says. 'The neutral colour gray was their desire, as Peyo didn't want the Smurfs ever associated with any particular human colour. Peyo created this world – as we expanded what he built, we felt a duty to respect and honour what came before."

VEXY is the sister that Smurfette never had -- until now. But unlike Smurfette, she's not as nice; she's determined to be Naughty and do Gargamel's bidding. It's not easy having a dad like Gargamel – Vexy has grown up to be tough, devious, and very persistent in bringing Smurfette to the naughty side… but when she meets Smurfette, it turns out that Vexy may not be as Naughty as she thinks.

'Vexy is smart and mischievous and has lots of attitude. Attitude to spare," says Raja Gosnell. 'And she really does want to please her father."

Christina Ricci infuses the voice of Vexy with sarcasm and sauciness. 'When we thought about casting Vexy, we thought about the fact that she's Smurfette's -sister,'" says Jordan Kerner. 'Sure, one's blonde and the other's brunette; one's a perfect Smurf, the other is rough around the edges, but we wanted the voices to feel like they were two of a kind. And the voice that stood out for us was Christina's Ricci. She brings a great sense of humour, an articulate, clear voice, and a deeply raspy laugh that is a cousin to Katy Perry's performance as Smurfette. She's great at playing naughty, bringing a fun, ironic, tongue-firmly-in-cheek vocal quality. She and Katy Perry really raised each other's game."

Christina Ricci says that Vexy and Hackus are just looking for the same thing any child needs. 'They don't have a family and love," she says. 'They're not really bad – they're just lonely kids. When they kidnap Smurfette, that's just their way to try to get their -father's' love. But at the same time, I like that I got to play naughty."

'In a strange way, voice work gives you so much freedom as an actor," says Christina Ricci. 'As you work on one line, and the quality of your voice, and fine-tuning single syllables, over and over, you can dissect and pick apart and change little things and make it your own. It's amazing to me how much fun that is."

Of course, Vexy is just one-half of Gargamel's dastardly plan. 'Vexy is the brains of the operation," says Jordan Kerner. 'And her brother, Hackus, is the unbridled enthusiasm and brawn."

HACKUS is a lovable, sweet, hyperactive loose cannon easily influenced by his Naughty sister, Vexy. He's a bit berserk, sweet to the core, a cyclone of energy, and is a Naughty of few words"very few, in fact.

Curb Your Enthusiasm's JB Smoove is the voice behind the misbehaving Hackus.

'I was a big Smurfs fan growing up," says JB Smoove. 'This was in the days that you'd have to wake up before your brother if you wanted to control the TV on Saturday morning. So when they called me to play Hackus, I jumped at the opportunity – I'm part of Smurf history now. I've done voiceover work for other animated shows, but nothing like this."

Describing his character, he says, 'He's like an experiment gone wrong. Hackus loves to have fun and loves being naughty. Vexy and Hackus play tricks on Azrael, they play tricks on Gargamel, they play tricks on each other. He's enthusiastic, happy, playful, curious, fun, and overwhelming. He's Hackus. Hackus Hackus Hackus!"

'Because of his enthusiasm, Hackus speaks sometimes in shortened sentences," says Jordan Kerner. 'We needed someone who was a real voice artist, so we listened to many, many, many voices of different actors who could use their voice as an instrument, rather than simply a means of performance. The thing that convinced us about JB was that he – not unlike Hackus himself – is a ball of energy."

The actor says that he can see why the filmmakers thought of him for the hyperactive Hackus. 'I'm very good at raising my voice and laughing really loud," he says. 'Also, when you're doing voiceover work, you have to add action to it – physical action. You have to be physical with it, because that's the only way to dive into the character – if you just do the voice, it's not projected the right way. Raja Gosnell and Jordan Kerner gave me a lot of freedom to dive in there and have a good time with the character."

About The Human Beings

Three years have passed since Patrick and Grace Winslow last saw their blue buddies. But when the Naughties kidnap Smurfette and bring her to Paris, the Winslows get a visit from Papa, Clumsy, Grouchy and Vanity – the Smurfs will need their human friends to save Smurfette from their arch-nemesis.

You'd think with Patrick Winslow having a few years ago become a father to a son, Blue, he'd calm down, go with the flow a little bit more. Well, he might have, had he resolved his issues with his own stepfather, Victor Doyle. The two have butted heads for decades – while Patrick Winslow remembers his childhood one way, it's never crossed his mind that Victor might have a distinctly different perspective. However, once the Smurfs recruit the Winslows (and Victor!) to take part in the rescue mission, all of those feelings are exposed when their attention should be on saving Smurfette.

As a father in his own right, Neil Patrick Harris, identifies with his character, Patrick Winslow. Being a part of the Smurfs franchise gives Neil Patrick Harris the opportunity to share the experience with his family. 'I'm a dad," says Neil Patrick Harris. 'I really enjoyed making the first Smurfs and I was really proud of the end result. Now that I'm a family guy myself, I think it's good to have roles in movies that are age appropriate for them to see, so it's nice to be a part of The Smurfs."

Neil Patrick Harris sees Patrick's and Smurfette's story as a parallel journey towards family. 'The story goes right to the history of Smurfette's existence. It makes her question who her family is, who to trust, and where she's from," explains Neil Patrick Harris. 'That becomes the overriding question for all of us in our various ways within the movie."

In The Smurfs 2, as Smurfette deals with her unresolved feelings toward her origins, so too will Patrick Winslow have to address his own relationship with Victor Doyle, the man who raised him. 'Patrick's father had left when he was very young, four or five, and his stepfather, Victor Doyle, moved in with him and his mother. They never got along, for a number of reasons," says Neil Patrick Harris. 'And so, when Victor comes and joins the adventure, Patrick is having the same kind of internal struggle. He doesn't feel like he's Victor's son, and he doesn't really want Victor to be around. But Patrick learns through the process of this adventure with the Smurfs that your family is more about who you love and who loves you, and less about where you actually come from. That's a great lesson for everyone to remember, if not learn for the first time."

Patrick's and Victor's relationship may be like oil and water, but Neil Patrick Harris had great chemistry with Brendan Gleeson. 'He was just a terrific choice, because he's able to be over the top, and yet very grounded in a sense of reality," says Neil Patrick Harris. 'What could be a buffoon of a role, he makes it an actual person. Acting against him is terrific."

In Jayma Mays, Neil Patrick Harris could not have asked for a more perfect choice to portray Grace. 'I'm a big, big fan of Jayma Mays. She's just a bright light of adorableness, she's smart, she's so sharp, she's beautiful, she's funny, she's just the perfect choice for the heroine in this type of movie," says Harris. 'We can have banter in the movie that seems like we've been a couple for a long time."

Grace Winslow, warm, maternal instincts helped her forge a bond with the Smurfs during their previous visit to New York – especially with Smurfette, who she regards as a -sister.' So, of course, Grace has no intention of sitting idly by while her sister is manipulated into participating in one of Gargamel's horrid plans for destroying the Smurfs! Snapping up her adorable son (named in a loving tribute to the Smurfs), Blue Winslow, she informs her husband that her sister is in trouble, and they are going to help"NOW!

Jayma Mays grew up with a Smurf-obsessed mom. 'She was a huge fan. She forced me to watch the Smurfs," recalls Jayma Mays. 'When I was growing up, every Saturday morning, I would come downstairs thinking, -Oh, it's my morning, it's cartoon morning, and I can watch what I want.' No, mom wanted to watch the Smurfs."

A first-time mom, Grace's relationship with the Smurfs has made her a better mother. 'They have just had their first child, appropriately named Blue Winslow. She's learning about parenting," explains Jayma Mays. 'I feel like Grace is probably the most grounded character. She's a good mom. She cares about family. I think that's why she loves the Smurfs so much – I feel like her mothering instincts kicked in when she met the Smurfs, because they're these adorable wonderful creatures."

For Jayma Mays, it's especially gratifying to work opposite Neil Patrick Harris. 'Working with Neil is fantastic. He's everything that you assume that he would be. He's wonderful, fun and caring. He's as much fun off the set as he is on the set," says Jayma Mays. 'He comes in with amazing ideas; you can tell he really thinks about what he's doing. He's also so good at making a scene feel real and talking through things to make sure everything makes sense. It's wonderful to be able to work with him."

From Jayma Mays' point of view, the Smurfs' cross-generational appeal stems from its unique combination of light-hearted fun and uplifting, family-friendly life lessons. 'They're popular because they have such a good message," explains Jayma Mays. 'There aren't a lot of family cartoons anymore where you can sit down as a family, watch, and actually learn something or gain something. Especially one that has such good, moral family tales as this, that is also funny and light."

'I also feel that for kids, there's always a Smurf to identify with," adds Jayma Mays. 'Whether you feel Jokey one day, or Grouchy or Clumsy another day, those specific identities are something that kids in particular can relate with, and I think just all those things combined, make them popular, desirable, and pleasing to watch."

Victor Doyle is an affable, disorganised, and big-hearted mess – just the opposite of his son (step-son!), Patrick Winslow. It seems that no matter what Victor's intention is, his action turns out to be the wrong one, at least in Patrick's eyes. The gulf is too wide for these two to ever get together… until they are forced to put all of that aside to help save Smurfette.

A newcomer to the Smurf franchise, Brendan Gleeson says, 'I feel privileged to be part of something that opens that whole world up," says Brendan Gleeson. 'Being part of a world that is magical, young, optimistic, slightly complicated and fun is exciting."

Brendan Gleeson plays the overly talkative, overbearing, but big-hearted Victor Doyle, the bumbling Korndog King. 'Victor's larger than life, and he embraces the world in a very wholesome kind of a way," says Brendan Gleeson. 'He actually believes that he makes the best corn dogs in the history of the world."

'He's got a very big heart. He fills the space in a room," adds Brendan Gleeson. 'What made me really like him was that he could do the tough love business, too, and he could take a few hits if it meant that Patrick could work his way through a difficult time."

A dad himself, it's a role that Brendan Gleeson identifies with – a parent's unending patience for his children, whether by birth or otherwise. 'Fatherhood is the best thing that ever happened to me in my own life, I know that," states Brendan Gleeson. 'For stepfathers, it's a bit of a challenge about where they should fit in, particularly when you don't have the old style nuclear family. But this film is really about love that is unconditional – it doesn't have to be the way that most people see as -normal.' It doesn't have to be anything other than the fact that people care about each other, and I think that's really valuable."

But truth be told, there was one reason above all that sold Brendan Gleeson on the role. 'This is one of the great reasons I did the film: I liked the character, of course, but how many times do you get to turn into a duck?" says Brendan Gleeson. 'I'll tell you: not very often. I couldn't pass up the chance to explore my inner mallard."

As for Neil Patrick Harris, whose character interacts with Victor in this transformed state, the duck stole every scene. 'They're surprisingly good. They bat at things with their beak. They're funny, they'll sit there forever," says Neil Patrick Harris. 'I'll have a scene where I'm supposed to talk with the duck, and the duck will wag its mouth at me, shake its head, and everyone keeps laughing."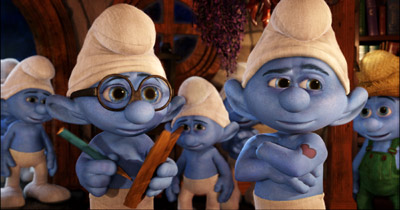 About The Production

'I love doing these movies, because there are so many moving parts," says Raja Gosnell of his work on The Smurfs 2. 'You walk onto an empty set and you think, -There's a Smurf, and he's going to walk over to that other Smurf, touch him on the shoulder. You have to get a close-up of a Smurf who's not there, reacting to the Smurf who's not there.' We took the same approach as the first film: we photograph the world as if there will be a Smurf there. I imagine all the Smurf action, I stage all the Smurf action, we use puppets to act it out, and then we take out the puppets to photograph the world, adding the Smurfs in later."

One of the keys to pulling off The Smurfs 2 was reuniting the key behind-the-scenes personnel from the first film: not only Kerner and Gosnell, but executive producer Ezra Swerdlow, director of photography Phil Méheux, BSC, production designer Bill Boes, editor Sabrina Plisco, A.C.E., costume designer Rita Ryack, composer Heitor Pereira, and visual effects supervisor Richard R. Hoover, leading a team at Sony Pictures Imageworks. 'In doing this movie, it's not only a reunion of the characters we know and love, but also a reunion of the people who's worked together and trust each other. It's like a family, or summer camp, when we get together," says Jordan Kerner.

One of the main advantages of bringing the band back together was that most of the challenges in making a hybrid CG/live-action film had been addressed. 'The technical process of learning how to put the Smurfs into a live action setting got worked out on the first movie," explains executive producer Ezra Swerdlow. 'The production learned from visual effects what they need, and built that into the movie – their lighting requirements, the things they need to scan and record, and just how much data they need to put the Smurfs realistically in a live action movie."

This new adventure pays homage to the European roots of the Smurfs, setting the story in Paris and integrating many of the city's iconic landmarks, including the Eiffel Tower, the Palais Garnier (Paris Opera House), the Arc de Triomphe, the Louvre, the Seine River, Trocadero Fountain, the Hotel Plaza Athenee, and the Notre Dame Cathedral.

Interiors were shot on soundstages in Montreal. In order to create the design of these elaborate sets, the filmmakers brought back production designer Bill Boes, who previously worked with Raja Gosnell on five of his other movies. Bill Boes and Raja Gosnell worked together ensure that the sequel remained consistent with the first film, but at the same time, injected an authentic design for the Paris setting. 'We wanted to incorporate the Paris aesthetic into the set design," explains Bill Boes. 'Paris used to be the artistic capital of the world, so we wanted to showcase the art of Paris and the beauty of Paris."

'One of the things that I equate Paris with is Art Nouveau, which is a movement that started at the turn of the century, and it's beautiful. It's taking nature and turning it into architecture," continues Bill Boes. 'I sold Raja Gosnell and Jordan Kerner on an Art Nouveau style penthouse and they went for it, we did it, and I love it."

Gargamel is a centuries-old wizard transplanted to the 21st century. Therefore, Bill Boes had to marry both of these periods to give the set designs a distinctive Gargamelian flavor.

Gargamel's mode of transportation is a tricked-out horse-drawn carriage. 'The only actual working carriage resides in Paris, so we needed to build the interior of it on stage in Montreal," says Bill Boes. 'Then, we enlarged it and elaborated on it – as soon as Gargamel and Azrael get into the carriage, they hit a button, a stereo is revealed, a TV monitor is revealed, snacks are revealed, and the music starts. It is very Gargamelian."

Gargamel performs his live show at the famed Paris Opera House, The Palais Garnier. Boes decided the design should be a reflection of Gargamel's mystique. 'We were there for two days, to film the audience's reaction and capture the grandeur of the Opera House," says Bill Boes. Production received all access to the exquisite building, including a visit to the private beehive located on the rooftop – which is rumoured to provide the best honey in all of France.

Where the first film had Gargamel jury-rigging a Smurf-a-lator out of trash and found objects, he's gone one better in The Smurfs 2 with his Smurfstractor. For this invention, the filmmakers wanted something with a contemporary, futuristic concept. 'Raja Gosnell and Jordan Kerner wanted me to go for more of a Matrix-esque type of machine which is sort of an atomic powered version of the Smurf-a-lator," says Bill Boes. 'Take old sci-fi, add in new sci-fi, throw in like a little nuclear reactor, and you've got a Smurfstractor."

For Bill Boes, the most challenging aspect to the conceptualization process is factoring in the movement of the Smurfs. 'There's a certain set of rules that everybody knows now, when we look at locations – we're immediately asking, where are the Smurfs going to go, how are they going to get up to eye level so the actors can talk with them," explains Bill Boes. 'We designed the lair set with a network of pipes on the walls, so the Smurfs can easily climb up, jump over, and get to where Raja Gosnell wants them to be to interact with the actors."

With the prominence of Smurf blue throughout the film, Bill Boes needed a colour palette that would pose a contrast. 'We learned on the first movie that warm colours are a good complimentary colour with the blue Smurfs," recalls Bill Boes. 'I like to keep the colours warm, so the Smurfs really pop."

The pop-up book in the opening sequence of the film was a separate challenge – and surprisingly, one of the greatest that the filmmakers would face. 'The pop-up book was a specific thing on its own; it had a separate crew," describes supervising art director Michèle Laliberté. 'An architect came to work with us to engineer all the folding and unfolding of the various elements of the book. Then, an illustrator came in and made these amazing illustrations of the story book along with graphic artists who came to help and print it."

'It was a very technical object and we worked on that for months," adds Michele Laliberté. 'We're really proud of what it looks like; it's a very beautiful book with leather binding."

About The Photography

The film's director of photography, Phil Méheux, BSC, made a key change that would affect the way the audience saw the film: a new camera. 'On the first film, we learned that if the Smurfs are all going to be in focus within a certain shot, we need more depth of field, and that means more light or more sensitivity from the camera," explains Phil Méheux.

To capture as much light as possible – and allow the filmmakers the greatest depth of field – the filmmakers shot with the new Sony F65 camera. The camera's state-of-the-art image sensor offers a higher image fidelity than any other digital cinema production camera.

'I light the Smurfs even though they don't appear. What I do is light specially made Smurf character models, accurate in size and shape," explains Phil Méheux. 'There is a camera which captures HDRI and measures the lights, what direction it's coming from, and what value it is, so they can replicate that in the computer."

Once again, lighting the Smurfs was informed by the lessons from the first film. 'We have to shoot a lot of sequences and pieces where the Smurfs appear to be moving things, so we've learned new ways of animating objects," explains Phil Méheux. 'We know what's coming. We know how best to deal with it, and whether it's worth doing. For instance, in lighting the Smurfs, if a Smurf is in a place where I can't get the light at him, I would give the heads up to the visual effects supervisor: the light there is not exactly how it is, you will need to create the light for that. And he makes a note."

Before filming a scene, Phil Méheux and the filmmakers relied on actors to portray the Smurfs. 'When we deal with the Smurfs in any particular scene, we have two voices that play all the characters for us," explains Phil Méheux. 'We have little models with moveable heads and arms, so we actually animate them and act out the scene, so that we can get the atmosphere of the scene."

Actors Sean Kenin and Patricia Summersett, who filled in for the Smurfs in these rehearsals, were instrumental in incorporating the use of puppets into the filmmaking process. 'On the last movie, we were just voices," says Jordan Kenin. 'But I thought we could be of more help by puppeting the characters around, so Raja Gosnell could look at the shot, and he agreed."

'We work closely with Raja Gosnell to give the puppets life," continues Jordan Kenin. 'When they're walking somewhere or interacting with each other, they have heads and arms that move that we can play with to give them a little bit of a life, rather than just sticking a thing in a frame and taking it out."

But in addition to being particularly helpful with the lighting challenges, the Sony F65 camera also allowed the filmmakers greater flexibility artistically. 'One of the big advantages of making a movie with animated characters is that you're not locked in to what you captured in principal photography – on a 100% purely animated film, they are constantly tweaking, changing jokes, changing animation, sometimes right up until they lock the picture. The challenge with our movie is that it's a hybrid of live-action and animation – we have to give the animators that flexibility, but, as we discovered on the first film, they were often hindered by a camera movement that had been locked in months earlier when we shot the movie. So this time, the question became, how do we solve that? How do we let the animators change the action after we shot it?"

The answer was the F65. 'Since the camera shoots a 4K image, we were able to compose a frame-within-the frame: we captured a larger image than we intended to use, and we had more room to move the frame around in the captured area," says Richard R. Hoover, the film's visual effects supervisor. 'In other words, we built a 10% pad into every shot we did, allowing us in post-production to blow up, reframe, and move the camera around. It worked out great for us."

As certain interiors were reproduced and shot on soundstages in Montreal, Phil Méheux's photography would have to sell the idea that the two locations were one place. 'If you're recreating a real location indoors, you try and capture the light," says Phil Méheux. 'I made notes on what everything looks like, how they light the Eiffel Tower, the Trocadero Fountain that's in front of it, and when I recreated those elements in the studio, I had notes, photographs and memories from our location scout."

Of course, nothing matches filming in one of the most beautiful cities in the world. 'Who wouldn't want the job of capturing the beauty of Paris?" he says. In addition, the fact that the movie is a big, bright comedy was attractive to the cinematographer, who is best-known for his work on action films like Casino Royale, for which he was honoured by his peers, the British Society of Cinematographers, with their award for Best Cinematography. 'I like doing films for the whole family," he says. 'This is a change for me. It's amusing, it's fun, and I get to do attractive photography as opposed to hard-edged photography."

Which is not to say that there isn't plenty of action in the movie. For the film's central sequence – a stork ride above the city – the filmmakers called upon a number of techniques. 'We were able to fly the cameras in Tuileries Park, around the Ferris Wheel, and around the model of the Statue of Liberty," says Raja Gosnell. 'But, as you can imagine, we looked for something a little safer when it came to some of the other parts of the sequence, like the flying buttresses. For those, we used a Steadicam – a man walking through, doing the flying motions, and we sped it up. It's old-school, but it still works perfectly. For other shots, we used cranes or camera cars – every shot had a slightly different approach."

About The Character Animation and Visual Effects

For the film's visual effects supervisor, Richard R. Hoover, the production was like a game with numerous moving parts. 'There are a lot of pieces, it's like a jigsaw puzzle," he says. 'For example, we shot plates and green screen in Montreal, and later, we shot live-action for the same shot in Paris. And, of course, it all has to fit together. This movie is much more complicated than the first one, both in shooting and in how many places we need to go in order to make the whole movie come together. Last time, we were getting to know the characters, and this time they're involved in their environment and things they need to do. There's a lot more action."

Even with the additional location hurdles, the goal of the visual effects team is to make the Smurfs realistic: living and breathing entities with emotions. 'My hope always is that the visual effects are seamless, that they look just like the live-action shots," says Richard Hoover. 'The principle of the Smurfs, as a rule, is that we're trying to ground them in reality, trying to make the audience believe that they exist in our world that the physics in our world work on them as well."

Achieving that is a curious blend of the technical and the artistic. 'The Smurfs have hearts and souls – they feel an emotion, just like we do," continues Richard Hoover. 'Part of that comes through in the way the animators will portray the characters, of course, but it also comes through in the way we shoot things: how fast we move the camera that gives a realistic speed to the characters, how far they jump, or run. They still have to behave within the rules of our world."

Of course, the other part of the equation is performance, as Sony Pictures Imageworks animation supervisor Sebastian Kapijimpanga explains. 'We add a lot of detail and nuance to the facial performances," he says. 'That way, we can make a performance very layered and realistic. That's especially true with Smurfette, since this story is really about her – there's a lot of subtlety to the performance, and the character has a bigger range than she did in the first film. She has some extremely subtle moments, all the way up to the joyful expressions as we're used to seeing them."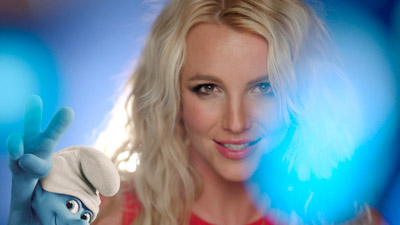 Similarly to Bill Boes and Phil Méheux, Richard Hoover's experience on the first film provided valuable insight in ways to improve visual effects techniques and methodology. 'We worked out a lot of methods in how to shoot the Smurfs, and make them be in our world, interacting with real objects, parts and landscape," states Richard Hoover. 'Last time around, I think it was something of a surprise to everyone how well close-ups worked – close-ups are great, because you get to see all the detail in the Smurf's face and the character really comes through. So, this time, Raja Gosnell was excited that he could do more of that."

Another visual effects improvement from the first film pertained to the development of tools to perfect the actor's eye line. 'What we found last time is it's very difficult for the actors to look at the right place and follow the Smurf action," explains Richard Hoover. 'We can put eye markers on the walls, but their eyes actually converge on the spot differently."

To truly make the eyelines match, the high-tech VFX expert says, he found a decidedly low-tech solution. 'I used some bailing wire on a little stand with a little red dot on it that we could place it in the scene," he says. 'It was fairly easy to remove later and the actors got a very accurate mark as to where their eyes are."

In order to maintain the authenticity of Paris and the Smurfs, many of the big action sequences required pre-vis effects, particularly the climatic run-away Ferris wheel scene. 'It's quite difficult to shoot, because how do you get a 150-200 foot Ferris wheel to roll down the street?" says Hoover. 'We could build in all the effects, but we didn't want to do that – we wanted to shoot Paris for Paris and shoot a real Ferris wheel as much as we could, and that presented quite a few challenges, both in tools and methodology and how to do it."

The sequence involved a number of different techniques to pull off. 'We're using the real wheel until it breaks loose from the surrounding structure," says Richard Hoover. Then the sequence moves into visual effects: 'We built a matching CG version of the wheel. We shot plates in the Tuileries Garden and other Paris locations, and did compositions of the wheel rolling through."

For one shot – with the camera looking at Gargamel, Hackus, Vexy, and Smurfette in the car and the audience riding along with the car – the filmmakers put a 50-foot camera crane onto a car hauler, then swung the crane's arm up and down to give the impression that the wheel was rolling. Most shots, though, were accomplished with green screen – the filmmakers used an array of cameras to create a 360-degree environment inside the car as well as a 180-degree environment of the world of Paris outside the car window, then matched that footage with green screen images of Azaria as Gargamel, which they captured in Montreal.

Also returning to The Smurfs 2 were an army of artists from Sony Pictures Imageworks to create the CG character animation. They were responsible for all of the character work – the Smurfs, the Naughties, Azrael the cat, and the duck.

'All of the characters that we worked with on the first film had been established," notes the animation supervisor on The Smurfs 2, Sebastian Kapijimpanga. 'Developing the new characters – the Naughties, Vexy and Hackus – was a process of discovery."

'I think we all had different pictures in our heads of what the Naughties would look like," says Raja Gosnell. 'They're not Smurfs, but they would have to be Smurfy – some version of the Smurf hat, some version of the Smurf pants. Our basic starting point was the idea that these are children of a neglectful father, Gargamel, so we liked the idea that they had found their own clothes. The most important thing, of course, was that they couldn't be blue, because that's Gargamel's whole quest – to turn them into True Blue Smurfs. So they're grey, since they were created from a lump of clay, though we did give them blue freckles, just to give you a sense that yes, there's a Smurf inside there."

'For Vexy, we wanted to make her look a little like a Smurf in certain ways, but quite distinctive in terms of colour choices and her style – she has a -found wardrobe' of clothes she found all over the city," Gosnell continues. 'Hackus is just an enthusiastic ball of energy. He loves his sister, loves to be loved, but he's got a bit of the devil in him – he likes to get himself into trouble."

'Hackus's proportions are a little bit different than the other Smurfs'," says Sebastian Kapijimpanga. 'That required us to do a lot of experimentation with different animation approaches to discover how he moves. Vexy looks more like the other Smurfs in terms of her proportions, but the differences come through in character performance. She's mischievous and certainly up to no good. It's a lot of fun to animate a character coming from that place."

The Smurfs 2 also called for Sebastian Kapijimpanga's team to animate a photo-real cat (Azrael) and duck (Victor, once Gargamel's had his way). 'In the last few years, it's gotten harder to tell CG from real," says Sebastian Kapijimpanga. 'We're at the point that I think the average person – my mom, say – wouldn't be able to tell the difference between a real duck and our duck." Sebastian Kapijimpanga's team was responsible for a wide range of animation, from facial replacement to expressive gestures to building an entirely CG duck.

For the cat, he says, 'It starts with looking at reference of real animals, of course. We have to start with the elements that make a cat's movements realistic. But we do have to add a bit of performance on top of that – some expressiveness in the faces and a broad range of movement. We push it to the point that it's comedic, but not so much that it takes you out of the film and you stop believing that it's a real cat. It's tricky."

The actress's performance at age seven in a school Christmas play caught the attention of a local theatre critic, who suggested to her parents that she consider an acting career. She made her professional acting debut one year later in Mermaids in the pivotal role of Cher's youngest daughter and Winona Ryder's sister. As a child actor, Christina Ricci won over audiences and critics alike with her winning portrayal of the strangely adorable Wednesday Addams in The Addams Family and the sequel Addams Family Values. She went on to star in the surprise hit of the summer 1995 season Casper. For that, Ricci received the NATO ShowEast Star of the Year Award and the Star of Tomorrow Award from the Motion Picture Booker's Club for her strong performances and the $100 million-plus box office successes of Addams Family and Casper.

On television, Christina Ricci's credits include a recurring role on 'Ally McBeal;" a guest appearance on 'Grey's Anatomy," for which she received an Emmy® nomination; as well as guest appearances on 'Saving Grace" and 'The Good Wife."

In theatre, Christina Ricci made her Broadway debut in 'Time Stands Still" and recently starred off-Broadway in 'A Midsummer Night's Dream."

Christina Ricci serves as the National Spokesperson for the Rape, Abuse & Incest National Network (RAINN) and is a member of the organisation's National Leadership Council. RAINN is the nation's largest anti-sexual assault organisation, operating the National Sexual Assault Hotline in partnership with over 1,100 rape crisis centers across the country. RAINN also carries out programs to prevent sexual assault, help victims and ensure that rapists are brought to justice.

The Smurfs 2
Release Date: September 12th, 2013