Pakistani-American actress Nida Khurshid is set to star as a series regular in the highly-anticipated CW prequel series "The Winchesters", a spin-off the hit CW series "Supernatural". Set to premiere Tuesday, October 11th, the show, which is a period-piece set in the 1970s, follows the love story of 'John' and 'Mary' Winchester as they navigate college and the form the Supernatural origin-story.
"The Winchesters" TRAILER:
Before "Supernatual" brothers 'Sam' and 'Dean', there was their parents 'John' and 'Mary' (Meg Campbell). Told from the perspective of narrator 'Dean Winchester', "The Winchesters" is the epic, untold love story of how John met Mary, and how they put it all on the line to not only save their love, but the entire world. The series begins in 1972 while the two are in college. Nida Khurshid stars as 'Latika Desai', a hunter-in-training in the series, who quickly becomes part of their fab-four group of close-kit friends alongside 'Mary', 'John', and 'Carlos' (played by non-binary star Jojo Fleites). Set in the early 1970s during the Pakistan contrary years, 'Latika', who is Pakistani-Indian, also faces her own obstacles as she navigates cultural divides of her people during an implosive time in history. The dark fantasy series is set to premiere on the CW on Tuesday, October 11th.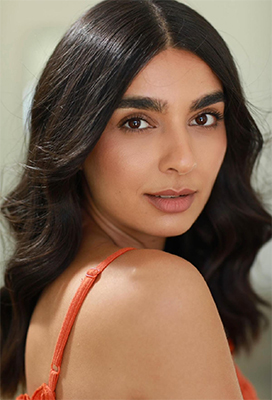 Born in Pakistan, Nida Khurshid moved to East Bernard, Texas at the age of 3 and was instantly faced with a culture shock. As a Muslim with Hindu as her first language, she had to learn the cultural norms of her new country. After studying 13 years of ballet and performing on stage knew that she wanted to get into modeling and acting, something that at first worried her mother due to cultural perceptions. She graduated from high school and began booking modeling and commercial jobs with her mother's blessing. Modeling afforded her the ability to travel, and she soon fell in love with learning about different cultures and people – something she attributes to her success as an actress. An avid foodie, she also enjoys taking cooking classes wherever her travels take her. After moving to Los Angeles, she began booking TV roles including two Shonda Rhimes series "Station 19" and "For the People". She was also selected for the prestigious Disney Television Discovers: Talent Showcase.
In her free time, Nida Khurshidenjoys traveling to new places, cooking delicious food, and writing poetry – and is actually in the process of writing her own cookbook with her poetry woven in.