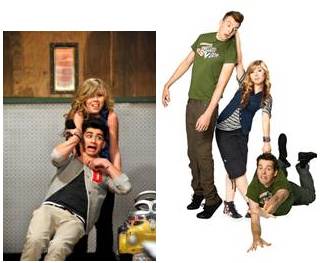 NICKELODEON ACHIEVES HIGHEST-EVER RECORD RATINGSWITH ONE DIRECTION EPISODE OF iCARLY AND CAMP ORANGE FINALE!

Nickelodeon Australia is enjoying a record ratings blitz, with last night's finale of Camp Orange: Boy V Girls going down in history as the channel's highest-rated Camp Orange episode EVER, reaching an average audience of 128,925 viewers. The result is up by 64% from last year's Camp Orange: Wrong Town finale and up 42% from the previous week's performance.

The finale's lead-in programming was a highly-anticipated episode of Nick's hit US show iCarly, guest-starring hit boy band One Direction. 'iGo One Direction' became Nick Australia's second-highest rated episode of iCarly ever, reaching an average of 108,842 viewers. The highest rating episode remains as 'iParty with Victorious' which aired earlier this year and was an iCarly/Victorious crossover special guest starring Victoria Justice.

Last night's unbeatable programming combo featured a strategic common link: iCarly star Jennette McCurdy. McCurdy visited Australia in April for the second time (her first being to co-host the Australian Kids' Choice Awards last October) to film Camp Orange. This was the first time that US Nickelodeon talent has been involved in Nick Australia's award-winning, original format local production of Camp Orange, and her trip included a full publicity schedule covering both the launch of Camp Orange and the One Direction episode of iCarly. The mega-popular teen star (who has over 1.3 million Twitter followers) braved the Aussie bush to join Camp Orange co-hosts Luke & Wyatt as a mentor for the girls' team against the boys, and the reveal of her presence on the first day of filming was a genuine surprise for the delighted kids at Camp, as were surprise celebrity appearances through the series from the likes of Reece Mastin, Justice Crew's EMan, and sportswoman Ellyse Perry. The girls were the ultimate winners in last night's finale, but as always, there are no losers in Camp Orange as friendship, fun, and messy, slimy challenges were acknowledged by the kids as the real rewards of the Camp Orange experience.

General Manager for Nickelodeon Australia and New Zealand, Ben Richardson, said:

"The outstanding ratings results of Camp Orange are a testament to Nick's continuing commitment to entertaining kids by telling great stories. Camp Orange gives Australian kids the chance to participate in an aspirational local format that celebrates friendship, diversity and messy fun.

"Of course, the appeal of a hit boy band like One Direction guest starring on iCarly is undeniable, so we're looking forward to bringing our Nick audience even more of them with our exclusive 1D concert premiering in September."

On September 1 Nick Australia will play an iCarly marathon from 2-6pm, with the last episode 'iGo One Direction' leading into into the exclusive One Direction concert at 6pm. Extra content will include hosted spots with the band revealing tidbits like the meaning behind songs, embarrassing moments, and giving an insider's tour of the band's tour bus.

Last night's record-rating finale of Camp Orange: Boys V Girls will be encored on Nickelodeon tomorrow night at 4pm, and again on Friday night at 8pm.