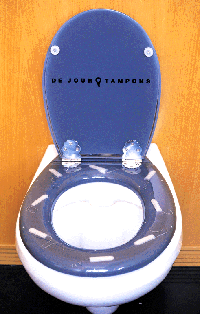 Coming to a toilet cubicle near you!

Well this is definitely the coolest toilet seat Girl.com.au has ever seen!

But you wouldn't expect anything less from our favourite tampons company - DE JOUR TAMPONS, those zip lock bags are a must have in any girls handbag.

Katrina Allen (a Melbourne girl) is the genius behind De jour and she designed these seats for some of Melbourne's hottest bars. She told us that it's been so popular that De Jour will be launching these seats across Australia so watch out for one!

In the meantime, you can visit them in Melbourne at the following venues:

Amber Lounge, Bond Bar, Purple Emerald, Icon Bar, La La Lounge, R Bar, Riva, Room, Salt Nightclub, The Saint, Veludos and the Whiskey Bar.

Go De jour Tampons!