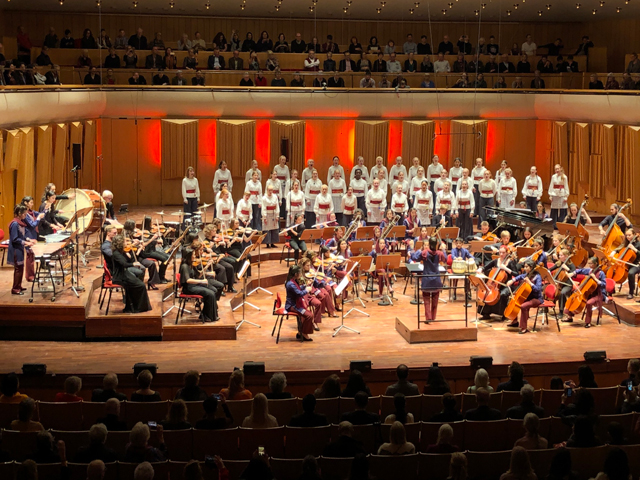 To Celebrate Centenary of Reclamation of Afghanistan's Independence and 50 Years of Diplomacy between Afghanistan and Australia.

In celebration of 100th Anniversary of Afghanistan's Reclamation of Independence and the 50 Year Anniversary of Afghanistan-Australia Diplomatic Relations, the Afghanistan National Institute of Music's Zohra Orchestra will be showcasing two major performances at Melbourne & Sydney's iconic landmarks as part of their debut Australian tour.

Saturday 12th October 2019, Robert Blackwood Hall, Monash University, Melbourne
Monday 14th October 2019, Sydney Opera House, Sydney

This tour is giving Australians the rare opportunity to witness Afghanistan's first all-female, internationally acclaimed orchestra as they are led by the country's first ever female conductor. As students of Afghanistan's only music school, these seventy-five brave young women are defying the odds to attain an education and play music together, allowing them to explore their culture and identities as artists and as women.

Their distinctive sound is based on a harmonious blend of classical Afghan and Western instruments in a manner that simultaneously generates cultural harmonies and showcases the nuances of traditional Afghan music. Since embarking on their first international tour in 2017, Zohra Orchestra have garnered substantial praise and attention from critics and spectators across the globe, in addition to several awards. To learn more about Zohra Orchestra, click here.

Initiated and led by the Embassy of the Islamic Republic of Afghanistan in cooperation with the Government of Australia and the Government of New South Wales, Zohra Orchestra's tour to Australia aims to raise cultural engagement and engagement between the two countries, and enhance people-to-people links in celebration of 50 years of this relationship.
Registration is essential and can be made at www.afghanaustralia.com.au.