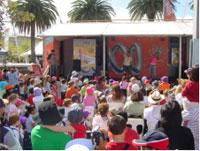 AUSSIE KIDS HIT THE BIG TIME!

Recent figures released by OZTAM has launched the ABC Kids supergroup, Active Kidz, into the big league after being named the second most popular children's show for kids aged under 12 during the last ratings quarter1 - these results have now cemented the success and popularity of the show, which debuted in April last year.

The group was created and is hosted by talented young performers and fitness instructors Amy Wilkins and Scott Ehler and is designed to inform children and their families about how they can incorporate health and fitness into their day. The talented and energetic duo who have enjoyed tremendous success since their launch continue to build a large audience of dedicated fans who appreciate, their dynamic, fun style.

Produced by ABC Enterprises, the 5-minute episodes, which are frequently broadcast on ABC TV, feature high-energy aero-pop songs, exercise routines and Active Tips - quirky facts about health, fitness, lifestyle and the human body.

During its first TV run last year, the series performed exceptionally well, consistently winning its 4.35pm weekday timeslot with children aged 0-12 years2. This equated to close to 3 million people, across the five capital cities who viewed at least one of the 5-minute segments3.

Other recent successes for the group include being honoured with three prestigious awards - The Australia Post Small Business Award for Young Achievers NSW/ACT 2004; The APRA ASGC Award for Best Children's Television Music 2004; and Scott Ehler was named "NSW Fitness Professional of the Year".

The duo has also toured to sell-out crowds around the country and in June last year were invited to perform in Singapore for a 2-week tour.

Currently available in store are three Active Kidz DVDs and Videos - 'Get Activated', Get Activated Too' and 'Get Active, Let's Party'. Accompanying CDs and cassettes are also available for 'Get Activated' and 'Get Active, Let's Party'.

Active Kidz is accredited by The Department of Education and Training.