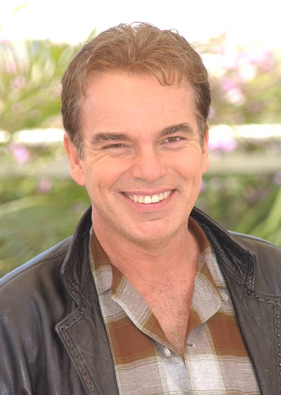 BILLY BOB READY TO FAREWELL SCOUNDREL CHARACTERS.
by Paul Fischer in Los Angeles.

One thing one can say about veteran Oscar nominee Billy Bob Thornton, is that he is often the antithesis of the characters he plays and that can only be a good thing. A funny, smart and savvy actor, Thornton appears to be somewhat typecast of late, playing, well there's no kind way of describing them, but they're assholes, let's face. While many are somewhat redeemable, that cannot be said for his 'Dr P', the unscrupulous character he plays with effortless glee in the Hollywood remake of the 1960 British classic, School for Scoundrels. Thornton admits that it always remains "a challenge to play those parts, but you know it's a lot a fun because you get to do something you can't really do in real life, or talk to people that way in real life. But it's not that hard to do, because you don't really have to think about it that much. I just played the character as it was written and it was written like that so, you just go out there and do it."

In this version of Scoundrels, Jon Heder is Roger, a beleaguered New York City meter maid who is plagued by anxiety and low self-esteem. In order to overcome his feelings of inadequacy, Roger enrols in a top-secret confidence-building class taught by the suavely underhanded Dr. P. Aided by his assistant, Lesher, [Michael Clarke Duncan], Dr. P uses unorthodox, often dangerous methods, but he guarantees results: Employ his techniques and you will unleash your inner lion. Surrounded by a band of misfit classmates, Roger's confidence grows and he makes his way to the head of the class, even finding the courage to ask out his long-time crush, Amanda [Jacinda Barrette] . But Roger quickly discovers that star students have a way of catapulting Dr. P's competitive side into high gear. Soon enough, the teacher sets out to infiltrate and destroy Roger's personal and professional life. Nothing is off limits for Dr. P, not even the object of Roger's affection. In order to show Amanda Dr. P's true colours, Roger must rally his new friends and find a way to beat the master at his own game. While some actors may strive to find a sense of humanity in a character such as this, Thornton said there wasn't much to find. "it didn't really call for much of that, like in Bad Santa and Bad News Bears where I played guys who were kind of assholes but really led with their heart as it turns out, while this guy it's really all about the head. So this was maybe a little harder to play simply because you can't let go and ever show that part of you."

Having now played a few of these darker characters of late, Thornton says, with one more coming out [next year's comedic Mr. Woodcock], it's time they release a unique set of DVDs. "The Asshole Box Set is right there so I think I've done it," he says, laughingly. "So I think after Woodcock comes out I think that's going to be the last one that you'll see from me at least for a very long time."

Over the past 10 years, Thornton has managed to be that unique force in Hollywood: both a leading man and character actor, and that balance suits him just fine, "I can go play a leading man and then in the next movie play an extreme character and people kind of expect that from me, so I think it's good that I started out playing characters because people will always be used to it when I do it. And the other thing is, is when I play leading men they're still characters, which I think gives me a little extra something."

At 51, the challenges for the actor, he says, are to still find "a really good script with an interesting story and interesting characters. I'm not looking for any certain type of things and I'm pretty content with my career so if I can just keep it where it is. I don't really want to be more popular or more recognized, but I would just like to be able to keep it where it is for a while longer." And Thornton, an equally accomplished director, hopes to be back in the director's chair soon. "I'd like to direct again. I have something that I want to direct but I'm just having a hard time getting it financed. The studios have really cracked down on budgets now and it's really hard to get a movie made, and the one I want to make is about a 25 to 30 million dollar movie. It doesn't seem like a lot but my story is la sort of a human drama, a very heavy story and a period piece, so you have a period drama, which is not at the top of their list for a sure thing, and so if you have one of those they want you to make it for like 12 to 15 million dollars, but if you have a big franchise superhero movie they'll give you 150 million, but anything in between they're really tough about," he says, laughingly.

11 years after the actor astonished moviegoers with his Sling Blade, Thornton continues to ride high with success. He says that he remains surprised as to how his career continues to go from strength to strength. "I get surprised sometimes, but more with the success of a movie. Like we didn't know Bad Santa was going to do so well, just like I didn't know Sling Blade was going to become this iconic movie, so I've been surprised several times. You know what's kind of funny to me is that I'm a veteran now, so when I work with these young guys like Seann William Scott or Jon Heder, they say, man, I watched your movies growing up, so I'm one of these guys that is like, Paul Newman or somebody was to me, and I just find that so amusing." Asked to recall why he wanted to be an actor in the first place, Thornton laughs. "I don't know and I really couldn't tell you. I just always loved characters and stories, was in drama in high school and just always loved doing it." Born in Hot Springs, Arkansas, Thornton was not exactly encouraged to act by his parents. "Where I grew up they didn't know anything about actors, but my mother always sort of believed in me and believed in all that and supported everything. If my father were still alive he'd probably think it was pretty shocking."

In the meantime, Thornton is very proud of his future acting gigs, including The Astronaut Farmer, about which he remains genuinely enthused. "That's the next movie after Scoundrels and I'm really glad about that because again, that's a drama and it's in between these two comedies. So I think that's real good for me." The actor adds that Astronaut Farmer is going to go on his list of the top four or five movies that he's ever done. It's just a beautiful movie. I really hope you like it because this is sort of my Jimmy Stewart role. We made it for 12 million dollars, but it looks like a big studio movie. Anyway, it's the Polish brothers and their movies have been darker and this is their first more accessible movie. It's a story of a guy who was in NASA and dreamed of being an astronaut and because of some family problems he had to wash out of the NASA program. Then he goes back to his farm, and since he knows how, he decides to build his own rocket, so it's his struggle as a dreamer in this country right now trying to do that against a system. It's really quite subversive in a lot of ways." Thornton says that this story of a dreamer is something that he could identify with, given his one time dreams of success in Hollywood. "There's no question about it, in that I fit in this part like a glove."

Thornton is also set to star in a film being produced by Brad Pitt's company. "It's called Peace Like a River and we don't have a start date yet for it but we're going to try to do it some time next year."