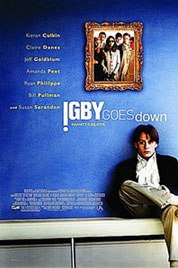 Reluctant Star is this Kieran fellow

Kieran Culkin/Igby Goes Down Interview by Paul Fischer in Los Angeles

Kieran Culkin is 20 and even so tis beginning to show a clear disdain for the press, despite the raves he is receiving for his portrayal of a rebellious teen barely surviving within the most dysfunctional of families in the acclaimed Igby Goes Down. Rave or not, Culkin pouts his way through an interview, spitting bottle caps around the room and insisting on answering questions as monosyllabically as humanly possible. Kind of a young De Niro but not.

It's a challenge to get the young actor to complete a sentence in which there is any content whatsoever! An obvious starting point is the notion that his Igby has distinct parallels with J. D' Salinger's anti-heroic adolescent Holden Caulfield, something clearly on the mind of the film's writer-director Burr Steers. "I wasn't thinking that," Culkin says. "I wasn t studying that. I wasn't referencing that or anything," he says, spitting pout another bottle cap and managing a half smile in the process. So perhaps there were other elements of the character that appealed to him when he read the script. "I just loved it. When I first read it -- when I very first read it -- I just liked the voice of it. I just really liked the way Igby spoke. It was different but it was very truthful. There was just something just very real about it, something different from a lot of the other scripts out there."

He attempts to describe this East Coast brat as "a guy. I don't know. He has a distance from his entire family. It's the way Igby grew up." Perhaps the actor responded to the character because of his own life which was hardly conventional. "My life has been different from him because I am very close to my family and I always wanted to stay as close as possible to them. That s why I'm still living in Manhattan with my mom whereas Igby wanted to get 3000 f---ing miles away from them."

So, what goes into building a character like Igby?

"Stuff. I don't know. This time, just talking a lot with Burr. We worked very, very closely and it was really like him being up there (because the story is semi-autobiographical). He took a lot of time just working very closely with me and I really appreciated that."

So, why did Steers cast you as Igby, a character who gets in a lot of fights?

"My character gets his ass kicked by a lot of people. A lot of people! I think Burr just hated me and said: 'Let's give him the role!' "

Asked if Culkin learned from his older brother Macaulay's mistakes, the younger Culkin becomes defenceless."I don't know what you're referring to as mistakes. No -- I don't go there. I'm not going to ... pheeeeew!"

Now a New York resident, the young actor claims his life is dull in the Big Apple. "It's boring. Just hang out with my friends and try to have fun. Watch movies and stuff like that." Which does not necessarily involve Amanda Peet, his older co-star in Igby Goes Down with whom he shares a torrid love scene. "Hey, hey, hey, hey!"