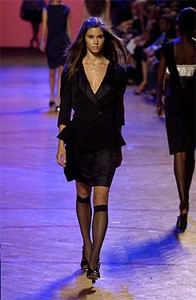 As well as the fashion element - wearing sheers have so many benefits! Use them to hide unshaven legs, fake tan streaks or scars, create a sleek line under dresses or trousers and add a polish to your final look. Much easier to pop a pair of sheers on, than apply a perfect fake tan!!

Marc Jacobs and Prada were just two of the designers that included sheers in their Spring 2006 collections. Marc Jacobs showed sheer knee-his for his Marc Jacobs collection and Prada paired slouchy sheer over-the-knee socks and sheer leggings with nearly all her spring looks.

The Sheer Facts: The Do's and Don'ts of wearing Hosiery!

Do - wear neutral or nude sheers closest to your skin tone to create the natural yet sexy and sophisticated look of bare legs

Don't - feel confined to nudes! Have fun with the many colour options available. Accent or contrast your outfit.

Do - wear Stay Up's! Having beautiful underwear and hosiery under boring work attire is guaranteed to make you feel better.

Don't - wear open toed shoes with stockings that have a seam across the toes or a reinforced toe!

Do - experiment with different styles. Try bold colours, or a seam up the back of your leg or the new cropped sheer footless tights (available from both Platinum and Razzamatazz this summer).

Accessories like scarves, handbags, shoes, jewellery and hosiery are the easiest ways to achieve a look that is unique to you!