Cuddle up with the latest in pajamas, sleepwear and loungewear from SpencerLacy. We all agree, you want to be cozy and snug when you get home from work or settling in for a lush weekend at home. But does comfortable have to equal dowdy or unsexy, not at all thanks to the exceptional design team at SpencerLacy.
Designed with you in mind, SpencerLacy pajamas, sleepwear and loungewear are the latest in effortless chic. You will fall in love with their camisoles, leggings, slouch pants, slips, tanks and cardigans. All designed with an eye firmly on our relaxed lifestyle, using the most beautiful in silks, lace and cottons.
The idea behind the ranges at SpencerLacy is all about layering and mixing the designs. Gone are the days when you had to buy a silk camisole set or old style women's pajama set. Go mad with sleepwear and mix ladies pajama pants with a gorgeous cotton cami. For loungewear, perhaps a sexy spencer (yes they have them too) with cuddly slouch pants for a night in front of the TV. And if you have to go out for supplies, casually throw a soft buttery cardigan loosely over your shoulders - heavenly.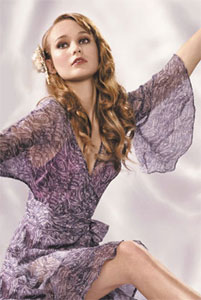 Womens Pajamas:
Look for silk pajama pants, cotton pajama pants, sleep shorts, and the most comfortably glamorous pajama sets, that are seriously adorable. SpencerLacy use silk in many of their pajama designs, it is the most lux fabric, with a glossy lustre and gorgeously light weight, perfect for a warm spring night. If you are a cotton pajama girl, you are catered fully for as well, using soft cotton in rich hues and beautiful patterns, you will feel like a queen.
Ladies Loungewear:
For loungewear, keep your eye out for cotton and wool ladies leggings and tights, silk gowns, cotton gowns, cardigans, flattering knitted tops and luxe silk crepe pants. I love their lounge pants in Silk Crepe De Chine, with removable ties at the bottom. These can be worn loose around your legs or you can bunch the pants in the on trend harem style. Definitely a pant to be worn on the street or to pick up the kids.
Sexy Womens Sleepwear:
If you like your sleepwear to be delicate and fine, with a nod to the seductive, SpencerLacy has cotton camisoles, silk chemise, silk camisoles, lace trim camisole and silk slips. If like me you are utterly obsessed with beautiful fabrics, SpencerLacy use the best fabrics available, with gorgeous colours patterns and style. They simply hold the mantle of offering chic and comfortable sleep and loungewear for Aussie women everywhere.
Get your SpencerLacy fix online at www.spencerlacy.com at David Jones stores Australia wide and in selected boutiques and outlets, see the site for stocklist details.

Do you know the correct way to spell PJS? Is it:
Pajamas
Pajamis
Pejamas
Pijamas
Pjamas
Pyjamas
Pyjamis
Pagimas
Pygimas
If you know what the correct spelling for "pjs" is, or even better, what you think it should be, visit www.spencerlacy.com and let us know!