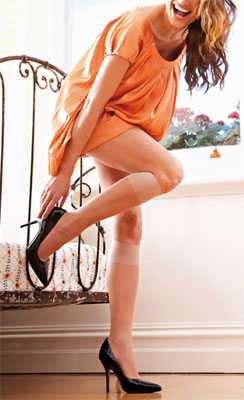 The Razza girl is back
Launched in the early 1970's, Razzamatazz quickly grew in the heart of Australian women (and men) thanks to the iconic television commercials aired throughout the 70's and 80's. The famous Razza girl personified the spirit of the brand - fresh, fun and effortlessly irresistible!

Today Razzamatazz has grown to be Australia's leading hoisery brand with a pair sold every 3 seconds.

The Razza Girl is back this season as Australia's leading hosiery brand with a re-vamped, re-freshed and re-package of their extensive range of sheer, fashion and footless hoisery and leg-wear.

The Razzamatazz range covers all a girl's legwear needs, whether for work, weekend or a night out on the town, Razzamatazz has the style for you. From stunning sheers to velvety warm opaques, play around and find the perfect style for your legs that turn heads.

It's effortless to find the perfect pair with the new Razzamatazz easy to read packs that highlight all the benefits fit for you. Showcasing product detail photos, a denier guide and clear features descriptions, Razzamatazz gives you the confidence to step out in style!

Available through leading supermarkets and discount department stores.