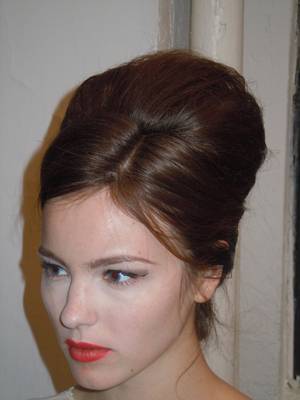 2011 Oscars Hair with Emiliano Vitale
As the mix of jewel, neutral and bold hued dresses sashayed down the red carpet, it was refreshing to see natural-inspired makeup, with a smoky eye or two, and beautifully textured, not over done hair styles.

"This year, stars seemed to be embracing texture with their hair styles, almost working with their own natural movement but glamming it up for the big night," says e SALON Creative Director, Emiliano Vitale. "Having just returned from New York Fashion Week, it was clear many stars had taken some styling tips straight from the runway indulging in a 'Raw Glam' approach to their tresses."

So who made Emiliano's Top 3 and why?
#2 Best Hair?and the first runner-up is: Natalie Portman
They say pregnant women glow, and this Best Actress Oscar Winner was certainly an example of that! Her hair was styled so beautifully with a soft, luxurious finish, that suited her overall approach to beauty & fashion for the night to a tee! This really was a very glamorous look befitting an Oscar winner, yet her hairstylist still kept in line with the current move towards embracing the hair's natural texture.

#3 Best Hair?and the second runner-up is: Cate Blanchett
You can always rely on Cate to think outside the square. Her effortless glam embraced the current trend of raw, undone hair perfectly a style that was finished with beautiful texture and polish - done just enough to not look out of place on the red carpet. For me, she was a shining example of suitable, current hair for the occasion.

#1 Best Hair?and the Oscar goes to: Anne Hathaway
Her casual elegance and beautifully coiffed, yet undone styles throughout the night really embraced the Raw Glam aesthetic that is so current at the moment. She also wasn't afraid to adopt and work a strong parting, much like Mandy Moore's on the red carpet.

Academy Honorable mention: Sandra Bullock
It would be remiss not to mention this beautiful woman and her raw, upswept do. This style was so hot and current, and the true epitomy of the Raw Glam updo that worked in, and contrasted brilliantly with her beautiful Vera Wang gown.