Following a bitter separation, Lucie moves to London to take up a position with a prestigious law firm. It seems an optimistic new beginning, until one day she receives a hand delivered note with the strange words: At last I've found you. A shock I 'm sure. But in time I 'll explain. Martin.

Lucie hasn't forgotten a man called Martin who was tragically killed twenty years ago in the 9/11 attacks. When she was working in New York as a young intern Lucie had fallen in love with him and he vowed to leave his wife to be with her permanently.

As an inexplicable series of events occur Lucie wonders if her long-dead lover could have staged his own disappearance under the cover of that fateful day. Or could it be that someone else is stalking her, or that her vivid imagination is playing tricks?

In a novel filled with compelling characters, and set in London, New York and Sydney, it seems that anyone could be out to sabotage Lucie's memories and ambitions, including herself. A Voice in the Night is an addictive thriller of twists and turns, a gripping and emotionally resonant debut from a striking new voice.

About the author
Born and raised in the UK, Sarah Hawthorn lived in Toronto, Dallas and New York before emigrating to Sydney, Australia. After career jumps from actress to journalist and then publicist, she relocated to the village of Bundanoon in NSW's beautiful Southern Highlands to pursue her dream of being a full-time novelist. When not writing, Sarah enjoys theatre, cooking and walking her dogs. A Voice in the Night is her debut novel.

A Voice in the Night
Sarah Hawthorn
ISBN: 9781925760705
RRP: $29.99


Interview with Sarah Hawthorn
Question: What originally inspired the idea of A Voice in the Night?

Sarah Hawthorn: I was in New York shortly after the events of 9/11 and visited Ground Zero, at that time cordoned off by wire fencing. It was harrowing to read poster after poster of people seeking information about lost loved ones. Fifteen years later, I paid my respects at the World Trade Memorial and walked around the footprints of the two towers. Reading the thousands of names of those who died brought to mind stories that circulated at the time about people using 9/11 as a cover to escape or disappear from sight, which struck me as a great premise for a book.


Question: What did you learn, about yourself, whilst writing A Voice in the Night?

Sarah Hawthorn: As a writer, I learned that the best work is going to derive from being brave enough to let go of characters or chapters that are superfluous or don't move the story forward. By nature, I'm not a patient person, but every time I stood back and took time out, I'd come back with better perspective and be in a position to strengthen the narrative (either by addition, deletion, or change!).


Question: Are the characters based on anyone you know, in real life?

Sarah Hawthorn: My protagonist, Lucie, started off being inspired by my daughter who is also a lawyer. But as the book developed, Lucie's character skittered off in many different directions and she soon became her own person, rather than a facsimile. Everyone else in the cast is a figment of my imagination, but each has characteristics cherry-picked from people I know.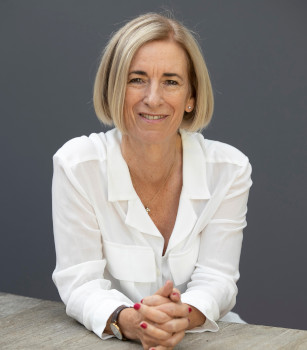 Question: How much of your inspiration comes from real life and real people?

Sarah Hawthorn: Obviously, this book takes the events of 9/11 as its starting point, but other than that all the characters are fictional. In terms of the situations they find themselves in, I drew a lot of inspiration from places I knew, or experiences I'd had in my life.


Question: What research did you do, prior to writing A Voice in the Night?

Sarah Hawthorn: Once I had the premise, and during the development of the plot outline, there wasn't much need for deep dive research. However, as I started drafting the manuscript, I was constantly researching to ensure I was factually correct. The most time was spent researching 9/11, conspiracy theories, stories from and about survivors. In addition, I spent time researching New York, London and Sydney location details.


Question: Is there a message you hope readers take from A Voice in the Night?

Sarah Hawthorn: I wasn't writing the book with a cautionary tale in mind, so really, I just hope that readers enjoy the ride and don't foresee the ending.


Question: What is the best thing about creating a character like Lucie?

Sarah Hawthorn: I loved giving Lucie both light and shade with relatable traits, and watching her emotional journey develop. It was important to me that she would finish the book in a far better place from where she started out. Because she's quite outspoken, it was fun having her say and do things that I'd probably never have the guts to say or do!


Question: What advice do you have for aspiring writers or artists?

Sarah Hawthorn: You can run but you can't hide! In other words, don't think you can take short cuts or that 'the reader won't notice'. They will. It's worth taking the time to drill down to every detail of character and plot, however painstaking it feels at the time. And make sure your copy is as 'clean' as it can be with punctuation, spelling and grammar fully checked before you submit to agents/publishers.


Question: What or who inspired your love of reading/writing?

Sarah Hawthorn: From childhood, encouraged by my parents, I always loved to read. Every week I'd visit the library and withdraw my maximum allowed number of books. My earliest author passion was Enid Blyton and I would devour every book she wrote. I'd sit at the back of the classroom trying to read unseen by the teacher.


Question: What's next, for you?

Sarah Hawthorn: For the past two years, I've been working on a historical mystery, set between 1913 – 1958 in Guernsey. The early manuscript was shortlisted for the Grindstone International Novel Award, so I'm hopeful the final version will make it to publication.


Interview by Gwen van Montfort