Amy Giannotti Australian Triathlon Endurance and Cycling Expo Interview
From bone density testing, through to stroke correction in a Fastlane Pool and participation in a criterium bike race, there is plenty to experience at the first ever multisport event in Sydney in July.

The Australian Triathlon, Endurance and Cycling (ATEC) Expo will be staged at the Dome, Sydney Showground on the weekend of 4 & 5 July 2015, and caters for triathletes, cyclists, runners, swimmers, endurance athletes and obstacle racers.

More than 5000 visitors are expected to attend the expo, which will feature 20 expert speakers and over 80 exhibitors showcasing the latest in health and nutrition, racing and training equipment and apparel, and performance enhancing technologies.

'ATEC is a great opportunity for professional, recreational, and even beginner triathletes, endurance athletes, fun runners and cyclists to learn about the latest products and innovations specifically designed to enhance their performance and give them a competitive edge," said Vanessa Iacomino, Exhibition Director at Informa, organisers of the inaugural event.

ATEC Expo seminar speakers include Richard Bowles, Adventure Runner and Sustained Commitment Strategist; Amy Giannotti, Dietitian, Personal Trainer and Founder of "Amy's Grains"; Daniel Bain, Head Coach, Onebody Power Cycle;Courtney Atkinson, Professional Triathlete & ATEC Expo Ambassador; Rebekah Keat, Professional Triathlete & ATEC Expo Ambassador;Vickie Saunders, Owner, The Sponsorship Consultants and Jen Brown, Chief Coach and Founder, Sparta PT.

ATEC Expo provides a one-stop-shop for all sporting enthusiasts, with leading companies exhibiting the latest innovations and providing expertise to attendees. Exhibitors include GARMIN, CrankTip, ORBEA, Felt Bikes, Fastlane Pools, Zoggs, Endura Sports Nutrition, IsoWhey, Gromet Sports Gear, Xterra Wetsuits, Hoka One One and Measure Up. ATEC is also pleased to announce Wiggle as the Official Show Bag Sponsor for the event, and On the Go Sport as the Custom Apparel Partner.

For further information and to register for event updates please visit www.atecexpo.com.au/pr1



Interview with Amy Giannotti
Question: What is the Australian Triathlon Endurance and Cycling Expo?

Amy Giannotti: I would say its heaven or a playground for people who find happiness in exploring their physical and mental limits through training and racing. I am so excited to be part of the show and be surrounded by a breed of people just like me.

We're a breed of humans often labelled as 'crazy". We are likely heard to be up running, swimming laps or cycling 100kms before sunlight. Our weekends are often spent logging some of the best kilometres and the 'endorphin" high and proud feelings we experience afterwards far out ways the feeling our 'alcohol affected" friends may experiencing at the local pub repeating the same stories. We like to get the most out of every day. We are high achievers and often perfectionists but we are a crazy group.

The Australian Triathlon and Endurance Cycling Expo is the first of its kind and offers a variety of educational and motivational seminars from a range of experts in their fields all to help you to keep exploring and pushing your limits. This may be in the form of PB's or having the courage to enter and finish an event you never thought possible. Education and motivation are the key tools to success with achieving your goals. Learn about how to maximise your training and performance with nutrition, how to balance work, training, family and social life, how to stay focused and motivated, how to approach sponsorship, prevent injury, dominate the open water with your swimming, how to use a power meter and much more!

It is also a great opportunity to learn and try new technology and products. The expo will provide cutting edge science and technology used to enhance your performance, recovery, analysis and comfort. From watches, clothing, wetsuits, swimming aids and sports nutrition products. Many you can try before you buy and get access to the best prices.

All this in one place, over one weekend! Book your ticket, its an event, or party for our breed not to be missed!


Question: What do you love about triathlons?

Amy Giannotti: I love the variety of triathlon and training with a purpose.

There is no one-week that is the same. Although my training week is structured with a balance between the 3 disciplines (swim, bike and run), brick sessions and strength and conditioning each week is different. Based around my key races my training year is broken up into phases with a focus in each phase. e.g. over winter (off season) I will be building my strength and endurance and closer to the race season ill be developing power and speed. The training environment also offers great variety and is a great way to get out and explore the world racing and training! I love meeting people just like me!


Question: Which of the expert speakers are you looking forwarded to hearing from?

Amy Giannotti: I really can't say there is one I most want to hear from. There are too many!

Craig Percival is a very inspirational and modest athlete, husband, father and coach with a wealth of knowledge to share. As a triathlete I look forward to gaining some swimming tips from Paul Newsome. Mental preparation and conditioning is an area I have not invested much of my time in and look forward to learning more from Debi Hazelden in this area and using this to help strengthen my performance and general health.


Question: What advice do you have regarding nutrition approaching an endurance event?

Amy Giannotti: Practice your fuelling or nutritional strategy in training so there are no surprises on race day.
Limit fibre and caffeine and make sure your well hydrated in the 1-2 days pre endurance race especially if it involves running to prevent GI upset or the sudden rush to use the loo!
When consuming simple carbohydrates e.g. a gel during exercise make sure you have it with some water, again to prevent GI upset.
Set your watch to BEEP to remind you to keep to your nutrition plan (e.g. eat/drink)
Adjust your nutritional plan to each event taking into consideration expected duration and the weather. Warmer temperatures will mean you are likely to sweat more so additional water and electrolytes will be required.
Know what nutrition is available (e.g. what brands) and practice using these or make sure you plan to carry them. Know where the aid station and toilets are by looking at course map a week before.
Don't be scared of carbohydrate, they are an endurance athletes best training partner for success. Know when, how much and what type of carbohydrate to consume around your training and racing.
See an accredited practising sports dietitian to help work out your individual requirements and create a personalised plan for your sport and goals. Don't just follow what your mate is doing.


Question: Why is it important for female athletes to have iron rich meals, approaching a sporting event?

Amy Giannotti: Before we even start exercising females due to the 'menstrual cycle" have a greater iron requirement. Women require 18mg of iron per day and males just 8mg. We know iron is a component of our red blood cells and important for carrying oxygen around the body so is very important for athletes!

A deficiency can result in an impaired performance, delayed recovery, feeling light headed and increased susceptibility to illness. A loss of appetite is also common which may lead to further complications if your not meeting your energy (fuel) and nutrient (tools) requirements.

Endurance athletes, especially runners have an even higher requirement, up to 25mg/day. This is due to the additional losses from sweat and urine in training and also damage to the red blood cells on the 'foot strike" for runners. Blood losses can also occur through minor damage to the lining of the digestive tract during strenuous exercise.

With red meat being the richest source of bioavailable iron endurance runners who are vegetarians are commonly found to have low iron stores (ferritin). A simple blood test from your doctor (iron studies) can determine your levels.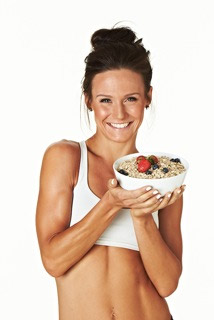 Question: Can you explain the method behind 'carb loading"?

Amy Giannotti: What is carbohydrate loading?
Carbohydrate loading is a common performance enhancing strategy amongst endurance athletes, which involves tapering (reducing) training, and increasing the availability of carbohydrate. The aim is to maximise muscle glycogen (carbohydrate) stores prior to endurance competition to 'delay the time to fatigue"

How does it improve performance?
Carbohydrate is stored in the body in a form known as glycogen and is found in the muscle and a smaller amount in the liver. Muscle glycogen levels are normally in the range of 100-120 mmol/kg ww (wet weight). Carbohydrate loading can allow muscle glycogen levels to be increased to around 150-200 mmol/kg ww. This additional storage of carbohydrate allows athletes to exercise at their optimal pace for a longer time.

Who will benefit?
Anyone exercising continuously at a moderate to high intensity for 90 minutes or longer is likely to benefit from carbohydrate loading. People involved in sports/activities such as cycling, marathon running, longer distance triathlon and endurance swimming may benefit from carbohydrate loading. Shorter-term exercise is unlikely to benefit, as the body's usual carbohydrate stores are adequate.

How do you carbohydrate load?
Carbohydrate loading involves 1-4 days of exercise taper combined with a high carbohydrate diet (7-12g/kg body weight).

Care needs to be taken to the types and amounts of foods you choose. You will need to make a plan and do your maths. You can use nutrition information panels (on packaging) or a calorie book/app like 'calorie king" to help meet these targets. A sports dietitian can also help in creating a personalised plan.

Unfortunately adhering to the above is often unsuccessful. Common mistakes include:
Not tapering training. Your body will not have a surplus amount of carbohydrate available to super saturate its carbohydrate stores, as it will be used fuelling the training.
Failing to consume the additional carbohydrates required. Simple carbohydrates or high GI carbohydrates such as lollies, jam, honey and sports drinks are often necessary to meet guidelines. Consuming too much fibre and protein can make us feel full thus limiting our ability to consume adequate carbohydrate. Liquid meals such as soups and smoothies and making an effort to eat regularly (e.g. 5-8 times a day) can assist meeting targets rather than 2-3 big main meals.
Fear of weight gain often scares people from utilising this performance enhancing strategy. Body mass is expected to increase approximately 2kg but this is due to the extra glycogen. Glycogen is attached to water. When these glycogen stores are used in your race/sport the weight will drop.


Question: What is Amy's Grains?

Amy Giannotti: Amy's Grains in a breakfast staple made from 6 unique whole grains (barley, spelt, triticale, brown rice, oats and rye).

It is like a multigrain porridge but compared to your regular porridge, which is just made from oats, you get the nutritional benefits of 6 whole grains.

Amy's Grains also provides a more grainy, nutty and chewy texture. It can be served hot or cold, is low in GI, has no added sugars or preservatives, is high in fibre, low in saturated fat and salt and is 100% whole grain.

It is designed for weight management and maximizing training and performance for active individuals and athletes. It can be purchased online at www.amysgrains.com.au or at a selected number of health and speciality shops.


Question: What inspired you to create Amy's Grains?

Amy Giannotti: Porridge has been my breakfast fuel for most of my life. I really don't feel anything else hits the spot and don't feel right if don't fuel my body with this premium petrol!

As a dietitan I am often educating about healthy food options and creating meal plans and no matter if your goals are to lose/manage your weight, reduce your risk or control your diabetes or heart disease, wanting to maximise your energy for work and family or training to be an elite athlete I can't recommend anything better than whole grains and a supply of low gi carbohydrates for breakfast. Amy's Grains is often served with milk and/or yoghurt and fruit so you are ticking off 3 food groups early and supplying your body with a rich source of B group vitamins (for releasing energy), protein for muscle repair, calcium for promoting good bone health and array of vitamins and minerals to support a healthy immune system.


Question: What tips do you have for changing bad eating habits?

Amy Giannotti: Cook in bulk

Examples:
Amy's Grains cold style for breakfast. Like a bircher muesli; combine Amy's Grains, milk, yoghurt and your favourite fruit (fresh/frozen) in a large container and store in fridge. Enjoy over 3-4 days. Great for when you are in a rush in the mornings or have a family to feed.
For your lunch and dinner cook your whole grains or low GI carbohydrates in bulk. Quinoa, brown rice, freekah etc are easily cooked and stored in the fridge. You can add this to your lean meat/protein and vegetables or salad.
If your spending time in the kitchen at dinner, make a double serve for tomorrows lunch. Or even if its just the meat/protein and you can add your low GI carbohydrates and veg/salad the next day.
Have back ups. My e book (link below to download) talks about a 'Plate model" for lunch and dinner acting like a cheat sheet to help meet 100% your nutritional requirements. ¼ of the plate is your low GI carbohydrates, ¼ of the plate if your lean meat/protein and ½ the plate is your non-starchy vegetables or salad. Think about how you can pre prepare these 3 sections or have back ups. E.g. for lean meat/protein – tins of tuna and for veg/salad having frozen vegetables.

Once your in a routine its easy. You're on autopilot just like driving to work or tying your show laces. Get into a routine with your meals and snacks that you tick off the food groups and the recommended serves each day. My E book Fit Fabulous Foodie details how to do this simply, provides a sample meal plan with heaps of flexible, tasty and easy to make recipes. This can be downloaded at www.amysgrains.com.au

Don't totally restrict any food you love. You will just want it more, think about it more and likely binge on this food followed by feelings of regret. If it is a very energy dense, high fat/sugar/salt food that you know doesn't support your health and fitness goals in copious amounts such as alcohol, chocolate or fried foods allow your self small amounts of less than 3 times a week.


Question: Can you please provide a couple of recipes including an iron rich recipe and quick easy snack recipes?

Amy Giannotti: The following recipes are taken from my E Book Fit Fabulous Foodie. The entire collection can be downloaded at www.amysgrains.com.au. The book also includes lots of education and answers all the questions I get asked as a dietitian. I am about empowering you to achieve your goals.



Brekkie Muffins
That can be enjoyed any time of the day!

Cooking time: 30 mins (not including cooking time of quinoa)
Servings: 3 (2 large muffins per serving)

Ingredients
Eggs, 6 (only 2 yolks)
quinoa, cooked, 1.5 cup
cherry tomatoes, halved, 8 (140g)
Chives, 2 tbs. chopped (8g)
Mushrooms sliced, 8 medium (140g)
Spring onion, chopped, ¼ cup (25g)
Zucchini, grated, 2 medium (200g)
Extra light cheddar cheese, 1/3 cup (35g)
Spray oil (optional) for muffin trays.

Will need a 6-unit LARGE muffin tray

Method
Preheat oven to 180 degrees Celsius
In a large bowl combine all ingredients
Divide mixture evenly into the muffin tray to it fills 1cm beneath the top.
Top with cheese and place in oven for 20 minutes or until cooked through.

Tips:
These muffins can be enjoyed as quick and convenient breakfast meal.
They can be cooked in large batches and stored in fridge for up to 3 days.
They can be reheated in the microwave or enjoyed cold.
One muffin can be a convenient mid morning or mid afternoon snack and two muffins can be served with a salad or veggies (1/2 the plate) for a main meal!
Great to take to outdoor BBQ's, picnics, kids birthdays or long car trips.
If don't like zucchini experiment with your favourite vegetables and herbs! Try grated carrot, corn, peas, pumpkin, broccoli or spinach, just as long as there are some vegetables to make up ¼ of the mixture!



Mexican Bean, Quinoa And Mango Salad
Cooking time: 10-15 minutes (not including cooking on quinoa).
Servings: 2

Ingredients
Red kidney beans, 1 cup
Cooked quinoa, 1 cup
frozen or canned corn, 1 cup
red capsicum, diced, 1
Fresh mango diced, ½
Red onion, ¼ cup diced
Fresh parsley leaves, ½ cup
Green peppers/jalapeno, 1-2 (optional)

Dressing:
Juice from 1-2 limes (1/4 cup)
Olive oil, 2 tsp.
Garlic paste, 1 tsp.
Ground cumin spice, ½ tsp.
Chilli powder, ½ tsp.
Turmeric spice, ½ tsp.

Method
Cook quinoa as per instructions
Cut all ingredients
Mix all salad ingredients together in a large bowl
Whisk together dressing ingredients
Drizzle dressing over the mixture and toss. Refrigerate until ready to serve.

Tips:
This is a great vegetarian meal that provides 6.2mg of iron per serve, which is just over one third of female's iron requirements and eighty precent of males.
As the recipe also contains ample vitamin C, the absorption of this iron (non-haem iron) is enhanced.
Use canned red kidney beans and frozen or canned corn for easy convenience.



Thai Beef Salad With Wild Rice
Cooking time: 20 minutes (not including cooking time of grains)
Servings: 2

Ingredients
Sirloin, rump of fillet steak, lean, 250g
Wild rice, cooked, 1 cup.
Mixed lettuce leaves, 2 cups
Beans sprouts, fresh, 1 cup
Cucumber, ½, sliced
Cherry tomatoes, 8-10, halved
Kaffir lime leaves, fresh, 6-8
Mint leaves, 1/3 cup
Coriander (cilantro) leaves, ¼ cup
Fresh basil, chopped, 1 tbs.
Peanuts, 6, chopped
Red chilli's, 1-3 (to your liking!)

Dressing & marinade:
Salt reduced soy sauce, 1-2 tsp.
Fish sauce, 2 tsp.
Lime juice, ¼ cup (2-3 limes)
Garlic Paste (Gourmet Gardens), 1 tsp.
Ginger paste (Gourmet Gardens), 1 tsp.
Sesame oil, 1 tsp.
Honey, 1 tsp.

Method
Pre heat oven to 180 degrees Celsius
Cook wild rice according to instructions. Rice can be served hot or cold.
In a small bowl combine dressing and marinade ingredients.
Divide mixture and use ½ to marinate steak in a sealed container in fridge for 5 – 10 minutes. If have the time marinate meat for 2 hours to absorb flavours and flip/turn occasionally.
On a hot pan/BBQ brown steak for 1-2 minutes and transfer on to a baking tray lined with foil and place in oven for 6-10 minutes or until cooked to you liking.
Remove steak from oven and let rest.
In a large bowl combine remaining salad ingredients and dressing and divide between two serves.
Slice steak across the grain to serve on top of salad
Serve with ½ cup wild rice on side.

Tips:
To save time cook wild rice in advance as can take up to 45 minutes.
Long grain brown rice, quinoa, freekah or farro can be used as an alternative to wild rice.
Chicken, prawn, tofu or tempeh can be used as an alternative to beef.


Interview by Brooke Hunter