Natural Skincare Company Burt's Bees Teams Up To #BringBacktheBees
As you may know, globally, the bee population is in dramatic decline – 30% in the U.S., to more than 80% in the Middle East. These tiny insects do more than just produce honey and great beauty products, they are responsible for 30% of the food that we eat and Australia could be the next under threat.

They may be annoying, but bees are responsible for a staggering one third of our global food supply. Simply put, bees keep plants and crops alive. Without bees, humans wouldn't have very much to eat, including avocados, coffee, blueberries, cherries, broccoli, strawberries… You get the idea. The list is endless and could very soon become our reality.

#BringBacktheBees

AUSTRALIAN bees are set to enjoy some extra buzz with the announcement that Burt's Bees are pollinating their 'Bring Back the Bees' campaign down under. On 1 Feb, the natural lip balm company is launching a limited-edition strawberry lip balm to Bring Back the Bees. For every lip balm sold, $1 will be donated to The Wheen Bee Foundation, an Australian non-for-profit organisation that raises funds for research into the plight of bees, both nationally and globally.

Additionally, Lyndi Cohen has collaborated with Burt's Bees Australia, Taronga Zoo, the Wheen Bee Foundation to help spread the message far and wide and taking a stand for the bees, providing a way for people at home to be part of the solution to help. From Tuesday, 29th January, to Monday, 4th February, the acclaimed Australian street artist, Mulga will be painting a mural on Sydney's York Street to show his support for the bees. The mural will tell the bee story and show the key foods we'd be sorely missing in a world without bees.


Interview with Lyndi Cohen
Question: What are five simple things we can do today, to help the bees?

Lyndi Cohen: 1. Buy local honey to help support your community of beekeepers and enthusiasts.
2. Plant some bee-friendly flowers. This can provide a fresh habitat for local bees, as well as nectar and pollen, which are essential for pollination.
3.Pledge your support by purchasing a Burt's Bees #BringBackTheBees Limited Edition Strawberry Lip Balm from leading pharmacies, $1 from every lip balm is donated to the Wheen Bee Foundation, who research and raise awareness about the importance of bees for food security.
4. Leave a little basin of water out for bees to drink from.
5. Reduce the amount you mow your lawn.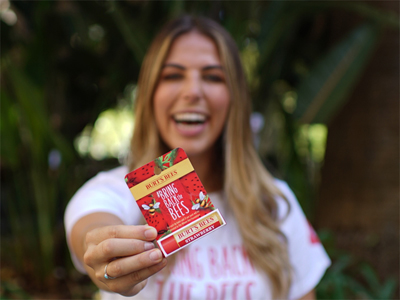 Question: What plants should we have in our gardens to help the bees?

Lyndi Cohen: While dandelions might be seen as weeds to some, they create a wonderful environment for bees to forage. Lavender is also very attractive to bees, producing high-quality pollen.


Question: Is there anything else we can do to help bees survive?

Lyndi Cohen: Doing your own research can also help you find new and inventive ways to help support the bee population – a quick visit to the Wheen Bee Foundation website is interesting and informative. Check it out here: https://www.wheenbeefoundation.org.au/


Question: Can you share your sustainable gardening tips with us?

Lyndi Cohen: Everyone can help the bees out in the garden in a range of small ways such as; planting flower borders with bee-friendly flowers and reducing the amount you mow your lawn; they may seem like small things, but it's those small actions that Australians can make every day, which will drive change to protect our bees

Growing your own fruits, vegetables and herbs is also a sustainable, economic and bee-friendly way to spend some time in the garden.


Question: What foods do bees help Australians produce?

Lyndi Cohen: Without bees, we would miss out on avocado, cashews and almonds, which provide us with incredible healthy fats. We'd also miss out on the vitamin C boost from cauliflower, strawberries, pumpkin and kiwi and citrus fruit that help to keep our immune system healthy and our skin glowing.

Last but not least, bees also pollinate some of the world's most essential and affordable food staples including carrots and potatoes, which means dwindling bee populations would affect those that have the least.


Interview by Brooke Hunter
Photo by Aaron Burden on Unsplash