Some secrets you try to hide. Others you don't dare let out …
Ambitious young journalist Marlowe 'Lo' Robertson would do anything to escape the suffocating confines of her small home town. While begrudgingly covering the annual show for the local newspaper, Lo is horrified to discover the mutilated corpse of her best friend – the town's reigning showgirl, Lily Williams.

Seven strange symbols have been ruthlessly carved into Lily's back. But when Lo reports her grisly find to the town's police chief, he makes her promise not to tell anyone about the symbols. Lo obliges, though it's not like she has much of a choice – after all, he is also her father.

When Lily's murder makes headlines around the country and the town is invaded by the media, Lo seizes the opportunity to track down the killer and make a name for herself by breaking the biggest story of her life.

What Lo uncovers is that her sleepy home town has been harbouring a deadly secret, one so shocking that it will captivate the entire nation.

Lo's story will change the course of her life forever, but in a way she could never have dreamed of.

About the author
Nicola West is the daughter of a third-generation police officer and grew up in a bucolic coastal town in New South Wales. After moving to Sydney to pursue a career in journalism, she vowed to be as far removed from both her hometown and her father's profession as possible"that is until she found herself writing a novel about both topics. In addition to being one of eight young writers chosen to take part in Express Media's 2018 Toolkits: Fiction program, Nicola was also selected for the Australian Society of Authors' 2019 Award Mentorship Program. She was a mentee of bestselling author Monica McInerney. Catch Us the Foxes is Nicola's first novel. She lives in Sydney and can be found on Twitter and Instagram @nicolawestbooks or via www.nicolawestbooks.com

Catch Us the Foxes
Nicola West
Simon & Schuster
ISBN: 9781760857479
RRP: $32.99


Interview with Nicola West
Question: What originally inspired the idea of Catch Us the Foxes?

Nicola West: The novel was inspired by my love of small-town murder mysteries (I'm obsessed with Twin Peaks), as well as my desperation to escape my former hometown and my experience as the daughter of a third-generation police officer.

In fact, prior to writing the novel, I was actually working on a memoir about my experience of developing a debilitating medical condition at the age of twelve and ultimately having to fight for my right to receive a medically necessary hysterectomy as a teenager.

At its core, Catch Us the Foxes is the fictionalised version of that memoir. It captures the same feeling I felt of being trapped in my hometown due to my health problems but in a heightened and distorted way ¬– as if being viewed via a funhouse mirror.


Question: What did you learn, about yourself, whilst writing Catch Us the Foxes?

Nicola West: I learnt that there's nothing more in this world that I love more than writing fiction. After struggling to write my memoir, Catch Us the Foxes was a breath of fresh air and an absolute joy to work on.

I also learnt that I'm a lot more messed up than I thought I was (and that I have a very twisted sense of humour)!


Question: How much of your inspiration comes from real life and real people?

Nicola West: I made the (perhaps controversial) decision to set Catch Us the Foxes in my hometown, and all the locations used are places you can physically visit. I also took inspiration from the urban legends I had grown up hearing about the town – of satanic symbols carved into trees and ritualistic slayings taking place in the area's surrounding rainforest. The latter isn't exactly 'real' life – but those stories certainly left their mark on me as a kid.

That being said, when I made the decision to set the book in a real town, it was tremendously important to me that none of the characters were based on anyone I know. Not only did this mean I could create a cast of truly warped individuals, it also made it a lot easier to kill them off!


Question: Was it difficult reliving certain aspects/times of your life, whilst writing Catch Us the Foxes?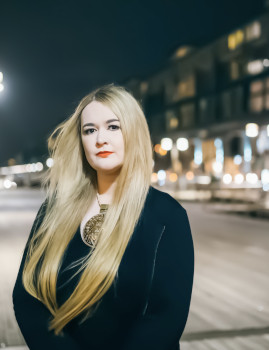 Nicola West: I actually found the whole process really cathartic. While writing my memoir had been akin to pulling teeth, writing the novel felt freeing. Yes, I was still dealing with a lot of the same complex emotions, but my main character, Marlowe, offered both a sense of distance and a sense of control over my past. She allowed me to explore my trauma via a completely new lens.


Question: Is there a message you hope readers take from the book?

Nicola West: I could say a lot of things here. About small-town xenophobia and the mental health crisis in this country (particularly in rural areas). But I think it's important to remember that Catch Us the Foxes is a thriller, first and foremost.

The novel deals with a lot of sensitive topics, but in a very heightened and over-the-top way – similar to the way Twin Peaks explores intergenerational abuse. Its purpose is to entertain more than it is to educate. Stories have always been about escapism for me, so – at the very least – I hope that readers are able to lose themselves in the book.


Question: What research did you do, prior to writing Catch Us the Foxes?

Nicola West: I've always been a huge crime buff, so a lot of my research came from topics I'd already read about extensively – a lot of true crime revolving around conspiracies, the phenomenon of satanic panic, and modern-day cults.

I was also fortunate to be able to pick the brain of my (police officer) dad, who put up with a lot of dumb and weird questions over the course of writing the novel. He was also kind enough to walk me through precisely what would happen if I found a body at the local show and reported the finding to him – because sometimes you need to know the rules before you can break them.


Question: What is the best thing about creating a character like Marlowe?

Nicola West: Definitely her unpredictability. Marlowe really took on a life of her own over the course of the project, which helped keep things fresh and exciting. If I'm being honest, she utterly terrifies me. Hell, she's even made a few appearances as the sleep paralysis demon in my nightmares. But that's what makes her so compelling and such a joy to write. She's full of surprises, that's for sure. And I hope that she's able to keep readers on their toes in the same way she's kept me on mine.


Question: You've achieved so much, what advice do you have for aspiring writers or artists?

Nicola West: It sounds incredibly cheesy, but you really have to find what makes your heart sing. I took a non-fiction writing course when I was writing my memoir and a guest author said that the writing process had to feel like a compulsion – like something you couldn't live without. I remember being frustrated by that comment because it was so contrary to my own experience. But when I finally ditched the memoir and switched to the novel, I suddenly understood what she meant. Don't be afraid to change things up and experiment with genres/styles until you find the one that resonates with you most.


Question: What or who inspired your love of reading/writing?

Nicola West: Definitely my amazing mum. She instilled in me a love for reading and storytelling from a very young age, and some of my fondest memories are of the crazy stories she would make up on the fly to entertain me as a kid. She has supported my passion for writing every step of the way and I – quite literally – couldn't have written Catch Us the Foxes without her.


Question: What's next, for you?

Nicola West: I'm severely immunocompromised and have only left my apartment complex twice in the past sixteen months (to get both vaccine shots). So, until Australia gets its act together and a larger proportion of the country is fully vaccinated, I foresee a lot more time spent in these same four walls.

Thankfully, I was able to take advantage of my newfound free time and completed two new novels during the pandemic – the sequel to Catch Us the Foxes and a new standalone thriller. I'm also looking forward to a bevy of Zoom events over the coming months. So please come and say 'hi' – I really need the human interaction!


Interview by Gwen van Montfort