Chelsea Angelo V8 Supercar Driver Interview
Chelsea Angelo is a V8 Supercar Driver gearing up for Bathurst. Last year she became the youngest woman ever to drive in the V8 Supercar Championships. This year, 20-year-old Chelsea is preparing to set what is thought to be another first when she lines up at the grid at the Supercheap Auto Bathurst Dunlop Series.

Chelsea will be driving what is believed to be the very first V8 Supercar fitted with a cup holder – installed in her Prodrive Ford Falcon FG as part of her new sponsorship deal with Rush Iced Coffee.



Interview with Chelsea Angelo
Question: What inspired your love of driving?

Chelsea Angelo: Ever since I was a little girl, I didn't know any different growing up. I was surrounded by motorbikes, cars, go karts and even jet skis and since then, I have grown my passion for motorsport and eventually loved anything fast.


Question: How did you take your driving passion and turn it into a professional career?

Chelsea Angelo: At first, my dad and I were just doing go karting as a bit of fun and didn't take anything seriously. As time went on, I got told by numerous of people that I could have a real big future if I progressed up through the stages of motorsport. That's when we took up the opportunity to test drive a Formula Ford and since then, I started to realise that I could turn my hobby into a professional career.


Question: What is involved in your preparation for the Supercheap Auto Bathurst Dunlop Series?

Chelsea Angelo: As a driver, I have my own gym at home so I'm constantly in the gym at least 5 days a week but I try and aim 6 days a week. Type of training I do is lots of running (I'm a sucker for running), bike riding, boxing and sometimes I go to a local gym and participate in a high intensity HIIT class (high intensity interval training). I also have my own simulator at home thanks to SimWorx. In the lead up to Bathurst, I get on that every night for an hour to simulate my mind to reality.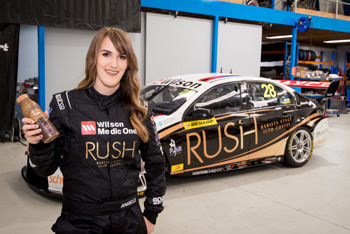 Question: Can you share with us, your goals for Mount Panorama?

Chelsea Angelo: A part from a podium finish in the Dunlop Series, I would like to finish in the top 10. However, my other big goal is to inspire other young women to follow my footsteps to consider a career in professional motorsport.


Question: What's a typical day like as part of the Matthew White Motorsport team?

Chelsea Angelo: On a typical day, I get up early in the morning and train in the gym for an hour and a half. I then go to work throughout the day and night. I work in hospitality and have been working in hospitality for nearly 2 years. Then, I'd have some time in between to have some family time and also get on my simulator for an hour.


Question: How does it feel to be the -youngest woman ever to drive in the V8 Supercar Championships'?

Chelsea Angelo: It feels awesome to be the youngest female driving in the Supercars Championship. I would never have thought of driving a Supercar for the first time at such an iconic track like Bathurst and I feel honoured and it's all possible thanks to my sponsors which includes Rush Iced Coffee.


Question: Can you tell us about your V8 Supercar? And, can you explain the significance of the cup holder and your deal with Rush Iced Coffee?

Chelsea Angelo: I never thought driving the first Supercar to have a cup holder installed was going to be on my lists of firsts. But it really is significant because it does represent breaking through my Supercars journey in what is a heavily male dominated sport thanks to Rush Iced Coffee.


Question: Can you talk us through the difficulties of being a woman in a heavily male dominated sport?

Chelsea Angelo: It's quite tough breaking into a heavily male dominated sport but it's a passion that I've always wanted to do since Formula Ford and I never want to give up on my dreams.


Question: What advice do you have for women who want to follow in your footsteps to consider a career in professional motorsports?

Chelsea Angelo: My advice to other women is to -never give up'. If it's a dream you want to pursue, don't give up on it. Keep knocking on those doors and opportunities will open up.


Interview by Brooke Hunter