Indie filmmaker producer actor and director Clare McCann is one very passionate hardworking female creator that is about to launch her first film "Benefited". The film relates to domestic abuse and social issues where Clare acts the lead role.

Based in Sydney, Clare's background was working in cabaret and has worked major productions and one being "The Star Casino". She has worked alongside celebrities like Paris Hilton, Will-I-Am, LMFAO, and internationally recognised companies such as Coca Cola, Tiffany & Co, and Dom Perignon to name a few. Her talents are many as is her passion growing up. At the age of seven, Clare commenced drama classes with Australian Theatre for Young People and continued with them while growing up.

With numerous theatre plays and musical theatre productions behind her, Clare also studied musical theatre at MASQUE and then began working around Australia as an actress, singer and dancer. Clare's break out role was Cherry on Channel [V]'s Blog Party where she was voted the most popular personality of the Foxtel show.

Clare studied at AADA and AFTRS and then began working as a drama teacher at NIDA whilst acting as campaign representative for Save The Roxy Theatre. Clare toured as Janet Weiss in Rocky Horror's TranSOULvania and won the Best Actress RABTA award for her portrayal of Jane in the theatre production of Jane Eyre before then beginning production of her film Benefited.

"Writing and producing Benefited was a labour of love", Clare says, "and directing this was insightful for me as I so enjoyed the process to this being my very first directorial debut. Benefited was inspired by countless similar events that happened in my local community while growing up. There is a common deadly cycle of abuse happening in not just Australia, but the world. I feel this film shines a light on abuse and other important pressing social issues which the films could help bring societal change too. I play the role of Dity a misguided soon to be a single parent who tries to navigate the government housing and benefits system. Playing her was intense as was producing the film but it brought a good string of awards from the "Mindfied LA Film Festival" that included Best Actress, Best Director, Best Screenplay, Best 1st-time filmmaker and plus honourable SIFF Unstoppable Creator Award.

Cherry Productions Clare company vision is to help bridge the gap and inspire other women creatives to chase their dreams and shoot for the stars. This is a time for women's stories and female filmmakers to create more and collaborate which I am excited to be working on. November will see "The Sydney Women's International Film Festival". This is added platform that helps women creatives to submit and be seen for there work.

The release of Benefited will be August 28th and is available on-demand on Google Play, Prime Video, Fetch TV, XBox Video, and Youtube Moives. The film also stars Australian actors Ryan Bown (Lambs of God, Home & Away), Tim Ross (Romance on the Menu, Wonderland, Neighbours, Underbelly), Jenny Wu (Australia Day) and newcomer Cristian Borello.


Interview with Clare McCann
Question: What originally inspired the idea of Benefited?

Clare McCann: Predominantly the growing statistics of domestic violence are what inspired me to tell the story of Benefited, and I am a survivor of domestic violence as well as feel like as long 75% of women experience it that it needs to be at the forefront of our conversations. I also grew up in Western Sydney surrounded by a government housing 'ghetto,' I saw a lot of innocent children suffer in the government housing system with the effect of social stigma, violence, abuse, drug, and alcohol addiction, all turning to tragic ends. There isn't enough affordable, safe housing support for victims trying to escape these situations.


Question: Who do you hope watches Benefited?

Clare McCann: I hope the young community watch Benefited and be aware of the cycle of abuse before it can begin in their lives for them. I also hope that those experiencing violence and abuse can see Benefited and make the changes that will save their lives.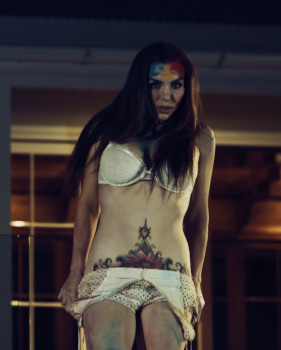 Question: How did you develop your approach to domestic abuse?

Clare McCann: Initially, I drew from my own experiences and studies of psychology. I researched and workshopped the story, and all felt the story was coming through authentically. The physically violent scenes in Benefited were powerful with film festival audiences. My scene partner and I spent much time in rehearsals trying to do things effectively while keeping ourselves safe; it was not easy - I ended up with a few more bruises.


Question: Are the characters based on anyone you know, in real life?

Clare McCann: Yes and no. Most of the characters in Benefited are developed in layers from numerous people that I know or have heard about in the local Western Sydney community.


Question: What's the main message you hope people take from Benefited?

Clare McCann: That violence and abuse are never okay and that you need to get out of these situations. As a community, we need to be offering more help to victims, especially where government housing and social benefits are considered.


Question: What research did you do, prior to writing Benefited?

Clare McCann: The first draft of Benefited was all my own experiences, I'd also worked as an actor in government offices and was appalled by the way they handled emotionally charged situations. It's all in there. I spent time reading articles online and reflecting on my studies of psychology.


Question: What is the best thing about creating a character like Dity?

Clare McCann: I can't say I enjoyed playing Dity; her pain will always live on in me, the best and only good thing though has been the notes from my followers expressing how they have now been encouraged to get out of these toxic situations and live their life for the better - That's all I want.


Question: What was it like working with celebrities like Paris Hilton, Will-I-Am and LMFAO?

Clare McCann: Working with big names in my live dance and music productions gave me the confidence to pursue independent filmmaking. Paris Hilton was super friendly and sweet; she loved my costume creations for the dancers labelling them with her famous "That's hot" and even "That's cute" trademark, which felt pretty girl power-filled at the time. Will-I-Am was such a fun personality; he was appreciative of the star quality I put into the launch of The Star Casino's Marquee. LMFAO's Redfoo has this rockstar quality; everything is go big or go home; it was a blast.


Question: What advice do you have for aspiring actors?

Clare McCann: Ensure you are in it for the right reasons, fame and money won't make you happy, and you have to love the craft. Doing formal university training is what I would advise to any actor who wants to be taken seriously.


Question: What or who inspired your love of acting/directing?

Clare McCann: I was six years old and had been stung by a wasp, and as a treat was allowed to watch TV, all own my own. I watched Olivia Newton-John in Grease and knew that was what I wanted to do; act, sing, and dance. For the next few weeks, my family members and neighbours suffered through my daily talent show cabaret productions until my mother finally put me into drama school and made my own productions ever since. I love stories and seeing how they change people and show us how to live. Acting, Writing, and Directing is my art form, and how I express myself and all the emotions I feel about what is going on in the world around me.


Question: What's next, for you?

Clare McCann: During COVID-19 I managed to get a number of my self-devised projects up and running. I am currently in pre-production for several feminist historical dramas including The May Queen, A Go Go, and another exciting project I'm not yet at liberty to mention but that centres around a lost feminist cultural practise in my ancestral country of Ireland during the early 19th century.


Interview by Gwen van Montfort