Clare Nott Australian Beef Interview
The Australian Beef campaign celebrates our Aussie champions and the things that fuel them, with the focus on the inspiring story of Clare Nott, which you can view here.

Our lives are full of challenges, good and bad, big and small. To face these challenges head on we need the right mentality and fuel for our body. And nothing else can fuel our bodies better than beef, the fuel for everyday champions.

Packed with 13 essential nutrients needed for health and wellbeing – including protein for strength, iron for energy and zinc for brainpower – it's the fuel we need within a healthy balanced diet to tackle our challenges.

To help you perform at your best, we've teamed up with nutritionist and everyday champion Jacqueline Alwill to create delicious recipes that are easy to build into your daily repertoire and full of the nutrients you need to conquer anything. No matter if your challenge is an ocean swim, a cross-country run or rounding up the kids to make Saturday morning sports in time, you'll know you're fuelled right to face the day.


Sirloin Salad Jar
Serves 4

Ingredients
600g sirloin steak
1/4 cup Aussie Dukkah
3 carrots, grated or spiralised
2 cups packed baby spinach
300g cauliflower, blitzed or grated to a crumb
600g pumpkin, peeled, chopped roughly and roasted
1 1/2 cups (200g) cherry tomatoes, halved
1 cup red cabbage, shredded
1 beetroot, peeled and finely sliced
1 cup cooked turmeric quinoa

Green Goddess Dressing:
1/4 cup extra virgin olive oil
2 tablespoons macadamia oil
1 tablespoon apple cider vinegar
1/2 cup picked parsley leaves
1/4 cup coriander
1/2 medium avocado, skin and seed removed
Sea salt and black pepper

Aussie Dukkah:
Makes 250ml total
1/4 cup sesame seeds
1/2 cup pistachios
1/2 cup almonds
1/4 cup sunflower seeds
2 tablespoons ground coriander
1 teaspoon sea salt

Method
To prepare the steaks rub 2 teaspoons of the Aussie dukkah over each piece of steak.
Heat a large frying pan over a medium high heat and cook the steaks for 1-2 minutes on each side. Remove from the pan and allow to rest, before slicing into thin strips.
Combine the Green Goddess dressing ingredients in blender and blitz until smooth.
To assemble the salad jars start with the salad dressing at the base and layer the ingredients on top. Finish with an extra sprinkle of Aussie dukkah and garnish with herbs.

To make turmeric quinoa:
Rinse 1/2 cup raw quinoa, place in a small saucepan with 1 cup water and 1/2 teaspoon ground turmeric. Bring to the boil, cover with a lid, then reduce heat and simmer for 8- 10 minutes or until small tails appear on the quinoa and most of the water has been absorbed.
Remove from the heat and allow to stand covered for 5 minutes before fluffing with a fork.

To make Aussie Dukkah:
Heat a small saucepan over a medium high heat and roast the sesame seeds, pistachios, almonds and sunflower seeds until golden.
Combine with the coriander and sea salt and grind in a mortal and pestle or blitz in a coffee grinder briefly until a light crumb forms. Store in an airtight container up to 2 weeks.

Cooking Tips & Tricks:
You can also barbecue the steaks for this recipe; use either the char-grill plate or flatplate.
You can also try flat-iron steak or rump medallion as an alternative to sirloin



Beetroot Kraut and Feta Meatballs
Serves 4

Ingredients
500g beef mince
1/2 cup sauerkraut
2 tablespoons chopped dill leaves
1 tablespoon beetroot powder
2 eggs, whisked
1 (150g) small brown onion, diced
1/2 cup quinoa flakes
Sea salt and pepper
100g Danish feta, crumbled
Black and white sesame seeds to top
Green salad or baked vegetables to accompany

Method
Preheat oven to 180C and line a baking tray with baking paper.
Place all of the ingredients except for the feta and sesame seeds in a mixing bowl.
Using clean hands knead the mixture together until combined. Season with sea salt and pepper.
Roll the mixture into meatballs the size of gold balls and press the feta into the sides.
Place on the lined tray and sprinkle with sesame seeds. The mixture should make approximately 20 meatballs.
Bake in the preheated oven for 20 minutes.

Cooking Tips & Tricks:
Meatballs should always be thoroughly cooked. A good guide is to insert a skewer into the thickest part; if it is ready to eat the juices will be clear.
Uncooked mince can be frozen for 2-3 months. Rather than freezing loose mince in roundish shape as bought from the butcher, lay it out flat to freeze. This is important as it allows the mince to freeze evenly and also allows the mince to thaw evenly.
Thaw frozen mince in the fridge, on the lowest shelf below and or away from any ready to eat food. And only thaw in the microwave if using the mince immediately thereafter.
You can find beetroot powder at any good health store or in health aisles at major supermarkets. If you have difficulty finding it, simply omit it from the recipe; the meatballs will taste amazing regardless!



Interview with Clare Nott
Our hero, is wheelchair basketball champion Clare Nott. Clare has an amazing story; overcoming paraplegia as a child to achieve enormous success as an athlete. Clare has been awarded huge accolades in her field and was named Best New Talent in the Women's National Wheelchair Basketball League and selected national team, winning a Bronze medal in Beijing and Silver in London.


Question: What originally inspired your passion for basketball?

Clare Nott: I started my sporting career as a swimmer, but by the age of 17 I was really bored of it. Following that black line, not being able to talk to anyone and swimming amongst able bodied swimmers who can kick their legs (and are therefore a lot quicker than me) wasn't very fun. I really enjoyed watching the National Wheelchair Basketball League. It was intense! I tried wheelchair basketball at a local level in Brisbane and Alison Mosley from the National Women's team took me under her wing and introduced me to Gerry Hewston (the head coach at the time). They got me on the squad pretty quickly so they could teach me good habits right from the start.


Question: What's a typical weeks training like, for you?

Clare Nott: In season and leading into major tournaments a typical training week is very busy. We do strength and conditioning at the gym 3 times a week, numerous individual court sessions, numerous group court sessions and typically 2 team training sessions. I fit this around working as a legal secretary in the city as well. So I would do gym or individual court sessions before work and then attend group/team training sessions after work. If we are in NWBL/WNWBL season then we would probably be flying to the eastern states for 2 to 4 games on the weekend, unless it is a home round when we don't need to travel.


Question: Can you talk about the difficulties you had to overcome to become a successful athlete?

Clare Nott: Time management was something I had to learn through making a few mistakes. When I first started university in 2005, I started full time with 4 units. Juggling full time university and being on the national squad was difficult in my first year. I found myself falling behind in readings and one time I finished an assessment only to realise that particular piece wasn't due for a few more weeks - the assessment due that day was something I hadn't started yet. So I wrote off that semester and changed to part time studies. I even deferred studies in 2008 to concentrate on the Beijing Paralympics.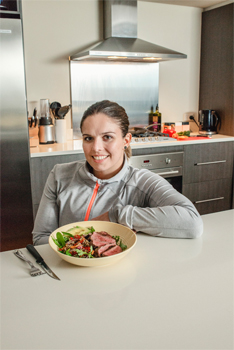 I was soon managing my time really well. In 2012 when I was training for the London Paralympics I was in my final year of university as well as working as legal secretary on the days I wasn't at uni. I somehow managed to get through the year alright (with a silver Paralympic medal) and attend graduation in February 2013. I am still working for the same law firm.

One other difficulty I found was being female and in the lowest disability classification for wheelchair basketball, no one really expects much out of you and I couldn't find anyone to look up to learn from (by copying them). This didn't sit well with me. I didn't want to rely on natural talent and the bare minimum just to make the team. I actually wanted to be good and add value to my team. So I started to look up to people in higher disability classifications and tried to copy them, which caused me to really test and challenge my disability. I also trained with the guys and competed in the National Wheelchair Basketball League (aka "the men's league"). It made me play a style of basketball outside of the stereotype for my classification.


Question: How important is your diet to your basketball training?

Clare Nott: Very important. If you don't fuel your body then you don't have the energy to get through the day let alone the week. In the early days of my sporting career, I wasn't bouncing back after training and was so exhausted that I would cry on my way home from work on a Friday night. My doctor diagnosed me as iron deficient and I spoke to a nutritionist about my diet - I found my energy levels get better as soon as I made sure I incorporated more iron-packed red meat like beef, leafy greens and vitamin C (which helps iron absorption) into my diet. The best part is that red meat like beef is also a great source of protein for muscle strength and zinc to fire my brain. Aside from that, you also need to eat the right amount of carbs and protein after training sessions so you recover quicker.


Question: What drives you to continue achieving your goals?

Clare Nott: The pursuit for happiness. I went through a very very low point after my team didn't qualify for the Rio Paralympics. After losing the grand final against China at the 2015 AOZ Qualification Tournament, I felt like I had let my team down, my family down, the supporters down, the sponsors down, the entire of Australia down. It was the most crushing feeling I have ever felt, so I never want to feel that way again. I took some time off basketball afterwards because I fell out of love with the sport. I found that love again very easily through my NWBL team the Red Dust Heelers. It is such an enjoyable sport to play when you find yourself a team you can call your family. Unfortunately circumstances (eg. finances) stopped me from playing in the WNWBL this year but I'm looking forward to being back in that league next year. And I hope to almighty that my National team is able to come back from such a heartbreaking and hurtful situation - and I want to be a part of that as well.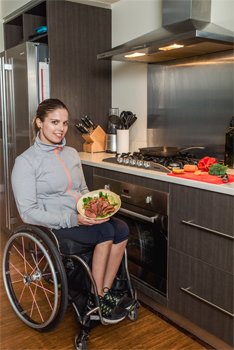 Question: Why did you decided to work with Australian Beef?

Clare Nott: One of the things I love about playing sport is that it gives you a platform to travel around Australia (or the world) and tell people your individual story. People find themselves in rough patches and it doesn't have to be an injury or disability, it can be employment or family related. It can be anything. So by getting our individual stories out there we hope to give them the inspiration or the spark they need to get through the hard times and live a successful and fulfilling life.

By working with Australian Beef I was able to have a section of my story told in a very cool and emotive 3 minute film. Anyone can now share my story through social media. In the first week online the video has reached 20,000 people through Facebook alone. I believe in eating red meat such as beef a healthy balanced diet and understand the importance of good nutrition, so it was a natural partnership.


Question: What is your favourite way to serve beef?

Clare Nott: Mince beef is so versatile! Spaghetti bolognese is one of my favourite things to cook. I also love Mexican, so chilli con carne, nachos, tacos - mince beef can be used in all of those!


Question: What would you find in your gym bag?

Clare Nott: A towel, spare clothes, deodorant, face wipes, Tupperware containing protein powder, a shaker and therabands.


Question: What's next, for you?

Clare Nott: For the first time in 12 years, sport isn't on the top of my priority list. My husband and I are currently living in a rental while we build our dream family home. We are also trying to start a family so fingers crossed for an announcement some day!



Cauliflower Pizza With Sirloin Steak And Mediterranean Vegetables
Serves 4

Ingredients
Cauliflower pizza Base:
800g cauliflower (1/2 head), cut into florets
3 tablespoons chia seeds
1/2 cup buckwheat flour
2 tablespoons olive oil
2 teaspoons dried oregano
1 teaspoon dried rosemary
Sea salt

Homemade Tomato Sauce:
1 teaspoon olive oil
400g tin tomatoes, chopped
1 small spanish onion, peeled and diced
1 tablespoons chopped parsley
1/2 teaspoon balsamic
1/2 teaspoon tamari
Sea salt and pepper

Topping:
600g sirloin, cut into 2cm thick steaks
1 small (100g) zucchini, sliced round
1 cup (100g) button mushrooms, sliced
1 cup (200g) cherry tomatoes, sliced
1/2 cup pitted kalamata olives
2 cups rocket leaves, loosely packed

Method
Preheat oven to 180C and line two baking trays with baking paper.

To make the base:
Mix the chia seeds with 3/4 cup water in a small bowl, set for 10 minutes to create a gel, stir after 5 minutes to ensure seeds are evenly dispersed in water. Place cauliflower florets in food processor and blitz to create a fine crumb.
Pour the cauliflower onto to a few sheets of paper towel, fold the paper towel and squeeze excess water from the cauliflower crumb.
Place cauliflower in a large mixing bowl, stir in buckwheat flour, sea salt, herbs, chia gel, olive oil and herbs, mix well to combine. Divide the dough into four balls, and roll out between two pieces of baking paper until approximately 5mm thick.
Bake in the preheated oven for 30-35 minutes or until golden.

To make the tomato sauce:
Heat olive oil on low heat in a small saucepan, add spanish onion and sauté 4 minutes.
Stir in tomatoes, soy sauce, balsamic vinegar, parsley, season with salt and pepper and simmer for 10 minutes or until reduced.
Remove from heat and cool slightly before blitzing in food processor to form a paste.

To make the topping:
Once the bases are cooked remove from the oven and divide the tomato sauce between the four bases. Arrange the mushrooms, zucchini, olives and cherry tomatoes on top and return to the oven to cook for a further 10 minutes.
Whilst pizzas are in oven cook the steaks. Heat a drop of olive oil in a frying pan over a medium high heat. Season the steaks with sea salt and pepper and cook for 2 minutes on each side. Remove from the pan, cover and rest for 2 minutes before slicing into strips.
Remove the pizzas from the oven, top with beef strips and rocket and serve.

Cooking Tips & Tricks: Take the steaks out of the fridge 10 minutes before cooking. This takes the chill out of the steak allowing it to cook evenly.
Heat the pan, barbecue or grill to moderately hot before you add the steaks. This ensures maximum flavour and tenderness.



Steak Sangas 6 Ways
Serves 4

Ingredients
750g rump steak, cut 2-3cm thick
4 slices thick sliced sourdough bread
Sea salt and pepper
Your choice of topping from below

Hummus, Spanish onion and red cabbage
1/3 cup hummus
1/2 Spanish onion, finely sliced
1 cup pickled red cabbage

Smoky tomato sauce, roast yellow capsicum and rocket
1/3 cup smoky tomato sauce
1 yellow capsicum, roasted and sliced into strips
1 cup packed rocket leaves

Feta, mint, kale
100g feta, crumbled
1/2 cup picked mint leaves
1 large kale leave, shredded
Olive oil and a squeeze of lemon to garnish

Broccoli tapenade and zucchini
1/3 cup broccoli tapenade
1 large zucchini, sliced into strips and grilled

Aioli, rocket and caramelised onion
1/3 cup aioli
1/2 cup caramelised onion
1 cup packed rocket leaves

Dijon, cheddar, rocket and rosemary
2 tablespoons Dijon mustard
8 thick slices vintage cheddar
1 cup packed rocket leaves
2 tablespoons rosemary leaves, chopped

Method
Season the rump steaks with salt and pepper and heat a large griddle pan over a medium high heat. Cook the steaks for 3-4 minutes on each side, remove from the pan and allow to rest before slicing into long strips.
Toast the bread slices in the griddle pan before topping with the below ideas for inspiration, each serves 4.

To make smoky tomato sauce:
Makes 250ml
1 small Spanish onion, peeled and finely diced
1 teaspoon olive oil
400g tomatoes, blanched, peeled, deseeded and diced or 400g tin tomatoes
1 teaspoon smoked paprika
1 tablespoon maple syrup
Sea salt and black pepper

Place olive oil in a small saucepan on low heat, add Spanish onion and sauté for approximately 4 minutes. Add tomatoes, smoked paprika and season with sea salt and pepper.
Simmer for 10 minutes or until slightly reduced. Add maple syrup and cook a further 1 minute.
Remove from heat, transfer to food processor, blitzing to create a smooth sauce. Store in the fridge up to 1 week.

To make red cabbage pickle:
1 cup red cabbage, shredded
1/2 cup apple cider vinegar

Place the shredded cabbage in a shallow bowl and cover with the apple cider vinegar.
Leave to pickle for 20 minutes and serve.

To make broccoli tapenade:
Makes 250ml
1/2 cup (50g) broccoli florets
1/2 cup (85g) olives
1 small clove garlic, peeled and crushed
1 tablespoon capers
2 tablespoons extra virgin olive oil
Ground black pepper

Place broccoli florets in the food processor and blitz until a crumb or rice like consistency is formed. Add olives, garlic, capers, olive oil and black pepper and blend until uniform in texture. Store in an airtight container in fridge 4-5 days.

To make caramelised onion aioli:
Makes 250ml
1 medium brown onion, peeled and finely sliced (180g)
2 tablespoons olive oil
2 tablespoons coconut sugar
2 tablespoons balsamic vinegar

Heat the oil in a small saucepan over a low heat; add onion and sauté for 5 minutes. Add the coconut sugar and balsamic vinegar, stir well and cook on a low heat for 20 minutes stirring intermittently to ensure it does not stick to the base.
Allow to cool, then transfer to airtight container and store in fridge up to 2 weeks.

Cooking Tips & Tricks:
Turn the steaks only once. The more you flip the steak, the tougher it gets. Let the steak cook on one side until moisture appears on top, then turn it.
Knowing when your steak is ready to be removed from the heat is the key to a perfectly cooked steak. Use either the back of your tongs or fingertip (make sure your hands are clean) and press the centre of the steak. Rare is soft when pressed, medium is springy and well done is very firm.
Try experimenting with flat iron or sirloin steak as an alternative cut.



Celebration Roast
Serves 4

Ingredients
1kg beef oyster blade roast
1/3 cup olive oil
3/4 cup Aussie Dukkah
400g sweet potato, scrubbed and cut into wedges
400g parsnip, scrubbed and cut into wedges
250g brussel sprouts
250ml tomato chutney
Sea salt and black pepper
Heirloom tomato salad

Aussie Dukkah
Makes 250ml total
1/4 cup sesame seeds
1/2 cup pistachios
1/2 cup almonds
1/4 cup sunflower seeds
2 tablespoons ground coriander
1 teaspoon sea salt

Tomato Chutney
Makes 400ml
1kg vine ripened tomatoes
1/4 cup olive oil
1 yellow capsicum, seeded and cut into thin strips
1 Spanish onion, peeled and finely chopped
1 teaspoon sea salt
1/4 cup apple cider vinegar
1/4 cup coconut sugar or maple syrup
2 small red apples, grated
1/4 cup raisins
2 cloves garlic, crushed
1/2 teaspoon all spice
Heirloom tomato salad
400g heirloom tomatoes, quartered
1/4 cup parsley leaves picked
1 teaspoon balsamic Vinegar
1 tablespoon walnut or extra virgin olive oil

Method
Preheat oven to 160C and place a rack in a medium-sized roasting pan.
Combine 1/4 cup olive oil and 1/2 cup Aussie dukkah in a bowl, then rub the dukkah mix into the beef.
Place beef in the roasting pan and roast in oven for 50 minutes for rare, 60 minutes for medium rare, 70 minutes for medium.
Place sweet potato and parsnip on baking trays lined with greaseproof paper, drizzle with olive oil, season with salt and pepper and roast in oven with beef. Do the same with brussel sprouts and cook in oven with beef and root vegetables. (Vegetables will only need to cook for 60 minutes maximum on this temp.)
Once beef is cooked, cover and set aside to rest for 15 minutes before carving.
Serve with homemade tomato chutney, roast sweet potato and parsnip, heirloom tomato salad and brussels served on a plate sprinkled with Aussie dukkah.

To make Aussie dukkah:
Heat a small saucepan over a medium high heat and roast the sesame seeds, pistachios, almonds and sunflower seeds until golden.
Combine with the coriander and sea salt and grind in a mortal and pestle or blitz in a coffee grinder briefly until a light crumb forms. Store in an airtight container up to 2 weeks.

To make tomato chutney:
Blanch tomatoes, peel skins, seed and roughly chop.
Heat the olive oil in a large saucepan over a medium heat, add capsicum and Spanish onion and cook for 10 minutes.
Add the remaining ingredients and cook on a low, stirring occasionally for 3-4 hours.
Allow to cool completely, then transfer to storage container. Can be kept refrigerated up to 2 weeks.

To make heirloom salad:
Place the tomatoes and parsley leaves in a salad bowl and top with balsamic vinegar and walnut oil.
Season and serve.

Cooking Tips & Tricks:
Take the roast from the fridge about 15-20 minutes before cooking to take the chill out of the meat and allow it to cook evenly.
Always allow your beef roast to rest before serving. This gives the juices in the meat a chance to redistribute, giving a moister and more tender result. To rest properly, simply transfer to a plate, cover loosely with foil and rest for 10-20 minutes before carving.
Always remember to carve across the grain for maximum tenderness.
If you can't find an oyster blade roast, ask for rostbif or speak your butcher for their recommendations.


Interview by Brooke Hunter