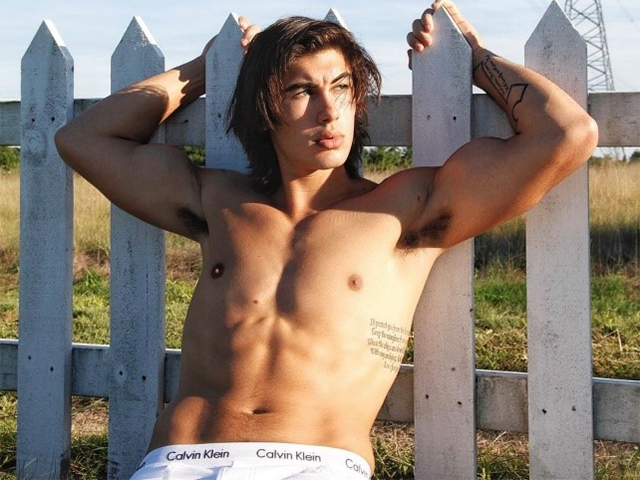 Canadian-born actor and former Canadian Infantry Army Soldier, Damian Romeo stars as the steaming hot and mysterious 'Matt Press' on Netflix's hit mother-daughter drama series GINNY & GEORGIA..
The season 1 "Ginny & Georgia" finale cliffhanger saw 'Ginny' (Antonia Gentry) and her little brother on a motorcycle, leaving town after she discovers that her mom had poisoned her stepfather. In season 2, Ginny must figure out how to live with the knowledge that her mother is a murderer. Burdened with the new understanding that Kenny – her step-dad – didn't die of natural causes, now Ginny must deal with the fact that Georgia not only killed, she killed to protect Ginny. Georgia on the other hand would much prefer that the past be left in the past, after all, she's got a wedding to plan! But the funny thing about Georgia's past is that it never stays buried for long. Romeo stars as 'Matt Press', the only one who can see through all of the bull***t and has a realistic outlook on life due to his troubled past. This season, a new love interest is on the horizon for him. The popular series returns to Netflix.
Born in Toronto, Canada, Romeo got into the arts at a young age at the insistence of his grandmother to take music lessons. Around the age of 9 he began performing in theatre solidifying his lifelong desire to become an actor. Sporting a fit physique and measuring a staggering 6'4", he was scouted by a designer who asked him to walk in his show, which led to him being named "Canada's Next Top Male Model" during Vancouver Fashion Week. Around this time he also decided to follow in the footsteps of some of his family, and joined the Canadian Infantry Army where he remained a reserve soldier for 4 years. His heart remained with acting though and he continued to pursue auditions and work in film and television. He booked a small part on Amazon's "The Expanse", and then shortly after booked the role of 'Matt Press' on Netflix's "Ginny & Georgia". On the film front, Romeo has the upcoming thriller PINS & NEEDLES opposite his "Ginny & Georgia" co-star Chelsea Clark.
A horseman and overall fan of the outdoors, Romeo admires the work of Taylor Sheridan, and would love to star in one of his projects. He is an avid rock climber and is dedicated to a healthy diet and working out. In his free time, he enjoys giving back to the non-profit SickKids and spending time with his hairless Sphynx cat. You can follow him on socials (TikTok: @DamianRomeo) and (Instagram: @DammRomeo).