Danielle Cormack ChildFund's Gifts for Good Interview
ChildFund Australia ambassador Danielle Cormack is encouraging Australians to brighten a child's life this Christmas by choosing one of 31 gift ideas from ChildFund's Gifts for Good website.

Each gift in the catalogue has been selected to meet the needs of children in disadvantaged communities around the world – from a scholarship to keep a child in school, to goats and ducks which provide milk and eggs to improve children's nutrition and help families earn an income, to health essentials such as water purifiers and mosquito nets to protect children from deadly diseases.

Having visited Cambodia earlier this year, Danielle – a long-time ambassador and child sponsor with ChildFund – has seen firsthand the challenges faced by children living in rural villages without electricity and with limited access to clean water, education and health care.

'I met Tharin earlier this year when I travelled to Cambodia with ChildFund, and went to her tiny village in the remote Kratie province on the Mekong River," said Danielle. 'Like most remote areas in Cambodia, Tharin's village has no electricity. So when the sun goes down, it becomes very, very dark.

'I found it hard to imagine just how much this affects children like Tharin until I saw it for myself. Without safe, reliable lights, children can't study after sunset. They can't go out safely after dark. And they're forced to rely on dangerous, fire-based lights – which can have tragic consequences."

For Tharin, a gift of a solar lamp has been absolutely life-changing. Simple to use, and free to recharge, it provides up to five hours of light each night – helping her to study and stay safe after dark.

'I've seen for myself how the gifts generously donated by Australians have transformed children's lives. And how much it will mean to children like Tharin if you choose Gifts for Good for your friends and loved ones this year." – Danielle Cormack, actress and ChildFund ambassador.

Interestingly, the most popular items purchased by Australians year on year are farm animals, with chickens taking the top spot in 2015, followed by goats and ducks.

New items in this year's Gifts for Good catalogue include emergency kits and shelters, due to the increase in natural disasters and greater awareness in the community of the need to be prepared, while an innovative gift of a fog trap – a simple contraption that enables families to collect fresh drinking water from overnight fog – is helping communities in rural Laos overcome water shortages.

ChildFund Australia CEO Nigel Spence said a charitable gift is an easy way for Australian families to help children living in some of the world's poorest communities, while bringing added meaning to their own Christmas celebrations.

'Every item donated through Gifts for Good is delivered to a child or family who really needs it. In return, you receive a card that shares the story behind the gift so your loved ones know exactly how it will help change a child's life," Mr Spence said.

'As we celebrate with our own families, the true spirit of the holiday season is also about giving back and helping others who are doing it tough. We thank all Australians who choose to support vulnerable children around the world through Gifts for Good."

Visit www.childfund.org.au/gifts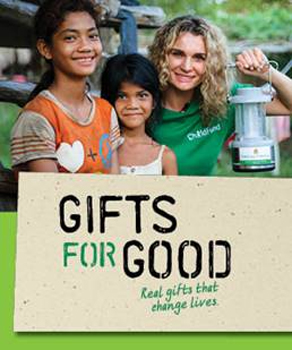 Seven Life-Changing Gift Ideas

For the bookworm in your family, you can donate a reading kit ($90) for children in Cambodia with a set of fun, bright and interactive games to help them learn to read.
Anyone who loves cooking will enjoy a gift of two chickens ($21), providing nutritious eggs and a vital income source for a family in Kenya, Indonesia, Timor-Leste, Uganda or Zambia.
The science buff in your life will love knowing you've given a fog trap ($39) to a family in Laos, enabling them to collect fresh water every night from the dense fog that hangs over their village.
Know a keen gardener? A gift of papaya sprouts and pumpkin seeds ($15) will help a family in Myanmar grow healthy fruit and veg to feed their children and earn an income.
If you're friends with someone crafty, they will be thrilled to know a weaving loom ($88) has been given on their behalf. This gift will go to a mother in Laos to start her own business, helping her to provide food, clothes and education for her children.
For the budding environmentalist in your family, how about a gift of a solar lamp ($50)? This will be life-changing for a child living without electricity in Cambodia's remote villages – helping them to read, study and stay safe after dark.
Shopping for a sports fan? You can't go past a gift of two rugby balls ($35) or a pair of sports shoes ($44) for a child in Laos, so they can take part in sport safely, learn new skills and stay healthy.

Gifts available at www.childfund.org.au/gifts or call 1800 023 600



Interview with Danielle Cormack
Danielle Cormack is an award-winning actress who has an extensive career in film, theatre and television. After rising to the top of her game in New Zealand, she quickly came to prominence in Australia with her powerhouse performances in television series Wentworth, Rake and Underbelly: Razor. A mum of two, Danielle became an ambassador for ChildFund in her home country of New Zealand in 2010 and had the opportunity to see firsthand ChildFund's work in Vietnam. Following her move across the shores, Danielle has also been representing ChildFund Australia since 2014.


Question: Why did you choose to become an ambassador for ChildFund Australia?

Danielle Cormack: I have been an Ambassador for ChildFund NZ for a number of years and since I now reside in Australia, it seemed a natural progression to work with ChildFund Australia too. Although they cover different territories they complement and support each other's work.


Question: Can you tell us about the Gifts for Good?

Danielle Cormack: Gifts for Good are real gifts that are given to children and families to help them on a path to self-sufficiency. This year there are 31 items in the catalogue that have been requested by communities ChildFund works with around the world. When you select your Gifts for Good, they are delivered to children or families who really need them and you'll get a beautiful card so you can share your gift with your friends and loved ones.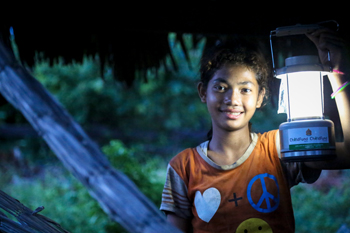 Question: Which of the Gifts for Good are your favourite?

Danielle Cormack: This is hard! There are SO many great gifts. I think the solar lamp is a great gift. It enables kids to study after dark without the danger that kerosene lamps pose. I love the innovation of the fog traps.


Question: How does Gifts for Good support ChildFund Australia?

Danielle Cormack: Gifts for Good are an essential part of ChildFund's long-term community development programs – they provide key resources needed to get these programs off the ground. If you buy two chickens, for example, these chickens will be given to a family in need, along with training on animal husbandry, the nutritional benefits of eggs for their children and even small-business skills to help them generate an income.


Question: Can you tell us about your trip to Cambodia?

Danielle Cormack: I spent most of my time on the road driving from one village to another, which was incredibly insightful and educational for me. We visited rural communities and heard from the locals firsthand about health, education, water and sanitation programs they were initiating with the help of ChildFund, which underscored the importance of such a relationship.


Question: What surprised you most about your Cambodia trip?

Danielle Cormack: You can't forget that Cambodia has suffered terrible hardship due to war and regime, and in the scheme of things it has all happened so recently. But I was also reminded that from adversity comes great resilience and a drive to keep moving forward. It wasn't so much surprise but more so humbling.


Question: Can you share with us a story about one of the children you met in Cambodia?

Danielle Cormack: I met so many children while I was there, they taught me how to dance, they played soccer with me, I planted trees with a group from a school and they shared stories of what they wanted to be when they grew up. Most of them want to help others, be a doctor or teacher. But one young man I met had a dream of being a hairdresser and with the help of ChildFund had set up his own salon in a tiny shack in his village!


Question: How can Australians support ChildFund Australia?

Danielle Cormack: It's simple. Jump online www.childfund.org.au and sponsor a child or purchase a Gift for Good that will benefit a family in need.


Interview by Brooke Hunter