Fanboys
Rated: M
Fri 5 Jun - Sun 21 Jun 09 - strictly limited run!
"Glories in its devotion to the pop culture phenomenon that is Star Wars... the cult-like commitment of fanboys and fangirls across the geek spectrum is depicted with great fervour....the definitive tribute to a generation of sci-fi nerds" - The Chicago Maroon
"Their life-changing trek marks a spiritual journey of sorts, one governed by a form of pop-culture worship in which George Lucas' Star Wars mythology serves as the prevailing religion." - Variety
"pretty dang fun - quadruply so if you happen to be a Star Wars fanatic" - Cinematical.com
The Australian Centre for the Moving Image (ACMI) will hold the Australian Premiere of Fanboys, the long anticipated film celebrating fandom and the cult of the Star Wars franchise. ACMI will present an exclusive limited season from Friday 5 June to Sunday 21 June, 2009.
The Force is strong with Eric, Linus, Hutch and Windows, Star Wars fans since childhood. For them being 'fanboy' is more than just a title, it's a badge of honour. Spurred by impatience and an undying loyalty to their cause, these former high school friends reunite to undertake the road trip of their fan-tasies.On Halloween night 1998, six months out from the release of Star Wars Episode 1: The Phantom Menace, they hatch a plan to drive west, cross-country in Hutch's Millennium Falcon-style, Star Wars-detailed van, to break into their own personal 'Mecca', George Lucas' Skywalker Ranch. The plan is to see a rough cut of the film, allowing one in their number, who is terminally ill with cancer, to see it before he dies. For the rest of them, the glory of being able to stake their claim as the first fanboys in history to watch it, is enough to propel them though this crazy adventure.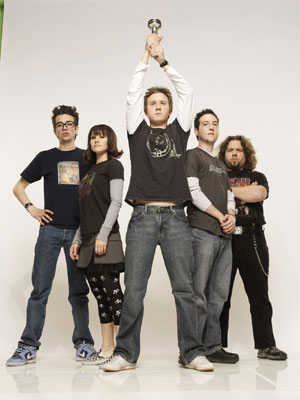 Along the way, they recruit a fangirl, Zoe (TV favourite Kristen Bell, Veronica Mars, Gossip Girl, Heroes, Deadwood, also starred in the film Forgetting Sarah Marshall) and score a hot tip from Harry 'Ain't It Cool News' Knowles (Ethan Suplee, Randy in My Name Is Earl) which leads them to a Deep Throat at a Star Trek convention in Vegas, where the Star Wars devotees are challenged by long time rivals, the 'Trekkies'.
The main disciples of George Lucas' works are played by a superb cast of up and coming film and TV stars. Jay Baruchel (Windows) is known for his work in films Million Dollar Baby, Tropic Thunder, Knocked Up and the memorable portrayal of Vic Munoz, the obsessed Led Zeppelin fan in Almost Famous. Dan Fogler (Hutch) is a Tony award winning actor, who has made the transition from theatre to film to star in Balls of Fury, Detroit Rock City, Good Luck Chuck, Kids in America and was in the voice cast of Kung Fu Panda. Sam Huntington (Eric) is best known for his roles in Superman Returns and Not Another Teen Movie and featured in many a US television drama and his on-screen best buddy is played by Chris Marquette (Linus) who currently stars in Disney's Race To Witch Mountain opposite Dwayne 'The Rock' Johnson.
Fanboys co-stars comedy man-of-the-hour Seth Rogen (almost unrecognisable) playing two characters and features cameos from the likes of William Shatner (Star Trek's Captain James T Kirk), Carrie Fisher (Star Wars' Princess Leia), Billy Dee Williams (Star Wars' Lando Calrissian), cult director Kevin Smith (Zack and Miri Make a Porno), Danny Trejo (Planet Terror) as well as Christopher McDonald and David Denman (from the U.S. version of The Office).
The journey Fanboys took from script to screen is a well documented one that has lead to fans having staunch opinions on the film. As the story of the film's gestation goes; writer Ernie Cline penned Fanboys back in 1997 with the intention of shooting and releasing a 'small' project by-fans-for-fans before Star Wars: Episode 1 The Phantom Menace was released in 1999. He showed the script to Harry Knowles (Ain't It Cool News) who championed it online, sparking the interest of fans and pretty soon the mainstream media. Fellow 'fanboy' Kyle Newman joined as director and Kevin Spacey's production company Trigger Street came on board, but it wasn't until George Lucas gave it his blessing - some ten years after the script was written - that things started to escalate. Lucas was not involved in the production of Fanboys but lent his key sound effect, the Lightsabre 'woosh' to the film.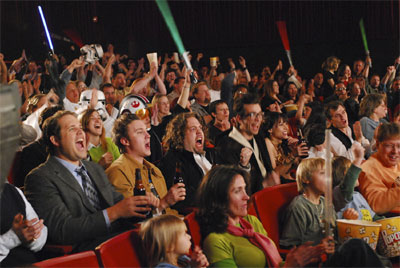 Ultimately producers came knocking and the group settled with the Weinstein Company. Filming started and ended in 2006. Throughout the filming the internet was a huge part of the process; leaking news, gossip, fans suggesting sketches, offering to lend costumes and collectors items, and fans whipping other fans into frenzied anticipation via message boards and blogs.
After audience testing in 2007, the Weinstein Company financed re-writes and re-shoots in an effort to take the film to a broader audience and controversially removed the cancer sub-plot (Cline's mother's own battle with cancer gave rise to idea of the race against time). An online insurgency began in response to the company's involvement. Fans hit the message boards in protest and threatened to boycott all Weinstein Company productions, even reportedly mounting a campaign to block the company's servers with email complaints! Finally, the Weinstein's relented, although film missed the scheduled release at the 25th anniversary of Star Wars in 2007. The film opened in February this year, with the cancer sub-plot reinstated.
ACMI Film Programmer Roberta Ciabarra is delighted to be able to make ACMI a home to this film. "We're thrilled to be screening Fanboys in its exclusive Melbourne season. Star Wars fans have waited a long time to see Kyle Newman's film and their devotion will be rewarded with a strictly limited run at ACMI. The formidable Weinsteins bowed to the force of U.S. fans who blogged and posted unrelentingly and we too humbly bow to the righteous conviction of fanboys and fangirls everywhere who have demanded to see Fanboys on the big screen. Victory is yours. To ACMI, it will come," she said.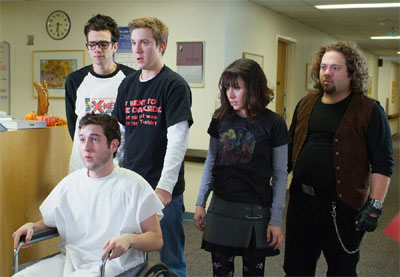 Although not quite the no-budget, low fi homage originally envisaged by co-writer Ernie Cline, Kyle Newman's film is a thoroughly good-natured paean to fans and fandom told with unflinching nerd pride. Themes of friendship, adversity and fandom are explored via an adventure odyssey littered with in-jokes that, just like the franchise that spawned it, will delight generations of fans for years to come.
ACMI will screen the Australian Premiere of Fanboys in an exclusive limited season from Friday 5 June to Sunday 21 June.
For more information and session times, please visit: www.acmi.net.au
Official (US) website, with trailer: http://www.fanboys-themovie.com/
"All they ever wanted to do was to make a film that reminds us of what we dreamt of a long time ago. That wanted to hold up a mirror to the friendships and the loyalty and love that those of us that embraced that original universe felt. I'm just so happy that this day has come... Call your Star Wars buddies, wear your shirt, jacket, hoodie, armor, whatever you got. You're a Star Wars Fanboy or Fangirl. These guys made a movie for ya." - Harry Knowles, Ain't It Cool News"Man - I am still holding out some hope that Fanboys will get an Australian release at some point in the future!!! I have been following the journey of this movie since it was first being talked about and I am bitterly disappointed that it isn't garnering more support globally." - Dean from Australia on www.starwarsblog.starwars.com