Get The Party Started with a Photo Booth
If you're hosting a party or event, then you naturally want to make it the best and most memorable party of all time for your guests. There are many factors that contribute to making a great party, from picking the right venue to quality entertainment, but why not give your event an extra edge and really get the party started by hiring a photo booth.

Your party will be the party in Sydney that everyone remembers for years to come. The party that will be the talk of the town and one that your friends will aspire to host one day. And with photo booth hire in Sydney becoming increasingly popular, it would be rude not to jump on the bandwagon.

Photo Booths are incredibly versatile and perfect for any party, which is what makes them so appealing. They not only create a fun and unique feature at your event, but also perfectly capture the atmosphere as well as the moments that you will come to cherish. The great thing about hiring a photo booth is that they are appropriate for pretty much any venue or occasion, whether it is a wedding or a bar mitzvah.

Wedding day photo fun

You can make your wedding day extra special and allow your guests to get creative in the booth and make lasting memories with some funny photos. One of the key advantages of photo booths is its ability to print photos instantly. These can be printed as a keepsake for guests, shared on social media or added to your wedding album. Most photo booths come with plenty of silly props, including hats, glasses, wigs and sporting items to give your guests extra scope for photographic genius!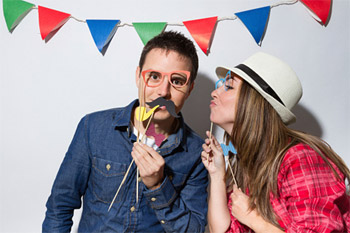 Corporate event icebreaker

Photo booths also work really well as part of a corporate event too. It doesn't matter if it's a black tie dinner or a charity ball, having a photo booth on-site at your venue will make for a great talking point for the party and a unique branding opportunity too. Most photo booths can be wrapped in branding, logos or straplines for a completely bespoke marketing tool, as well as the opportunity to have branded photos printed for mementos from the event for guests or for use as an advertising prop for your next big event.

They can also help to bring people together. This fun and quirky party piece is great to use as an icebreaker for weddings, birthday parties and corporate functions, as people simply can't resist taking a peek and having their picture taken, even if they're having their photo with complete strangers!

21st birthday bash

21st birthdays are a milestone and celebrating this momentous occasion has become an intrinsic part of Australian culture. You are three years out of high school and perhaps you've entered the workforce or continued your education at university. Whatever the case may be, you have entered official adulthood. You've made new friends in this new chapter of your life but your high school friendships still remain an essential part of your life. We are all familiar with the inevitable challenge that occurs once we leave high school. Organizing a lunch or a dinner is no longer a simple task. Finding a day that doesn't clash with someone's schedule becomes a grand accomplishment. Your 21st birthday is the perfect opportunity to bring your friends and family together. Now that you have your loved ones in the same room, thanks to importance bestowed on the 21st birthday, it's time to capture every moment possible. Photo booths allow for a personalised experience. In addition to the props provided, you can add your own props which reflect your quirky personality. How about a mini chalkboard where your guests can write birthday messages and hold up in their photos? The possibilities are endless!

Something more serious

It doesn't have to be all silly hats and props either, for a more formal affair, like a graduation ball, the photo booth can be used for the official graduation pictures, making for a more unique and arty take on the traditional graduation photos. Plus each photo can feature the class or graduation year as a special keepsake to take away and cherish for years to come.

Another great aspect of photo booths at a party or function is that it might actually work out cheaper than hiring a professional photographer. If you're looking for a more unique and relaxed style photo then the photo booth is the perfect choice over a photographer.

While professional photographers definitely have their perks, capturing every single guest at the event can often prove challenging. The last thing you want is having a photo album of your special day, with only a handful of your guests featured in your book of memories. With a photo booth at the event, people have the freedom to have the photo they want to be taken, and they can retake it as many times as they like too! It is the perfect opportunity for your guests to let loose, steal the spotlight and strike a pose, whether it is the infamous pout or the much loved blue steel.

Photographers generally have one objective. That is, producing flawless photographs, often featuring perfectly rigid smiles. That's all well and good. It's great to have those photos too. However, you are more likely to capture the crazy, funny moments in a relaxed atmosphere and i'm sure those are the memories you want to cement in your mind forever. Your guests are itching to play models for the night and strike what may be a cringe worthy pose, but it's those moments that will have you laughing for years to come.

If you were in any doubt that a photo booth isn't the perfect party trick to have up your sleeve for a completely unique and memorable event, then hopefully this will have convinced you otherwise. Why not get the party started right now and get a photo booth for your next event. This versatile piece of equipment will have your guests laughing and having fun all night long.