A Marathon Effort to Help Fight Stroke
There was a time when Wagga Wagga real estate agent, stroke survivor and avid runner Helen Woodhouse feared she would not be able to run again.

But the 34 year old is now in training for the 21 kilometre Gold Coast Half Marathon in June, less than a year after stroke turned her world upside down.

Helen said she was on her regular morning run at the time.

"I was in training for my first half marathon and I was the fittest and healthiest I had ever been, but somehow I took a wrong turn and veered off course," Helen said.

"I couldn't think straight and called my husband Ben.

"I was slurring my words. Ben couldn't understand what I was saying. He immediately picked me up and convinced me to go to hospital."

Doctors quickly diagnosed Helen's stroke and she was given clot busting treatment. This treatment stopped the stroke.

"I realise how lucky I am to have survived the stroke with little physical impact," she said.

"It opened my eyes to be present in the moment. Life is a gift."

Stroke Foundation New South Wales State Manager Teresa Howarth said around 30 percent of stroke survivors were people of working age, like Helen.

"Helen's story highlights with the right treatment at the right time many people are able to recovery for stroke," Ms Howarth said.

"Stroke is a time-critical medical emergency. Each minute up to 1.9 million brain cells die. The faster treatment is sought, the better the chance of recovery.

"This is why Stroke Foundation is aiming for someone in every Australian household to be able to recognise the most common signs of stroke via the F.A.S.T. test."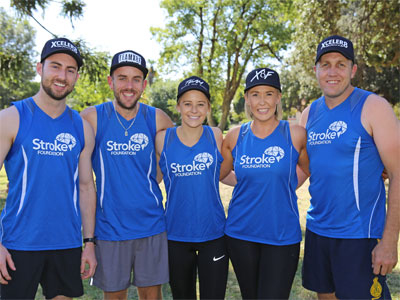 The F.A.S.T. test involves four simple actions:
Face – Check their face. Has their mouth drooped?
Arms – Can they lift both arms?
Speech – Is their speech slurred? Do they understand you?
Time – Time is critical. If you see any of these signs, call 000 straight away.

It's estimated there will be more than 56,000 strokes in Australia in 2018, including more than 400 in the Riverina electorate. Stroke kills more women than breast cancer, more men than prostate cancer and leaves thousands of people with an ongoing disability. Helen admits her confidence took a huge blow after her stroke and there were many tears.

"It was a traumatic experience and it took me a long time to feel like myself again, she said.

Helen set a goal to take part in the Gold Coast Marathon and she is hoping to raise $5,000 for the Stroke Foundation to help in its mission to prevent treat and beat stroke.

If you would like to donate to Helen, visit https://gcam2018.everydayhero.com/au/team-woodhouse



Interview with Helen Woodhouse
Question: Can you talk us through the debilitating stroke you suffered, a year ago?

Helen Woodhouse: I was on a morning run at the time when I realised I was well off course. I had a headache and I couldn't think straight. My husband Ben was worried about me because the run was taking longer than usual and I have a consistent routine. He decided to call me and couldn't understand what I was saying, which led him to come and pick me up. Once I got home I tried, but struggled to get ready for work. I was not able to get dressed. Ben's worry escalated and he took me to hospital. Part of me thought it was over the top for a headache, but we were both frightened and I am so fortunate he made that decision. His quick thinking saved my life.

Treatment for stroke is time-critical because brain cells die with every minute that goes past. The faster the treatment, the better the chance of recovery. Luckily, I was able to have a brain scan which detected a blood clot and I was treated with thrombolysis (a clot busting drug) within four hours of the stroke onset.


Question: What symptoms did you have, prior to suffering the stroke?

Helen Woodhouse: I was 33 years old and I was the fittest and healthiest I had ever been. I didn't have any of the common risk factors for stroke like high blood pressure or an unhealthy lifestyle. So my stroke came as a complete shock. There's a misconception that stroke only happens to people later in life, but it does not discriminate. It can happen to anyone at any age. The cause of my stroke is still medically unknown.


Question: How have you recovered from the stroke?

Helen Woodhouse: The past 12 months have not been easy, while I did not suffer any ongoing physical issues, it has been tough mentally. It was a traumatic experience. There were many tears, along with bad days and bad weeks. I had to come to terms with the fact I had suffered a stroke and needed time to recover. But I have been blessed to have such strong support from my husband, family and friends. I have also focused on fitness and achieving goals step by step.


Question: Are you currently on any medication to treat or prevent stroke?

Helen Woodhouse: I take aspirin daily.


Question: Do you still have daily consequences of the stroke?

Helen Woodhouse: Not at all, my life is just as busy, fun and crazy as it was before the stroke! I am a part owner of the largest real estate firm in Wagga Wagga – Fitzpatricks and still love my role as a sales person here.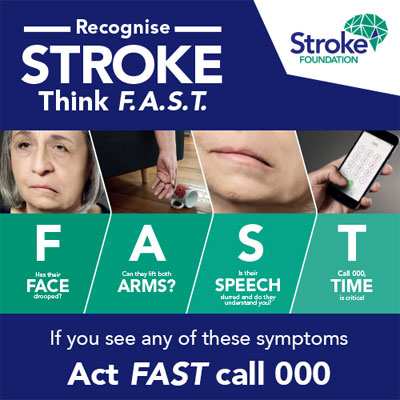 Question: How have you trained for the Gold Coast marathon?

Helen Woodhouse: I started training in February and have built my fitness from there. I run around 11 kms each day and I am slowly building up my km's as each week goes by.


Question: What is your monetary goal for the Stroke Foundation, this year?

Helen Woodhouse: I am hoping to raise $5,000 for the Stroke Foundation. It does an amazing job of raising awareness of stroke, facilitating research and supporting stroke survivors.

I also want to raise awareness that stroke can happen to young people too and that it is so important to be able to recognise the FAST signs of stroke.

Face – Check their face. Has their mouth drooped?
Arms – Can they lift both arms?
Speech – Is their speech slurred? Do they understand you?
Time – Time is critical. If you see any of these signs, call 000 straight away


Question: How can Australians support your run?

Helen Woodhouse: If you would like to donate, visit https://gcam2018.everydayhero.com/au/team-woodhouse


Interview by Brooke Hunter