Set in the heart of the Australian countryside comes a gorgeous romance about the power of fate from bestselling author Mandy Magro.
What happens when fate gets a little helping hand?

Sienna Lewis knows firsthand about being an Aussie battler, but she has her beautiful daughter, Zara, to keep fighting for. One day she dreams of giving Zara the life and big family she deserves. For now, Sienna can only focus on her work at the hospital. But when she connects with a new patient who has driven away nearly everyone in his life, she is astounded when he leaves her his sprawling Far-North Queensland property.

Mason King has worked tirelessly to follow in the footsteps of his beloved cattleman neighbour, Max, by raising ethically farmed cattle - despite the stream of disapproval from his old-fashioned father. Little does he know that Max, having seen sparks fly between Mason and Sienna, has set up his own plan to bring Sienna to town.

As new neighbours, Mason and Sienna discover they cherish similar things in life and are drawn to each other. Although, there's a secret between them that could ruin everything... When all seems lost, will fate then have another twist in store for them?

About the author:
Mandy Magro lives in Cairns, Far North Queensland, with her husband, Billy, and her daughter, Chloe Rose. With pristine aqua-blue coastline in one direction, and sweeping rural landscapes in the other, she describes her home as heaven on earth. A passionate woman and a romantic at heart, she loves writing about soul-deep love, the Australian rural way of life, and all the wonderful characters that live there. To find out more, visit Mandy on her website. You can also follow Mandy on her Facebook, Instagram and Twitter.

Home Sweet Home
Harper Collins Australia
Author: Mandy Magro
ISBN: 9781489298805
RRP: $29.99


Interview with Mandy Magro
Question: What originally inspired the idea of Home Sweet Home?

Mandy Magro: I craved to write a story with strong themes of courage, forgiveness, faith, hope, and second chances.


Question: Why did you write Home Sweet Home?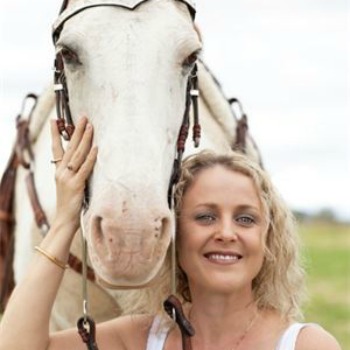 Mandy Magro: I longed to get to the heart of the saying, Home Sweet Home. I wanted to give my heroine the chance to find her forever home.


Question: How much of your inspiration comes from real life and real people?

Mandy Magro: Most of my inspiration comes from people around me, the news – good and bad, and my own experiences on the land.


Question: Was it difficult reliving certain aspects/times of your life, whilst writing Home Sweet Home?

Mandy Magro: Not at all, I found the story quite uplifting to pen.


Question: What's the main message you hope readers take from Home Sweet Home?

Mandy Magro: A belief in there always being a way to let the past go, so you can live freely in the beauty of the present moment.


Question: What research did you do, prior to writing Home Sweet Home?

Mandy Magro: None, really, it was a story told from my heart.


Question: What advice do you have for aspiring writers or artists?

Mandy Magro: Put pen to paper, get your words down and write about what you are passionate about – it will show on the page.


Question: What or who inspired your love of reading/writing?

Mandy Magro: I've always loved to read, from a very young age. English was my favourite subject at school, and it's my beautiful daughter's favourite subject too.


Question: What's next, for you?

Mandy Magro: I have just been contracted for 4 more books - 3 rural and 1 contemporary. Yay! At present, I am writing the 3rd book in the Rosalee Station series. It will have a twist my readers never saw coming!


Interview by Gwen van Montfort