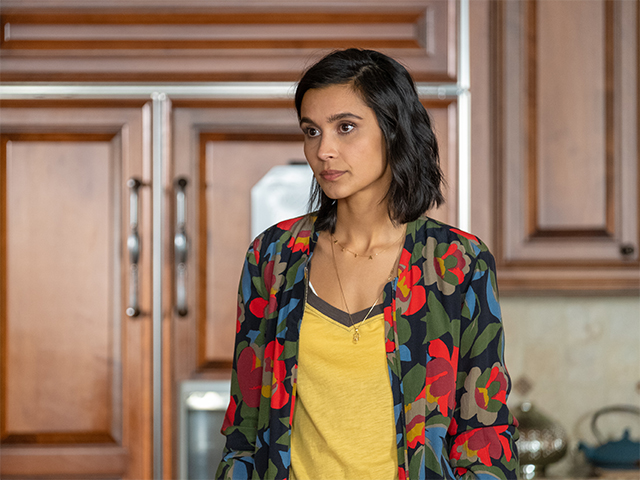 INDIA SWEETS AND SPICES is an American comedy drama set within an affluent Indian family. Upon returning from college for the summer, young Alia upends her family's well-ordered life with her brash new independence. When she discovers secrets about her parents' past, it makes her question everything she thought she knew about them, pushing her to a daring and ultimately hilarious confrontation.
Alia Kapur (Sophia Ali) returns to her family's posh suburban New Jersey home after a year away at college and upends their well-ordered life with her newfound independence.
Befriending Varun (Rish Shah), the handsome son of the new owners of the local Indian grocery, she invites his family to a weekly dinner gathering with her parents' wealthy friends. She is shocked to learn that her perfectionist mother Sheila (Manisha Koirala) has a previous connection to Varun's mother Bhairavi (Deepti Gupta). Alia's surprise turns to indignation when she uncovers secrets about both her parents that push her toward a daring and transformative confrontation. A lovingly framed glimpse of the life of an Indian American family, India Sweets and Spices celebrates a young woman's coming-of-age in a uniquely vibrant subculture.
It's a terrifically entertaining movie
Review:
Good wife, good mother, good life? India Sweets and Spices takes us on journey into Indian culture of arranged marriages and the importance of appearing successful. As Alia discovers family secrets, chaos is unleashed. Can the family contain the gossiping community from finding out their problems? And how many more secrets will be exposed? In an age of appearances and showboating is the norm I loved how this film explores the importance of family, true friendships and importance of finding your voice no matter the cost. India Sweets and Spices, is a well balanced film of humor, drama with plenty of layers and spice, making it very entertaining. Rising Star Sophia Ali is one to watch, very talented.

Editor - Michelle Warmuz