Ignited by Alanis Morissette's album that defined a generation, featuring beloved hits such as 'You Oughta Know', 'Head Over Feet', 'Hand In My Pocket', and 'Ironic', JAGGED LITTLE PILL is Australia's smash hit musical!

Nominated for 15 Tony Awards®, and a recent Grammy® winner for Best Musical Theatre Album, this electrifying production about a perfectly imperfect family living in 21st century suburbia "vaults the audience to its collective feet" (The Guardian).
The story of JAGGED LITTLE PILL centres around the Healy's, a seemingly perfect suburban family striving to hide the cracks beneath the surface when a troubling event shakes their community. Driven by the themes and emotions of the original album, the musical embraces today's powerful social voice and burns with passion in its uplifting storytelling, ultimately highlighting the hope and healing that comes when people come together.
Don't miss your chance to see this life-changing performance that will make you jump out of your seat and remember what it's like to feel truly human at JAGGED LITTLE PILL the Musical.

Get your tickets now at www.jaggedmusical.com
Review: Jagged Little Pill the Musical has it all. Centred around a disfunctional family, every topic is on the table which can be a little confronting if you have skeletons in the closest, but presented in an uplifting performance, everyone is able to enjoy this incredible production.
Outstanding performances from an incredible cast including; Natalie Bassingthwaighte who was a real standout as Mary Jane who comes face to face with her inner demons, showing great tone and comic acting, her husband Steve (Tim Draxl) sheds light on the inner workings of the male mind, our 'good boy' Nick played by Liam Head enlightens us on the teen pressures where success equals love, and Emily Nkomo embraces the role of Frankie, a teen that pushes the boundaries in a woke world, but it's Maggie McKenna as Jo (scoring the most recognisable song) that got audiences to the feet with a fabulous rendition & performance of 'You Oughta Know' that's shows skill in the choreography. Other noteworthy performaces were Grace Miell as Bella, and Aydan as Phoenix who both showed the right emotional detail to their signicant parts.
If you haven't already seen Jagged Little Pill the Musical, go, make a night of it, and enjoy this 'perfectly imperfect' story of family and struggles that we all face. Packed with familiar and power songs from Alanis Morissette, make this a memorable performance.

Editor - Female.com.au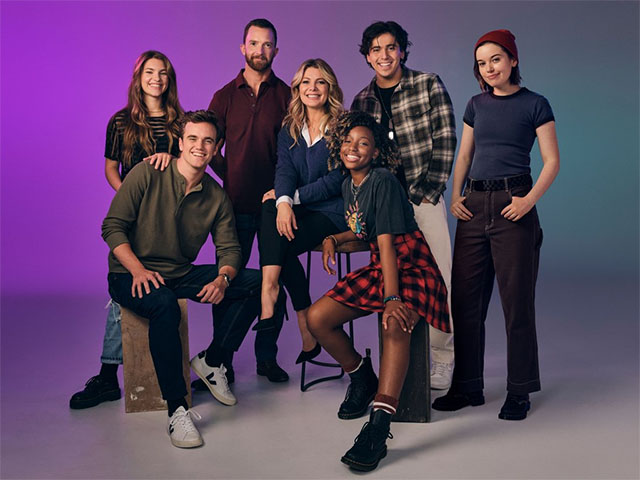 Background
Vivek J. Tiwary, Arvind Ethan David, Eva Price, Howard Panter for Trafalgar Theatre Productions, Torben Brookman for GWB Entertainment and Eilene Davidson Productions are producing the Australian tour of JAGGED LITTLE PILL. The Grammy and Tony Award winning Broadway musical, inspired Alanis Morissette's ground-breaking album of the same name premiered at Theatre Royal Sydney in December 2021 to standing ovations and outstanding reviews and is currently playing in Melbourne at the Comedy Theatre until 13th March. The production will move to Perth's Crown Theatre from May 14th and due to demand will triumphantly return to Theatre Royal Sydney from July 9th 2022.

Multi award winner Natalie Bassingthwaighte stars in the electrifying and inspiring Australian production of JAGGED LITTLE PILL in the lead role of Mary Jane Healy, alongside critically acclaimed film, TV and stage actor and recording artist, Tim Draxl as Steve Healy. Making her musical theatre debut, Emily Nkomo stars as Frankie Healy, and Queensland Conservatorium of Music graduate Liam Head plays Nick Healy. Maggie McKenna stars as Jo, with emerging stage and theatre performer Grace Miell playing Bella and Phoenix is played by AYDAN .

Joining them will be the stellar ensemble cast Baylie Carson , Bella Choundary , Josh Gates , Matt Hamilton, Georgina Hopson , Marie Ikonomou , Caleb Jago-Ward , Jerome Javier , Giorgia Kennedy, Coby Njoroge, Noah Mullins, Isabella Roberts, Trevor Santos, Mon Vergara, Romy Vuksan and Imani Williams.

Released on June 13, 1995, the tremendous success of Alanis Morissette's album Jagged Little Pill skyrocketed her to become the bestselling international debut artist in history; a title she still holds, with the record's sales reaching 33 million copies worldwide and winning 5 Grammy Awards. Now, 25 years after its release, Jagged Little Pill continues to be one of the Top 20 Best-Selling Albums of All Time. In Australia, the album has sold in excess of one million albums, is certified 2 x Diamond, spent 10 weeks at #1 and was the highest selling album in 1996. With 10 eclectic and acclaimed albums released over the subsequent years, Morissette's music has garnered 7 Grammy Awards (with 14 nominations), a Golden Globe nomination, and total sales of over 60 million albums.

The Tony-nominated JAGGED LITTLE PILL creative team also includes Scenic Designer Riccardo Hernandez (Parade), Costume Designer Emily Rebholz (Dear Evan Hansen), Lighting Designer Justin Townsend (Moulin Rouge!), Sound Designer Jonathan Deans (Waitress), and Video Designer Lucy Mackinnon (Spring Awakening); alongside Hair, Wig, and Make-up Designer J. Jared Janas (Sunset Boulevard). Production Stage Management is by Ira Mont (The Producers).

All performances will have conditions of entry adhering to the relevant State Government Public Health Orders and health advice.