Jessica Liebich Obela Entertaining Aussies Interview
We're a nation of laid back, outdoor-loving entertainers known worldwide for our love of the backyard barbie, but according to the latest Obela research, it seems Australians are increasingly feeling a pressure to perform when they entertain friends, and it's no longer the -picnic' it once was! - in fact, hosting a dinner party was rated as more stressful on average than taking an exam, giving a speech, moving house or even attending a job interview!

Nearly half of people believe expectations have increased in recent times when it comes to home entertaining, with reality cooking shows topping the list of reasons why at 54 per cent. 42 per cent also said social media plays a role, with the potential for your food fail to go far and wide, or for friends to share your impressive fare when you pull it off!



Interview with Jessica Liebich
Question: What surprised you about Obela's new research statistics on home entertaining?

Jessica Liebich: I was so surprised to hear that so many people rated hosting a dinner party as more stressful than taking an exam, giving a speech, moving house or attending a job interview. With the right tips and tricks I believe home entertaining can be a breeze!


Question: Do you feel stress when entertaining?

Jessica Liebich: I actually thrive when I entertain. I absolutely love it and to share good food and company with friends and family is the best.



Question: How can we entertain minus the stress?

Jessica Liebich: Preparation is absolutely key and my top tip for entertaining!

I recommend mapping out a plan of attack along with a timeline for the day. Your plan should include details from ingredients you require, when and where you will shop for them, the type of serving ware you will use all the way to how you will style your table and home.

My secret is to plan your menu so that most dishes can be prepared in advance and only require minimal cooking and styling on the day. I also like to have share plates of snacks on the table to keep all of my guests happy when I do need to duck to the kitchen for a few minutes! I always dress my share plates with cheese, meats, crackers, veggie sticks and a selection of dips – Obela hommus is my absolute favourite because it is made using fresh and real ingredients and comes garnished so looks beautiful on the table! Try Obela's Spicy Harissa hommus – it's incredible!


Question: What are the biggest entertaining myths?

Jessica Liebich: One of the biggest myths is that entertaining is expensive. It doesn't have to be! You can create a beautiful menu plan that uses seasonal produce and cheaper cuts of meat & fish. Ready-made items can also be just as fresh, wholesome and beautiful and will allow you to save money as you won't find yourself wasting a whole lot of ingredients! Creating shared dishes is another trick of mine to help keep costs down.


Question: How can we host an amazing summer BBQ without getting stressed?

Jessica Liebich: Always plan ahead! Usually sticking to one type of cuisine will help to create a menu plan that flows. Create dishes that can be shared which will also mean fewer dishes! The big key, is to select recipes where some of the elements can be made in advance, so that on the day of your event, all you need to do is either re-heat or assemble or add final touches.


Question: What will you be doing, Christmas day?

Jessica Liebich: Christmas morning will be opening presents with my husband and daughters. This year it's my brother's turn to host Christmas lunch. I will be making dessert! Deconstructed Pavlova, Pudding and Tiramisu!


Question: What are your top tips for a stress-free Christmas Day?

Jessica Liebich: Don't over-spend and stick to your budget. Plan and prepare your menu plan in advance. Remember that Christmas is not about stressing. It's about spending time with loved ones and appreciating what you have.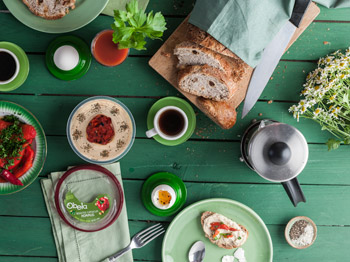 Question: How do you use Obela around your home?

Jessica Liebich: Obela is my go to dip when I am too time poor to make my own – which as a working mum is most of the time! There are a few reason I love Obela's dips; their hommus dips are super smooth unlike other ones I have tried which can be really gritty (!), they are made using fresh and real ingredients so I feel good serving them to my family and they have a beautiful garnish on them which means I can just serve them up straight to my table when entertaining!

There are a few different ways I will use it in my home. I often use Obela as part of a shared platter along with cheeses, olives, fruits and crackers. Sometimes I also use it in main meal dishes with chicken or prawns. I also like to put some in my children's' lunch boxes to dip with carrot, celery or cucumber sticks.


Question: Can you share with us one of your favourite BBQ recipes?


Middle Eastern Lamb Rump Dry Rub
Ingredients
1 tsp cumin
1 tsp paprika
¼ tsp ground cloves
1 tsp fennel seeds, crushed
¼ tsp cinnamon
¼ tsp ground black pepper
1 clove garlic, crushed
¼ tsp salt
500g lamb rump steaks, fat trimmed
Olive oil for grilling
Fresh lemon

Method
1. In a small bowl combine the dry spice rub ingredients. Put lamb rump steaks on a plate; rub each side generously with spice mixture.
2. Refrigerate for at least one hour.
3. Heat olive oil on BBQ on high heat. For medium rare, cook on each side for about 4-6 minutes, depending on thickness of the steak. Season well with salt.
4. Take lamb off the BBQ into a pan and cover with foil. Rest for 10 minutes. Squeeze with fresh lemon juice and serve!


Interview by Brooke Hunter