Jonathan Pease Interview
Australia's next top model series 5 has so far been the most successful and controversial series to date! The final three girls, Tahnee, Cassi and Clare all have a promising future. Jonathan Pease is the Australia's Next Top Model mentor and stylist he offers guidance, support whilst being harsh and critical- he knows the tough world of professional modeling.
We spoke to Australia's Next Top Model mentor, Jonathan Pease about being a member of the top model team and what is hot for the coming season:
Who is your favourite, out of the top three models: Tahnee, Cassi and Clare?
Jonathan Pease
: I keep getting this question and it's very hard to answer. I like all of them for different reasons. Tahnee is the role model, Clare is the angelic beauty, and Cassie is the rough diamond.
Who do you think will win?
Jonathan Pease
: Too close to call at this stage! All three of these girls could win and I'd be proud to vote for each one of them. It's not over yet and it's really going to come down to their performance in the last few weeks.
What is one of the tips you repeatedly tell the models in Australia's Next Top Model series?
Jonathan Pease
: Tell a story with your eyes. It's absolutely imperative that a model has something going on behind her eyes. There's nothing worse than a model who looks into the lens with dead eyes. Modelling is about interpreting clothes, environments, and props and then telling the viewer a story.
How is it working with top Australian designers, models and up-and-coming models in the series: Australia's Next Top Model?
Jonathan Pease
: Terrific. We get to work with the best that Australia has to offer and I think the results speak for themselves. The girls are extremely lucky to work with the teams that we introduce them to.
Will you be apart of Australia's Next Top Model series six?
Jonathan Pease
: I'm not sure what the production plan is for series 6 but I really enjoy the process of making the show and I'd love to be involved.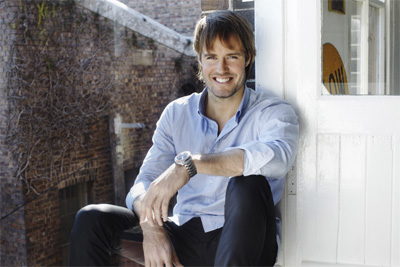 Did you ever think that winner of Australia's Next Top Model series three, Alice Burdeu would go so far internationally?
Jonathan Pease
: Alice is a rare breed and she deserves everything she has achieved since the show. She was destined for big things internationally.
What are some of the key items to have in our wardrobes for the coming season?
Jonathan Pease
: Little black dresses seem to be burning hot right now. I think they'll remain the must have item for the remained of 2009 which means we all need to focus on accessories and shoes in order to make that LBD feel individual and unique.
What colour is 'hot' this season?
Jonathan Pease
: I'm really loving black, gold and silver... the more metal the better.
How will models have their hair for the remainder of the year?
Jonathan Pease
: Hard to say but I'd like to see wet slicked back hair for girls and for some height for guys with subtle quiffs.
I have heard you visit Juvenile prisons to mentor young girls in prison, tell us about this:
Jonathan Pease
: I've been lucky enough to spend some time teaching out at a high security prison for young girls. It's a humbling experience and I really enjoy chatting to the girls about motivation, how to get a job, and life in general. Even though I'm there to teach and motivate the girls, I always walk away with valuable information for my own life. They're a very creative and interesting group of young people who've often just taken one wrong turn.