Jeannie Mai How Do I Look? Interview
Season 12 of How Do I Look? premiered on May 7th on The Style Network. Host and fashion expert Jeannie Mai returns to advise the stylistically-challenged from all over the country in 20 all-new one-hour episodes. The new season will transform fashion disasters to fashionistas with all kinds of exciting surprises, including a grand wedding reveal, a high school reunion makeover and an impromptu celebrity appearance.

The new season will feature one bride's makeover who will debut her new look to her fiancé, family and friends in a special wedding reveal. Another victim plans to attend her 10 year reunion in the same outfit she wore in high school, so Jeannie and the team of experts help update and revamp her style to impress her friends - and foes.

Each episode, Jeannie meets with the fashion victim for a candid interview about her inadequate sense of style. Now confronted with the hard truth, the victim's wardrobe is submitted as evidence where Jeannie directs the family and friends - or accomplices - to single out the clothing items that they find exceptionally appalling, and Jeannie disposes of them through the "Ewww Tube" which vacuums clothes up through the ceiling and out of her life forever. Following the tough love demonstration, the accomplices and stylist hit the shops to create their own distinct wardrobe collection for the victim's consideration. Without knowing which family member or friend pulled together the choices, the walking fashion disaster discovers a new appreciation for clothes as they choose their favorite outfits from each of the mystery collections.

With a new look, new hair, new make-up and renewed confidence, the victim comes to Los Angeles for her grand reveal on stage at the vibrant Hollywood & Highland® complex. Before an eager audience that includes Jeannie, the accomplices and other friends and family, the transformed fashionista guesses who chose their winning look and is treated with a special gift to keep on the right style track.

An experienced makeup artist and fashion expert, Jeannie Mai brings her exuberant personality and unbridled talent to The Style Network as host of "How Do I Look?" After successfully launching her career as a trend-setting stylist with a roster of clients that includes Christina Aguilera, Alicia Keys and Rosario Dawson, currently she can also be seen as a frequent fashion correspondent on "E! News."

Question: You always amazingly polished and fashion forward - do you style your own outfits for the show?

Jeannie Mai: My vision and taste drives my team to put together the various looks for the show. However, I'm a sponge when it comes to taking ideas into renditions of my outfits, so I definitely have to give credit to the efforts of our entire team, the Pretty Posse who create my finished look.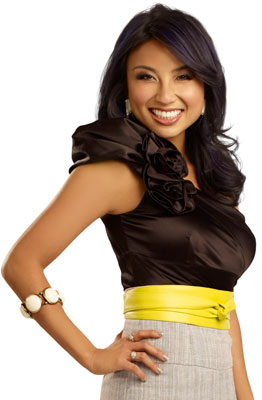 Question: How do you stay 'cool' when you're experiening difficult and stubborn subjects on How Do I Look?

Jeannie Mai: Pray. Seriously! I am so blessed to have a moment in these women's lives to help them recognise their worth, so prayer reminds me it's not about me, but about the journey for our guests and the viewers watching.


Question: Many of the shows subjects have been through a tough time, how much support do you provide the clients with, behind the scenes?

Jeannie Mai: I try to support as much as I can through the time we have on set and our connection thereafter. I love getting to know the guests and hearing their backgrounds, struggles, and achievements- all the things we can't always get on camera. When a guest opens up to me and actually responds on my blog after I share about them, that really blesses me in return.


Question: Can you talk about what it's like on the set for How Do I Look?

Jeannie Mai: It's very close knit and busy on set. It's really cool the way we can have an entire crew of 50 ish people who are so kind hearted and giving, yet hardworking and mindful of our own personal space to get through the day. The first and second day is always very tender around our guest, because she's going through such an emotional roller coaster and we don't want her to ever feel like an objective. Then the last day, once she sees how beautiful finding your own individual style can feel, it's a party.


Question: How much of How Do I Look is scripted?

Jeannie Mai: There are talking points, meaning certain beats to hit to make sure the viewers understand our guest's story. Other than that, it's all free reign. If our guest thinks I suck, you're gonna hear it. If I'm fed up with lies and need to call our guest out, you're gonna see it.


Question: What inspired your love for fashion?

Jeannie Mai: My mother taught me at a very early age the difference between fashion and style. Fashion is what you can buy, style is what you must have.
My sense of personal style comes from my upbringing, my personality, and my mood I want to project to the world. It's what we teach on this show.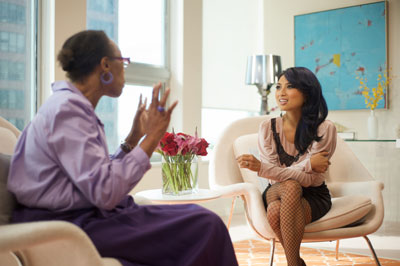 Question: Can you share your best fashion styling tip?

Jeannie Mai: My best tip is to overdress to impress. If you're going to a job interview, brighten your colors to bring warmth into the room. Pick your most polished blazer or pencil skirt to show you took time to present yourself. If you're going on a first date, think alluring and inviting colors to break the walls. Dress comfortably chic to show how comfy you want him to be too. Spending extra time to prepare yourself just shows how you can turn situations into great opportunities.


How Do I Look? - Saturdays at 7.00pm only on Style!

Interview by Brooke Hunter