USE ME
Use Me is a psychological thriller written, directed and starring Australian award-winning documentary film-maker Julian Shaw (Darling! The Pieter-Dirk Uys Story). Julian (as himself) travels to the United States to direct a documentary focusing on 'mental humiliatrix' Ceara Lynch (as herself). She dominates a new niche of online sex work and has made a fortune by humiliating men over the Internet without ever exposing her naked body or meeting them in person.

Julian films everything he witnesses to the point of obsession. He films her alone and with others. He films her while she teases and abuses men through her webcam. He sees the power she wields in her profession and is enthralled.

Ceara ensnares Julian in her illusory world and he quickly develops misplaced feelings for her. His newfound proximity reveals that, in her work, the line between fantasy and reality isn't as clear as she has led him to believe. Could it be that Ceara is blackmailing clients who trusted her with personal, deeply embarrassing material?

An initially tantalising documentary project turns into a private investigation as the jilted Julian digs deeper into his subject's morally questionable professional life. When he engineers a real-world encounter between Ceara and one of her suspected marks, what was meant to be entertainment becomes a matter of life and death.

Use Me, is available in Australia to rent and buy on Apple TV, Google Play, Fetch TV and YouTube.
www.useme.movie


Interview with Julian Shaw
Question: Can you tell us about Use Me?

Julian Shaw: It's a kinky psychological thriller inspired by the life of actual online humiliatrix Ceara Lynch and especially her work within the fetish of financial domination. It has a lot of twists and turns but the secret sauce of the movie is that it also takes viewers on an emotional journey.


Question: What originally inspired the idea for Use Me?

Julian Shaw: The question of what would happen if a woman who had unlimited power over men decided to exploit that.


Question: How did you first discover Ceara Lynch?

Julian Shaw: I accidentally found her on YouTube then went to her website and read her blog. She was so cool and smart and her work was super interesting. I had a gut feeling she'd be an amazing focal point for a movie. Bonus points for anyone who can guess what I typed into the YouTube search engine that brought up a Ceara Lynch video (laughs).


Question: What was it like working with Ceara Lynch on this project?

Julian Shaw: Best creative collaboration I've ever had. It was challenging in the sense that she's not a professional actor so I couldn't direct her like I would a trained actor but once we found a creative shorthand it felt like we had lightning in a bottle. It took time to find mutual trust but once it was there the project really took off.


Question: What did you learn about yourself when filming Use Me?

Julian Shaw: That I have levels of stamina, perseverance and stupidly optimistic determination that I didn't know I had. It pushed me to the limit and beyond.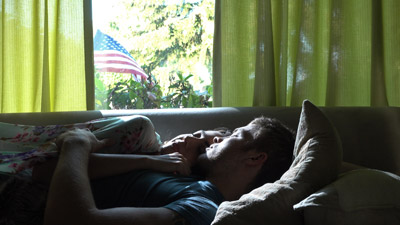 Question: What's the main message you hope to spread with Use Me?

Julian Shaw: Don't forget to live in the moment.


Question: How did it feel to be recognised (and win) the Brooklyn Film Festival and Sydney Underground Film Festival 2019?

Julian Shaw: It was amazing to see the film connect with audiences especially because it is difficult to classify and hard to market. Being embraced at festivals felt good because it was the biggest creative risk I've ever taken.


Question: What's next, for you?

Julian Shaw: A spin-off pure documentary inspired by Use Me with actor Joseph Reitman and a thriller web series. Use Me helped me get an acting agent in LA so I'm busy auditioning too.


Interview by Brooke Hunter