Backstage @ Alice McCall with Keiren Street
The Back Story:

Cast against the mélange of mid-century modern and a decidedly more disco night vibes, there's a hothouse allure in
art nouveau florals to tonal jacquards. Worn by languid ladies sunning themselves on the porch, or when they're
sashaying past in the after-hours. Silver and gold threaded palm trees glisten on ruched tulle, elevating the iconic
Tropicana motif. A gilded sunset surprise; a reminder of Australia's warm weather at alice McCALL's New York
runway debut.

The designer muses, 'Our girl is a lady with her feminine beguiles and an inner strength, prepping for the world in a
double-breasted blazer with buttons studded with crystals. Don't shy away from that touch of rock 'n' roll glamour.
Because remember, 80s bourgeois power dressing too requires that dash of glistening dazzle.'

"We are very excited to be working with the Wella Professionals team & having Keiren Street head the team. Over
the past couple of seasons, we have been working with Keiren on our shoots and adore him. He's an outstanding hair
technician & we love his energy, creativity & passion. It made total sense to work with Keiren Street and the Wella
Professionals team on our show and we see this as a perfect alignment for our brand." - Alice McCall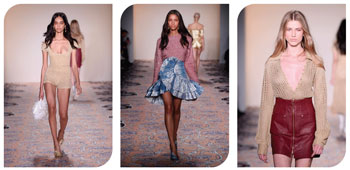 Keiren explains, "This look is all about silent texture. The Alice girl is a cool, uncomplicated woman. She is strong with
a rock and roll edge – her vibe is effortless. We wanted to create something feminine, yet edgy – and achieved the
look through loose, large and thick waves rested upon strong shoulders and plunging necklines."
Keiren Street perfects and guides the look in ten steps, using Wella Professionals EIMI range.

1. Prep the hair with 3-4 pumps of Wella Professionals EIMI Perfect Me on mid-lengths to ends
2. Break the surface tension of the hair with a light mist of EIMI Perfect Setting
3. Apply EIMI Body Crafter to the roots and blow dry "Manually create volume at the crown to achieve the 'bed hair' effect"
4. Cold blast the hair to achieve a relaxed edge and to put the shine back onto the hair
5. Divide the hair into two U-shape sections, working around the head
6. Create movement in the hair using 1 ¼ inch tong, gently wrapping large sections away from the face
7. Finish with a light mist of EIMI Glam Mist, and lightly apply EIMI Perfect Me to the body of the waves, and twist into the ends – hold the look with EIMI Flexible Finish

"The result? Big, bold and powerful texture, silently finished – the ultimate look."

Credit Info: Hair styling by Keiren Street, Wella Professionals Guest Artist