Born and Raised in Dallas, Texas, Kyle Matthew is an actor, writer, and producer on the rise! Fresh out of USC's B.A. acting program, Kyle hit the ground running with starring roles in the short films "UNINVITED", which premiered at the Burbank International Film Festival, and "Charlie Hughes", which premiered at SXSW Film Festival. Both projects performed incredibly well on the festival circuit.

His outstanding performances straight out of college and his obvious star quality talent, lead him to land his upcoming Guest Starring role in Disney's Bunk'd (June 2021) and his supporting role in an upcoming feature film that will be announced later in the year! Both of which, he is currently filming.

Kyle is incredibly talented in all areas of acting, but especially great at Comedy. He is currently in advanced classes at The Groundlings and studying with Lesly Kahn, Graham Shiels, and Amy Chafee. He has writen, produced, and acted in his hilarious sketches Leaked: Iphone 9 Commercial and Lip-Sync Break Up, which have over 100K views on YouTube.

In his free time, Kyle volunteers as a "big brother" for Jewish Big Brothers Big Sisters Los Angeles (JBBSLA)! Kyle loves fitness in a self-compassionate way, staying fit through yoga, boxing, playing basketball, hiking, cycling, and swimming. He is also a huge fan of The Cowboys, Mavs, Chargers, and Lakers!


Interview with Kyle Matthew
Question: Can you tell us about your role in Disney's Bunk'd?

Kyle Matthew: Being a part of Disney's Bunk'd was an absolutely amazing experience. While I, unfortunately, can't currently discuss any specifics about the role, I can tell you that the entire team on Bunk'd couldn't have been kinder and more welcoming to me. I'm very excited for everyone to see it when it airs on Disney Channel and DisneyNOW on Friday, June 4th at 8pm ET/PT!


Question: Did you always want to pursue a career in the entertainment industry?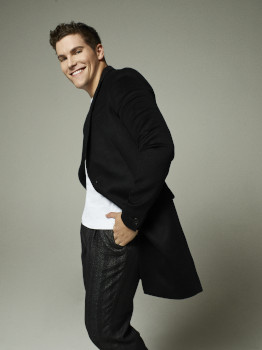 Kyle Matthew: Growing up, I actually was pretty set on being a professional basketball player. I wore NBA sweatbands every day to school, was obsessed with the Los Angeles Lakers, and even had my bar mitzvah theme centered around basketball. It wasn't until the 8th grade where I decided to officially make the jump from the court to the screen/stage. This was around the time when I won best actor on "Shakespeare Day" at my school and also realized my chances of being over 6 foot were slim to none.


Question: What or who inspired your love of acting/producing?

Kyle Matthew: Curiosity and the desire to hopefully make people laugh and/or give them permission to feel.


Question: Can you tell us about your comedy sketches?

Kyle Matthew: Comedy will always be something that I love, just because I think that there isn't a better feeling than making someone laugh and being able to instantly see the joy that you're able to bring to another person. Suffice it to say, the comedy sketches I've made so far, Lip-Sync Break-Up and LEAKED iPhone 9 Commercial, were a blast to make and I'm grateful that they both made some people chuckle.


Question: What moment in your career stands out the most?

Kyle Matthew: Honestly, the moment I'm in right now. I'm filled with immense gratitude when I think about of the team I have surrounding me with my manager, Kimberly, my agent, Chris, and my publicists, Heather and Hailey. It took a LONG time for the team to be assembled, and now that it is, all the work is that much more meaningful to me.


Question: If you could work with any other actor or director, who would it be?

Kyle Matthew: There are so many to name that it's literally impossible to name them all so I will offer an excerpt of the list, which includes Steve Carell and Sterling K. Brown as well as Mandy Patinkin, who just seems like he would be the best scene partner in the world. Of the MANY directors I would love to work and hope to be fortunate enough to do so include, but definitely are not limited to, Jordan Peele, Greta Gerwig, Spike Lee, Wes Anderson, and Park Chan-wook (Chan wook-park)


Question: What advice do you have for aspiring actors?

Kyle Matthew: Never forget that you chose to do this because you love it.


Question: What's next for you?

Kyle Matthew: I'm a firm believer in manifesting, so a lot of very exciting things that I either can't talk about yet (including a feature film I acted in) or that haven't happened/I don't know about yet.


Interview by Gwen van Montfort