Lake Bell In A World
Cast: Lake Bell, Jeff Garlin, Fred Melamed
Director: Lake Bell
Genre: Comedy
Rated: MA15+
Running Time: 93 minutes

Synopsis: Carol's egotist father is the king of the voice-over. She is firmly stuck in the shadow of his legendary baritone, while trying to carve her own place in the male dominated industry. When a lucky break brings some overdue recognition – it turns out female voices can sell – she finds herself up against the best in the business, including her dad . A hilarious satire on family, the film industry and the art of being heard.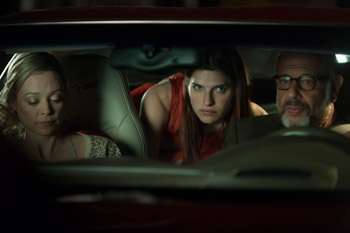 In A World
Long before New York native Lake Bell took on the mammoth task of writing, directing, producing and starring in In a World…, she had a fascination with the world of voice-overs.

'I have fantasised about being one of the great voice-over artists since I was a kid," she says. 'I always wanted to be an actor, but I loved the idea of the blind voice"voice without judgment. You could be anyone."

Lake Bell recalls carrying a tape recorder around as a girl, harassing foreign strangers so she could record their accents"a practice her character, Carol Solomon, replicates in the film. She confesses to having boxes of cassette tapes of random Russians in the supermarket, family friends visiting from Italy, lonely Irish exchange students, a Turkish woman yelling at her son in the subway.

Her obsession took other forms as well. Traveling as an 11-year-old unaccompanied minor, she more than once buddied up to flight attendants and convinced them to let her deliver the passenger safety announcement over the PA. 'I wanted to take on this persona and have no one see me," she recalls. 'I envisioned in my head that I had this booming voice. But of course I was an 11-year-old."

Later, after she transferred from college in upstate New York to Rose Bruford College of Speech and Drama in South East London, her dreams of forging a career as a voice actor got a boost. She became intrigued with radio plays"an art form vastly more respected in England than in the United States. So when, after graduating in 2002, she arrived in Los Angeles with demo reel in hand, there was no doubt in her mind she would soar straight to the top of the voice-over world and make bundles of cash.

Instead, she got a rude awakening and an introduction to the world of voice-over"a tiny, highly competitive, largely male-dominated sphere within the shark-infested waters of the Los Angeles entertainment industry that became what she calls the 'umbrella" for the story of In a World…. Unlike the relatively genteel realm of radio plays, it was a world of burgeoning egos, power and wealth. It even had its own equivalent of the Oscars"the Golden Trailer Awards"which feature in the film's climactic finale.

One of Lake Bell's In a World… co-stars knew firsthand what that world was like. Fred Melamed (A Serious Man) had formerly worked as a voice-over actor himself. He says many of his peers had an inflated sense of their own importance.

'They pretend they're a big part of the movie world," says Fred Melamed, who plays the father of Lake Bell's character in the film. 'They feel that all of the success of the movies they work on depends on them, but they're really an ancillary part of the movie business. Yet they have all the trappings of the movie-star lifestyle"they drive Corvettes and have girlfriends with big boobs"as well as the insecurities."

As fascinating as Lake Bell found this world, it had no place for her, even though she had a voice-over agent going to bat for her at the time.

'I went on myriad auditions, getting to play in the playground I wanted to be in so badly," she says. 'I sat in the rooms waiting to get the jobs. I met the people. I tried so hard to book something, but it was such a clique."

However, as she steadily picked up acting gigs, Lake Bell got to know the same world from the inside as she frequented sound-recording studios to do looping and dubbing, or ADR (additional dialogue recording) as it's known in the business.

'I've gone into I don't know how many sound studios to pal around with the guys and gals who work there," she says. 'I've always been so obsessed with voice-overs that when I go in to do ADR, I really get into it."

She realised the voice-over world would make an ideal backdrop for a film about an underachieving daughter on a journey to find her voice"literally and figuratively"by escaping the shadow of her father's unrelenting hubris. But Lake Bell insists In a World... is not a film about voice-overs. She describes it as a father-daughter competition story, exploring lessons on how to rise from weakness, accept achievement and receive love.

Lake Bell's home life was a rich source of material for the film. She's also no stranger to parent-offspring competition. Her father, who famously bought the then-closed Virginia International Raceway and converted it into a racetrack country club, liked to race cars. So did her brother, Luke. Sometimes, the two found themselves competing against each other on the track.

'I would see them out there with my dad having to struggle with the idea that his son might be faster," she says. 'I found that interesting and moving"to be competitive with your offspring, the person you are programmed to support and be the best for."

However, while many filmmakers have explored the theme of father-son and mother-daughter competition, Lake Bell says the idea of a father-daughter rivalry was pretty much uncharted territory"as well as great fodder for comedy. The film also delves into the relationship between success and ego"something else she had ample opportunity to observe at home.

'There are a lot of over-achievers in my family, and I was interested in the insecurity woven throughout that, whether it's a man or a woman," she says. 'I don't think there's anything more fun than chip-on-your-shoulder hubris."

From conception to screen, In a World… took about four years to complete. Lake Bell says her agents always wanted her to star in it, but they struck out in their efforts to find a director. When they finally suggested Lake Bell herself take the helm, she said she would never attempt to direct a feature with zero directing experience"even though she had secretly dreamed of directing a project she wrote.

Lake Bell's agents suggested she first do a short film. So Lake Bell wrote one that same night, raised funds with the help of Kickstarter, and later directed it, casting her friend and In a World… co-star Michaela Watkins ('Enlightened," Wanderlust) in the lead role. The result was Worst Enemy, a comedy about a female misanthrope who gets herself stuck in a full-body girdle. The film debuted at the Sundance Film Festival in 2011 and was a watershed experience for the budding filmmaker.

'When we were shooting it, I knew I wanted to direct for the rest of my life," Lake Bell says. 'I was confident. I knew everything was going to be OK. I felt ready to direct In A World…."

After attaching a good deal of comedic star talent, and with 3311 Productions on board to help finance and produce, the film went into production. It was shot entirely in Los Angeles, but Bell deliberately avoided distinctively Southern California locations in favor of generic-looking areas including unglamorous parts of the San Fernando Valley.

'It was all shot in places that are not beautiful," Lake Bell says. 'I didn't want to make it a slick L.A. m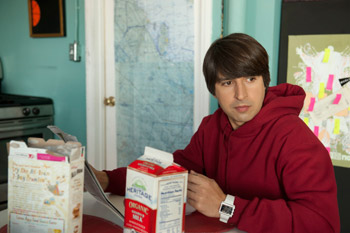 ovie, and I didn't want it to feel like a movie of a certain time. It's obviously current, but I didn't want the contemporary feel to be distracting. I wanted it to exist in a muddy vortex of anytime and anywhere."

Lake Bell says the film's characters were based not so much on stars from the voice-over world, but on other 'ego mongers or aspiring ego mongers." In fact, she says she never met any real voice-over stars until she made the film. Neither did she actually meet the late Don LaFontaine"the grand master of movie-trailer voice-overs who appears in archival footage at the beginning of the film and who passed away in 2008.

In casting the film, Lake Bell turned largely to actor friends she had worked with, drawing particularly on the 'comedy family" she adopted on the TV show 'Children's Hospital." She specifically wrote roles for Watkins, Rob Corddry (Hot Tub Time Machine) and Nick Offerman ('Parks and Recreation").

'I would use my friends as writing spirit animals, and hoped and prayed they would want to be in the movie," says Lake Bell, who has since directed four episodes of 'Children's Hospital." 'Maybe 90 percent of the cast were people whose numbers were already in my cell phone and I've loved for years." In the case of Rob Corddry, she didn't have to pray too hard.

'I said -yes' before she finished her sentence," Rob Corddry says of Lake Bell's invitation to be in the film. 'It wasn't much of a decision-making process. I probably told her at some point I will do anything she tells me to do, and that stands to this day."

An alumnus of 'The Daily Show with Jon Stewart" and also one of Lake Bell's 'Children's Hospital" co-stars, Rob Corddry plays the role of Carol Solomon's brother-in-law, Moe. Lake Bell first worked with Rob Corddry in the 2008 comedy What Happens in Vegas.

'Rob Corrdry and I hit it off," Lake Bell says. 'He's not just jokes and set ups; he's got amazing profundity. He's an effortlessly emotional actor. I was happy to utilise him in that way, which perhaps other people had not seen him do before."

For his part, Rob Corddry says he was attracted to the script for a variety of reasons, not least being the character of Moe.

'It's a part I don't usually get to play," he says. 'I rarely get to play a vulnerable, quiet person. A victim. I'm usually doing the victimising. Moe is the guy that takes the shrapnel. There's a lot going on in his relationship with his wife. It's reached a kind of boring stasis. Circumstances are such that her character can take advantage of certain things. My character is just sort of caught in the crossfire."

For the role of charming sound techie Louis, the filmmakers cast another former 'Daily Show" regular, Demetri Martin ('Important Things with Demetri Martin").

'I knew Demetri Martin for years, but we weren't super tight," says Lake Bell. 'He was pitched to me and I was like, -Oh, I know him, he's great,'" she recalls. 'He had exactly the energy and sweetness I was hoping for and he injected such cool stuff into it."

For the role of voice-over extraordinaire Sam Sotto, Carol Solomon's father, Lake Bell turned to Fred Melamed, whom she had seen in A Serious Man and several Woody Allen movies.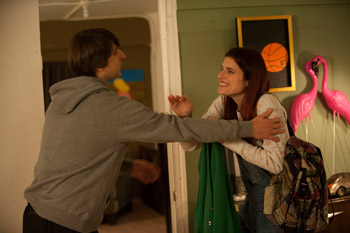 'When I saw him in A Serious Man, I just wanted to remember him," Lake Bell says. 'I wanted to think of a way to work with this person"he was so hilarious and excruciating at the same time."

Once Lake Bell realised she wanted to cast Fred Melamed as Sam, she embarked on a mission to get him, traveling into New York to give his agent the script, and later meeting the actor in the city after he took a train from Montauk to meet her. Fred Melamed says he was blown away by the script and the richness of the role Lake Bell created for him.

'I thought it was a fine piece of writing," Fred Melamed says. 'You relish the opportunity to play characters who are extreme and also human. Sam is a very narcissistic, puffed-up show bizzer. It's a type I know very well. It was clear from reading the script that he's also deeply insecure"he's a monster, a tyrant and a whirlwind, and also vulnerable in his way."

One of Fred Melamed's favorite scenes is the dinner during which Carol reveals to him that she has beaten out Gustav to book two jobs. 'I realise both that she might surpass me professionally and also that I've been encouraging Gustav, my protégé, to bed as many women as he can"and one of them happens to be my daughter."

Another favorite scene for the actor is the character about-face near the film's end in which Sam breaks down to girlfriend Jamie, who until now has come across as submissive. 'She stands up and tells me I'm going to be a good father," Fred Melamed says. 'She's the one I've bossed around, and now here she is saying, -Listen, buddy, you've got to be a grown-up.' She's someone who's previously been my silly little girlfriend, and now she tells me to wake up. I like that reversal."

Fred Melamed says his real-world voice-over experience played nicely into the role.

'I really was familiar with how small that world is, and how it protects itself from interlopers"and how insecure the people at the top of it are," the actor says. 'I liked the idea of playing a guy who was so consumed with making himself great that he wasn't a good parent."

It was only when Lake Bell met Fred Melamed that he revealed to her that he had, in fact, worked as a voice-over actor for 20 years.

'It made all the sense in the world"his voice is so fantastic and unforgettable," Lake Bell says. 'He was unafraid to be a bit slippery and unlikeable, but he naturally has a kindness to him. So he was a perfect fit for a well-layered character of despicableness laced with natural inherent sweetness."

For the role of Carol Solomon's sister, Dani, Lake Bell cast Watkins"a 'Saturday Night Live" regular and another member of the 'Children's Hospital" troupe.

'I had always been inspired by her sensibility, but I also know her personally and she's incredibly nurturing," Lake Bell says of the actress. 'I knew that when I was writing In A World…, I wanted her as my character's sister. I can't speak more highly of her as an actor and as a person."

Rob Corddry says it was fun acting opposite Watkins, especially as the two have been friends for a long time.

'It's nice to go into a job and feel immediately comfortable with someone," he says. 'Michaela is a lot like me, I think. She's easily sarcastic and she's very fast and she can play cynical very easily. She's funny to argue with as a character and we do a lot of arguing in this movie. I've never argued with her in real life"I don't think I'd want that."

To portray voice-over industry up-and-comer Gustav Warner, Bell cast another 'Children's Hospital" regular, Ken Marino, most recently seen as the star of reality-show spoof 'Burning Love." Rob Corddry praises Marino's performance, singling out the uncomfortable scene in which Gustav, during a party at his house, catches Carol in his secret room and seduces her. 'I don't know how Ken can play so unlikable and likable at the same time."

Alexandra Holden (The Hot Chick) plays Jamie, Sam Sotto's much-younger mid-western girlfriend and arguably the film's moral compass. For Louis' recording-studio colleagues, the director turned to Nick Offerman, known to fans of 'Parks and Recreation" as the hilariously reluctant city functionary Ron Swanson, and the uniquely wry stand-up comedian Tig Notaro ('The Sarah Silverman Program," 'This American Life").

The film features a surprise cameo by a female Hollywood icon"Academy Award®-winner Geena Davis (Thelma & Louise, The Fly, The Accidental Tourist) as Katherine Huling, a high-powered champion of women in media who plays a pivotal role Carol Solomon's professional rise.

'I didn't think I could get her for this small role," Lake Bell says. 'I needed someone with weight and understanding and she was great for it. She comes in as a sage and gives this awesome speech"my favorite speech."

Even better, Lake Bell learned that the actress founded and heads the Geena Davis Institute on Gender in Media, an organisation that works to reduce stereotyping and create more roles for women in entertainment by targeting children.

'It couldn't be more on par with the message I'm trying to deliver in that moment in the film," says Lake Bell. 'I never want to be preachy, but I just wanted to use her character to make a point." By all accounts, the mood on set was upbeat and harmonious.

'It was really kind of a tight group," recalls Rob Corddry, who already knew pretty much everyone except Fred Melamed. 'I had never met Fred Melamed before and I was a fan. It was really great to hang out with those guys, especially Demetri. I had known him for years when he had just decided to be a comedian instead of a lawyer. We didn't understand. We said, -You could be a lawyer. Why do the stupid thing we do?' None of us made money."

The actors give much of the credit for the positive experience on set to Lake Bell, who they say was masterful on both sides of the camera.

'I was shocked at how good she was in every discipline," Fred Melamed says. 'To write, direct and star in something is very hard to do. Lake Bell is the kind of director who tells you a couple things, but not too much. She tells you the right things to make a certain aspect of the character reachable to you, and then she lets you run. It was a joyous experience to make the film."

Rob Corddry had already worked with Lake Bell directing in 'Children's Hosptial," where one of her episodes was the premiere for the show's fourth season.

'I've always been impressed with Lake Bell," Rob Corddry says. 'It's cliché to say she came into her own directing In a World…, but she blossomed. She just became a superhero. I found her directing to have grown. She's great on set"really fast and great with actors."

Bell acknowledges that the massive workload and multitasking that came with wearing so many filmmaking hats was daunting at times.

'It requires so much preparation," she says. 'That said, I never went into it thinking it would be easy, because I'm not a crazy person. I think making movies in general is difficult. Taking on any project of that magnitude is difficult, and managing so many personalities, and steering a ship of those personalities is difficult"making sure everyone feels good and is doing good work and having a good experience."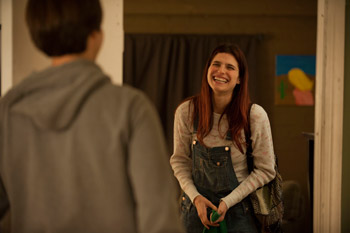 Lake Bell approached the task of directing with a blend of humility and self-assurance.

'I'm a novice," she says. 'I respect my newbie-ness. I know I have a ton to learn. But at the same time, I'm not afraid. I'm more at peace in a control position. People say, does that mean you're a control freak? I don't think of it as freakish. I'm not a freak, because if you're a freak everything is in disarray. I control with massive respect."

In the end, she says the most important thing was creating a positive on-set environment for the cast, the crew and herself.

'I not only surround myself with people who are good at their jobs, but who also enjoy their jobs," she says. 'Life's too short to do otherwise. Some directors throw walkie-talkies at their crew and yell at their actors and make them cry. I don't understand that dynamic at all. Sounds like a horrible place to work."

In A World