Libby Babet Fitness Goals Interview
We are now well into the swing of 2016 with Easter fast approaching. Christmas was all about celebrating with friends and family and for most, health and fitness regimes took a back seat. As we welcomed in the New Year, setting new fitness and health goals and undoing some of the excess was at the forefront of everyone's minds. But, as we now are into autumn and set to welcome the cooler months, some of us might be questioning whether any of those goals are starting to be achieved or perhaps have even been forgotten about.

Cameron Byrnes together with Libby Babet, both successful PT's and leading fitness experts from the Australian Institute of Fitness say this is a very common time of year for motivation levels to drop and share their thoughts and tips on how we can get back on track, and how we should consider setting more realistic goals for the remainder of 2016.

According to Cameron Byrnes it's about setting small goals as they are more achievable and re-visiting what you set out to achieve by being truly honest with yourself about why you haven't yet seen the results you expected.

'First things first – I would recommend you follow this checklist to make sure you are not wasting your time," says Cameron.

1. Set a goal. A good one is a goal that you can achieve by Easter for example. Small goals are best as they are more achievable and easier to process. In my mind, big goals are less achievable because your level of interest dwindles fast.

2. Don't choose exercises that you don't really like. Pick stuff that is fun and perhaps you will look forward too.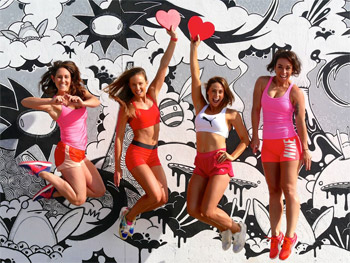 3. Commit to move every day. Doesn't need to be a workout, just a nice fast walk would do the trick.

4. Buy a new cookbook. This will inspire you to like food again and you might surprise yourself with a new skill you didn't even know you had.

5. Only give yourself 3 FIRM rules that you can't break until Easter.
No Alcohol, No Sugar, No Gluten. These are just an example - some of you might have to put Chocolate on that list!

'My other piece of advice would be to be brutally honest with yourself. If you are not exactly getting the results you want, then you need to be honest with yourself and I mean truly honest. Are you training hard enough or smart enough to push your body or are you kind of comfortable in your routine?

Also, is your food 90% where it should be or are you slipping up a few too many times? Create a journal, there are great apps for this. At the end of each day rate your performance as a percentage out of 100 on how good your food was and how focused and successful your work out was for heading towards your goals. Honestly, this will really help to put things into perspective."

Libby Babet believes the key to staying motivated is to mix things up, try new things and stay curious.

Also, don't see the change in weather as a reason to start slacking off – the cooler months in fact can be the best thing to happen to most exercise regimes.

'If your New Year's fitness goals are already falling by the wayside, don't worry - try these top tips to get back on track," says Libby.

1. Ease off the accelerator a bit and set a new goal: to be consistent. Consistency will get the best results every single time, so wind back your expectations and just commit to 2-3 sessions of intensity per week, whether that be at the gym, group fitness, personal training, or a fast paced run, plus as much general movement as possible in between to help you recover.

2. Join a program to reignite the fire and give you a community of like-minded people to stay accountable to such as an offline community you can meet and train with. Your local gym is likely to have a program you can jump in on too, just ask them!

3. Hire a short-term personal trainer, or nutrition coach and ask them for a tailored 4-8 week program you can pay for upfront to get you back on track and re-inspired. There's nothing like the commitment of paying someone a decent amount and having them waiting at the gym to take you through your sessions and help you progress to keep you motivated!

4. Buy some new toys to get you revved up. Whether it's a few new pieces to add to your fitness wardrobe, a fitness tracker like the Apple Watch, Jawbone UP or FitBit to track your progress, or membership to an app like ZOVA or NTC to serve up workouts directly to your phone.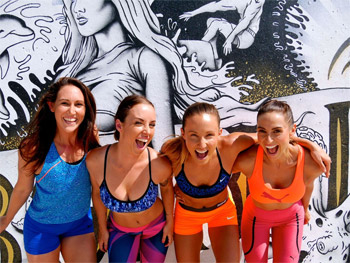 5. I hate to sound cliché but the oldest tricks in the book are still the best; rope in a buddy to train with you and set a goal together, then keep each other accountable. Plan your workouts into your diary as if they were appointments with yourself. Sign up to something you have to train for, like a fun run or obstacle race. Or my favourite… book a holiday, then plan your training in the lead up to it!

'Another key thing for me if you are not seeing results is to stay curious. Keep experimenting to find out what works for you. Understand that exercise is a lifetime thing you need to do in order to keep moving effectively for as long as possible, not just to lost a few kilos this month. And focus on the results you are seeing already. For example, those last few kilos may not have shifted yet but are you feeling fitter? More energetic? Stronger? Healthier? More productive at work? Sleeping better? All these things are signs you're doing something GREAT for your body, and are on your way to reaching your goals. And remember that you can't out-train a bad diet, so focus on food first."

'Lastly, don't make excuses about cooler months being harder to train. In my opinion, autumn is the best month for training – it's still balmy and easy to get out of bed, but temperatures are a bit cooler, so you can step up your training. Also, run season is within sight, so there are a lot of cool races popping up on the calendar to give you goals and boost motivation! Consider pausing your gym membership and joining a local boot camp or training group for a few months, before it gets too cold.

This is also a really good time of year to revisit and renew your goals. Every year at the start of autumn, I do a little challenge called, 'Mindset March" where for the entire month I'm not allowed to say, 'I have to/need to/should workout today". Instead, I must always say or think, 'I want to workout today". That little shift makes all the difference and gets me super motivated for a great month of training!

www.fitness.edu.au



Interview with Libby Babet, Australian Institute of Fitness graduate, Personal Trainer and Fitness Writer
Libby specialises in women's fitness, personal and small group training. Starting her professional life as a journalist, Libby turned her lifelong passion for fitness into a career and hasn't looked back. Owning a handful of successful fitness businesses including BUF Girls. Libby is passionate about inspiring women to create lasting health and fitness changes. Libby regularly contributes to a variety of publications as a fitness expert, has trained high profile clients like MTV host and model Kate Peck.

Instagram: @libbybabet @bufgirls @agogabondi
www.bufgirls.com.au and www.agoga.com.au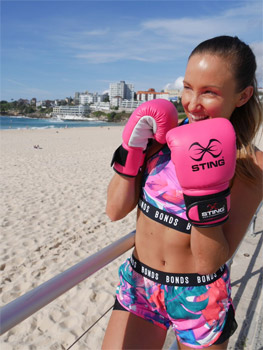 Question: How can we continue to motivate ourselves, to achieving our fitness goals, as the year progresses?

Libby Babet: I don't really love the term 'fitness goals" because it suggests an end point. Our brand message at BUF Girls is, 'For the love of it" and I'm really passionate about helping women find a way to change their thought patterns from, 'I really should workout today" to, 'I can't wait to work out today". It's about making it part of your lifestyle – and something you look forward to, a little bit of -you time' that feels like play. Look at movement as you would fashion; just like getting dressed, moving your body is something you have to do every day, so keep experimenting, playing and adding different kinds of movement to your 'workout wardrobe" until you find something that fits – and flatters you!

And remember, you don't have to 'go to the gym". I absolutely NEVER step into a big gym unless it's my only option, I just find them weird places and I get stuck with which section to go to and what to do! Find small, boutique studios and outdoor groups with a welcoming community vibe and start there. Try home workout DVDs and online workout programs (hint hint: www.bufgirls.com.au), or just research all the cool walks and hikes in your area and walk or jog them one by one! If you have kids, help them practice for sport. Just keep looking for new ways to get active, every day.


Question: If we have started to slip, how can we get back on track to achieving our goals?

Libby Babet: Start small. Every morning when you wake up, over your morning cup of tea or coffee write down one thing you want to achieve today – whether it's a workout, a walk, swapping your coffee for green tea, ditching bread in favour of more green vegetables, just one thing that will make your life and health better for that day. Even better, write your daily goal into your calendar and tick it off at the end of the day – see how long you can go without breaking the chain!

I also love a get-back-on-track workout plan I call the 10 x 10. Each day for 10 days in a row, workout at home for 10 minutes. I like to pick 2-3 exercises and just keep doing 10-20 reps of each of them for as many rounds as possible in the time I have. For example, 10 push-ups, 15 squats, 20 hip raises, repeat! It's enough to get you back on track and by the end of the 10 days, you're either ready to step back into your routine, or you can increase it to a 10 x 20 program ;)


Question: What sort of fitness goals should we be setting for ourselves?

Libby Babet:
1/ Consistently choose healthy food over unhelpful food
2/ Do some kind of movement every day for a year, whether it's walking or yoga/running/strength/stand up paddleboarding/other!
3/ Improvements in strength, cardio fitness, flexibility and balance
4/ Stay curious: try as many new kinds of movement training as possible
5/ Pick an exercise you're not amazing at (hello burpees and chin-ups!) and make it your goal to improve, set a certain number you want to complete in a row and practice daily
6/ Enter a race or experience that scares you a little and train for it
7/ Improve a certain aspect of your health with exercise/nutrition strategies, for example better skin quality, better muscle tone, improved immunity
8/ At least once a week, choose courage over comfort
9/ Focus on creating healthy habits, rather than worrying about results
10/ Educate yourself to help shift your mindset towards training. The more you know about your body and nutrition, the more you're likely to stay in optimum health without even trying – because you will make the right choices for the right reasons, and because you want to. Knowledge is motivating.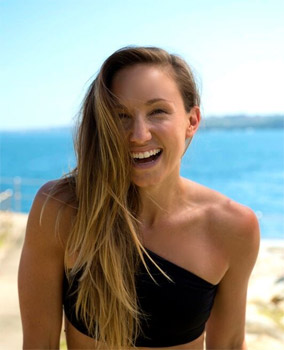 Question: What are your 2016 fitness goals?

Libby Babet: Better overall movement ability. For me this means improved flexibility, agility and balance, and more recovery time between intense sessions. My goal is to make my short interval sessions even shorter and more intense and my longer, slower sessions even longer and slower! Then add in a lot of bonus flexibility and release work.


Question: Are you on track to achieving these goals?

Libby Babet: I like to think so ;)


Question: What originally inspired your love for fitness?

Libby Babet: I come from a string of super independent and wonderful female role models and I think it's so important that a woman is strong enough to look after herself, and fit enough to be able to say -yes' to anything exciting that comes along. I look after myself so I have the best quality of life possible, for as long as possible, and am free to try all the wonderful things life offers. I do it for the love of it.


Question: What's a typical day like, for you as a PT?

Libby Babet: Out of bed at 4am, training people between 5-9am, my own training 9-10am, then a big breakfast and into the office. I run 3 x businesses, so I have at least 8 hours of desk time each day. Then it's dinner, a walk and bedtime, or teaching night time sessions!


Question: What advice do you give clients who have just started Personal Training sessions?

Libby Babet: It depends on who they are and what their motivation is for seeing me. BUT typically, I'm not a one-on-one personal trainer – I only occasionally train PT clients. I concentrate on creating unique group training, online and live event experiences that get people excited about fitness and connect them with amazing communities.


Question: Can you tell us about BUF Girls and what is involved in a BUF class?

Libby Babet: We're committed to helping girls fall in love with fitness. Our method is to create emotive and engaging products and programs that help girls of all ages live a more energetic, healthy lifestyle. From fun-filled themed workouts to simple nutrition strategies, our philosophy is the same; celebrate the little things that create good vibes every day.

We believe the world is more connected and at the same time, less connected than ever before. We want to help women form meaningful connections with their food, bodies and each other again. With this goal in mind, we focus on creating health and fitness experiences that excite people, creating a positive association with getting outside and living a healthy lifestyle. We connect people through online programs and communities, as well as offline events and bootcamps. We share our knowledge and inspiring stories of women from around the globe who are leading the way.

A BUF Girls session: is always themed and lots of fun! You'll never do a -strength circuit' or -cardio session' at BUF, instead you'll show up to the -Beyonce Booty Toner', a -90s Megamix Workout', or -Charlie's Angles Full Throttle'. There's music, there's a story, there are amazing women by your side or encouraging you via our online communities – you'll just never want to miss a day!

We do have a signature BUF! Session and it's comprise of 4 sections:
B = exercises that work your Bottom half
U = exercises that work your Upper half
F = targeted toning to score you a set of Flat abs
! – full body cardio to fire up fat burning and improve cardio!


Question: What inspires you to train, every day?

Libby Babet: There's always a fun, themed workout waiting for me at BUF, or a session straight from the diaries of top athletes waiting for me at our indoor studio focused on training like an athlete, AGOGA, so I don't even need motivation – they're so much fun to show up to!


Question: What would we find in your gym bag?

Libby Babet: A spare shirt (or 5), a towel and a giant water bottle, face wipes, a Dr Aspect face oil that reduces redness, mineral makeup from Jane Iredale or Dermaquest, a pair of Havaianas and a bikini in case there's a chance I have time for a post-workout swim down at Bondi, as well as a few spare hair ties!



60 Second Quiz
Full Name: Elizabeth Joy Babet
Nickname(s): Libby, Libs, Wibby, Fibsy, Elsbeth, Moonch
Favourite Exercise: Lunge Jumps
Favourite Food: 99-100% dark chocolate (the super bitter stuff!)
Favourite Music to Work-Out to: TOUGH! I love everything from house to break-beats to hip-hop to RnB to 90s dance tunes to EDM , I'm a bit of a music ho.
Favourite Gym Outfit: Nike Pro 3-Inch short shorts or lululemon hottie hot shorts, Running Bare push up crop, vivobarefoot minimalist shoes and a muscle-tee tied up at the waist, usually from lululemon, First Base, or Under Armour.
Person You Would Most Like to Meet: whoever the best masseuse in the world is, I want to meet them ;)
Hobbies/Interests: surfing, reading, remote hikes, writing
First Job: started my own business at 12, running themed parties for kids. I was Fairy Libby, sporty spice, a clown, a pirate, anything you can think of!
What Can You Never Leave Home Without: a HUGE bag packed with basically everything I could ever possibly need for that day, or a whole weekend. I'm an over-preparer.
What is the first thing you think of when you wake up in the morning: I hit snooze and in the 9 minutes it takes for my alarm to go off again, I lie there with my eyes closed and either run through things I'm grateful for in my head, or set a few intentions for the day. It makes me happier – and it's easier for me than meditating properly!

Interview by Brooke Hunter
Images: Marceau Photography