Listerine Invites Consumers to 'Strip' Anytime, Anywhere
The US' hottest product hits Australian shores
With fans like Sarah O'Hare and Hugh Grant, and the Time Magazine award of Invention Of The Year, Cool Mint Listerine PocketPaks™ is revolutionising Australia's portable breath freshener market by outstripping the competition and becoming the 'must-have' product of 2003.
Boasting a revolutionary new 'strip' technology, Listerine PocketPaks™ is the first portable breath freshener that actually helps kill germs that cause bad breath.
The innovative wafer-like strip dissolves instantly in the mouth, offering consumers a convenient 'on-the-go' solution for a clean mouth feeling anytime, anywhere - whether they are heading to a meeting, have just finished lunch, or are meeting a date after coffee. Additionally, the sugar-free and calorie-free strips are conveniently dispensed from a tiny, stylish pack that fits easily in a pocket or purse.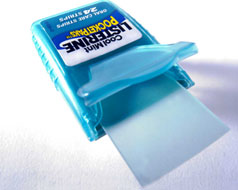 "Much of our research indicated that people were searching for a portable product that replicates the clean feeling you get just after brushing your teeth," said Kathy Adams, Oral Care Product Manager, Pfizer. "That is why everyone loves Listerine PocketPaks™ - once people have tried it they realise there is no other product on the market that compares, and their 'strips' become as essential as their mobile phones."
"The Australian launch follows enormous success in the US and Canada, where the product became an absolute craze and leapt ahead of old favourites such as Tic Tacs and Lifesavers. Listerine PocketPaks™ has gained so many advocates, Sandra Bullock was even raving about it on the red carpet at the Academy Awards," added Adams.
Listerine PocketPaks™ is available in grocery stores, pharmacies, convenience stores and petrol stations and priced from $2.59 for a pack of 24.